[Note: an excerpt from a piece I wrote for the latest issue of Susan Calo-Medina's Travel Time magazine, coming out this October. Excerpt posted here with permission.]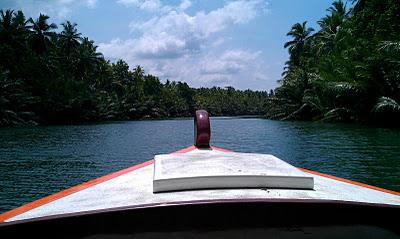 The Abatan River Community Life Tour, a pet project of Bohol governor Edgar Chatto, seeks to highlight the historic importance of the third largest river in Bohol, which winds its way through vast protected swaths of nipa, mangrove and forests with their stunning firefly apparitions at night, along riverine communities that have drawn sustenance all this time from this preternaturally calm, greenish body of water that also serves as a watershed for the island's interior municipalities.
But not just any ordinary tour--for the twist is, visitors and tourists riding a "bandong" boat (an open-sided motorboat that can carry up to 20 passengers, originally used for quarrying sand from the river but retrofitted for this eco-project now that quarrying has been disallowed) will not only get to enjoy the scenic river sights, but will also visit five coastal municipalities along the way--beginning with Maribojoc, then off to Antequera, Balilihan, Cortes and Catigbian.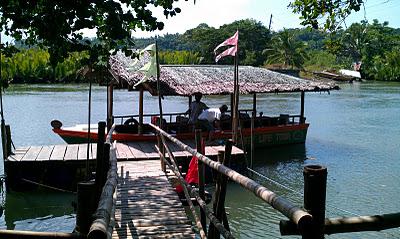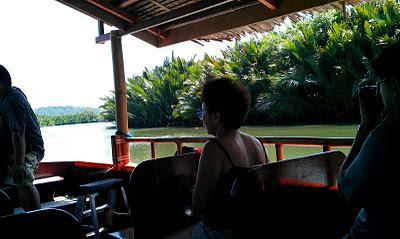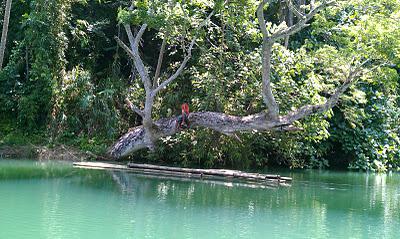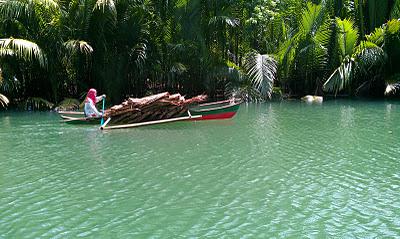 At each of the five stops, visitors come ashore and are met with a lively musical presentation showcasing the town's history, heritage, native food and crafts. At Antequera, for instance, talented young performers (trained by Bohol-based artist Lutgardo Labad of the Philippine Educational Theater Association) welcomed us with an excerpt from their musical play about local folk hero Tamblot, before plying us with suman and muscovado, and a coffee-tasting brew made from corn (believe it or not). And because Antequera is the basket capital of Bohol, samples of its intricate, export-quality woven products were also on display.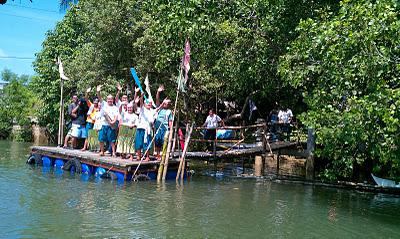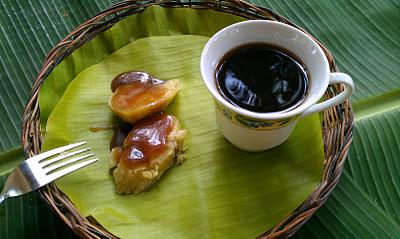 In Balilihan, the main attractions include the 50-ft Kawasan Falls, glistening emerald-like at a fork in the river; its Mt. Carmel Church, built in 1902 with murals adorning the ceiling from end to end; and the Spanish belfry built in 1836, the only remnant of the old church and now relocated to a well-tended park on higher ground. Whereas kids held forth at Antequera, at Balilihan what greeted us were the town's senior citizens dressed in baro't saya and barong, dancing and playing folk ditties on banduria and guitar, while a few demonstrated how to make nilupak (mashed kamoteng kahoy) the traditional way--pounded on an oversized wooden pestle.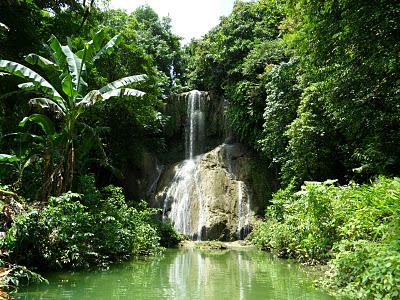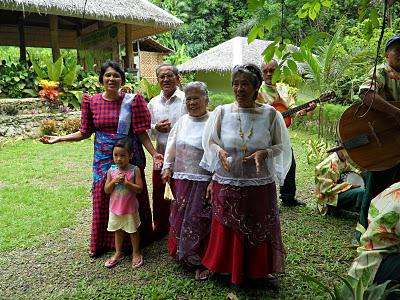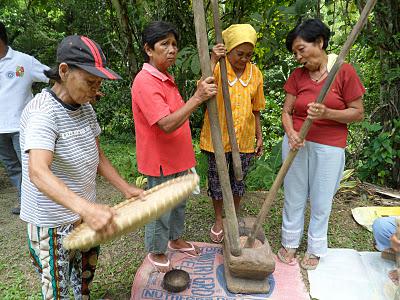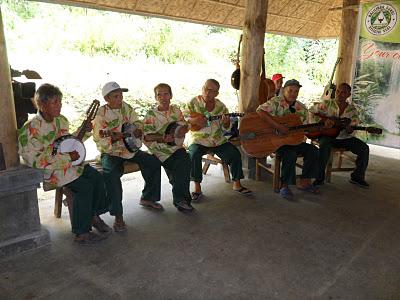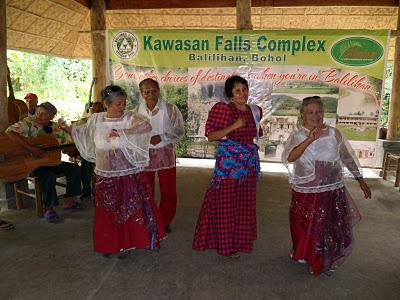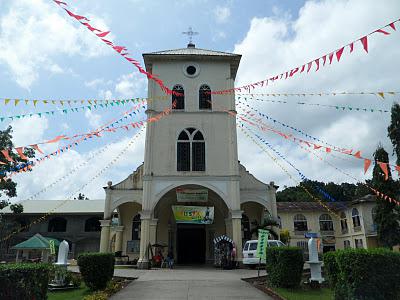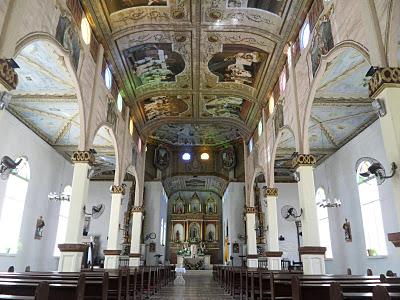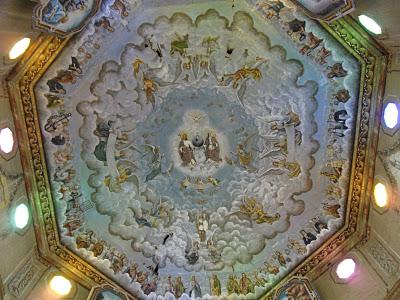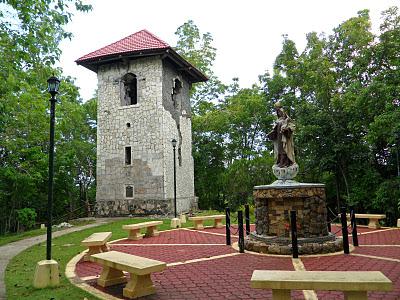 At Catigbian, the last stop, the enjoyment shifted from the cultural to the visceral. The town's newly launched G.R.E.A.T (Green Recreational Eco-Adventure Tour) project offers outdoor activities at a 204,500-sqm park marked by mountainous terrain, sheer cliffs and its own waterfalls, where visitors can take a dip. Taking advantage of this dramatic topography, the local government has built facilities for adventurers and thrill-seekers, among them a Canopy Walk, a Monkey Bridge (a single cable line stretched across a deep gorge; those trying this out are harnessed with required safety equipment) and the Mountain Slide--literally, a zipline that whisked us from one promontory to the next on a breath-stopping ride in the air some 90-plus feet above the rocky river below.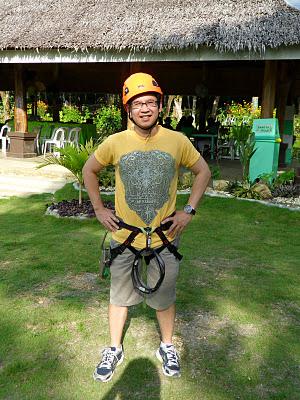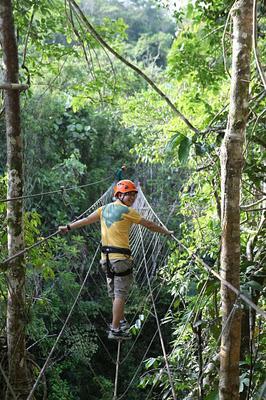 The Abatan River Community Life Tour takes half a day to complete, but within those endlessly engrossing five or six hours, Bohol's profusion of old churches, rustic towns, culinary delights, native produce and finery and other heritage attractions, rounded out by modern eco-adventure attractions, is ingeniously distilled into one attractive package. A teaser platter, if you will, of pretty much everything that has made the island one of the country's top tourist destinations these days.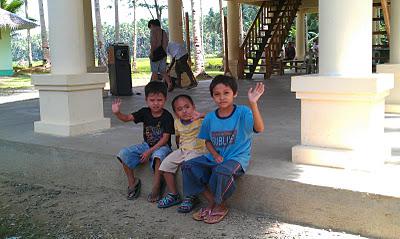 PLUS: They love Bohol, they really do--