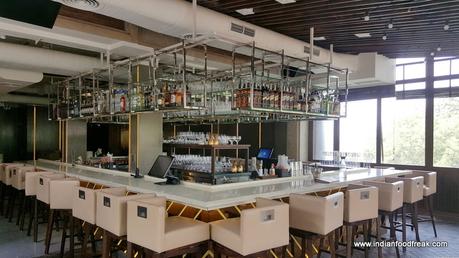 If there is any restaurateur who has taken the Indian hospitality industry by storm then it has to be Zorawar Kalra. Be it path breaking restaurants like Masala Library, Farzi or Pa Pa Ya, his restaurants not only brought freshness to the food and drinks but also to the décor and set a benchmark in services too. He became the first judge at MasterChef India and has been on the cover of several magazines including Forbes India also winning the GQ Man of the year award. I have known him from his initial days of Made in Punjab at Gurgaon and always saw that spark and passion in him. However his unparalleled success wasn't so easy to guess for me when I first met him.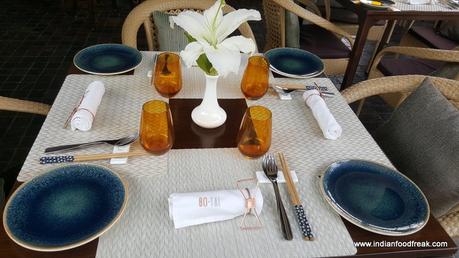 Table setting at Bo Tai
I could come straight  to the review of Bo Tai but it is important that I mention its launch party too for the classy launch it was. These days when launch parties are becoming over crowded where one can neither appreciate food nor drinks, Bo Tai made a difference with its class. The launch was spread over a week where like minded people were called to give an exquisite experience. Where else do you get Mumms champagne, Chivas 18 years, Monkey 47 etc at a launch party? Nor do you get jumbo prawns, crab and lobster. Zorawar carries a style statement and it shows in the finesse with which he delivers.
Bo Tai is a modern Thai and grill restaurant nestled beautifully near Qutub Minar. The minimalistic design and artistically done interiors give it a subdued luxurious  look. The horse shoe shaped design gives it a benefit of 2 bars and a restaurant-in-a-restaurant feel. Another advantage of being located in the fashion hub is one gets to see beautiful girls in their petite avtaars in the latest trends in clothes and accessories occupying a large area of the restaurant. Men are few even for a weekday lunch and I consider myself lucky to be at the right place at the right time.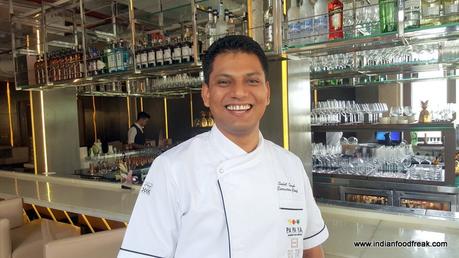 Chef Sahil Singh
Since I had tried a few of the dishes at the launch party, my expectations from Chef Sahil Singh are already high. Fortunately he does not disappoint and rather pleasantly surprises me. The spicy soft shell crab salad is exactly what one needed to get to a good start. Served with raw mango, some greens, spiced coconut, mango pickle relish, fried onions and chilli-vinegar-sugar dressing can tantalise anyone's taste buds. Don't miss the fried soft shell crab that is a delight in every bite.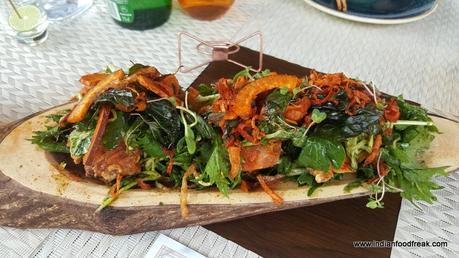 soft shell crab salad
The Tom Yum soup is hot and spicy to my liking and oozes freshness. This is one big bowl can be half a meal by itself. As I mentioned Bo Tai also specialises in grills. The jumbo butterfly prawns are grilled so well to come out absolutely clean and smoothly from its shell. They are served with kaffir lime flavoured biscotti to provide crunch however it doesn't do much to further enhance flavours of the beautifully grilled prawns.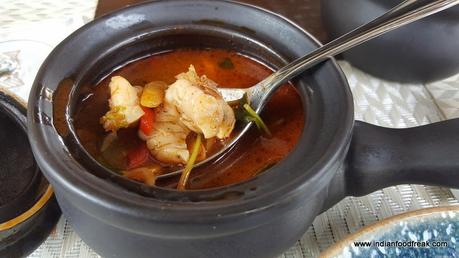 Tom Yum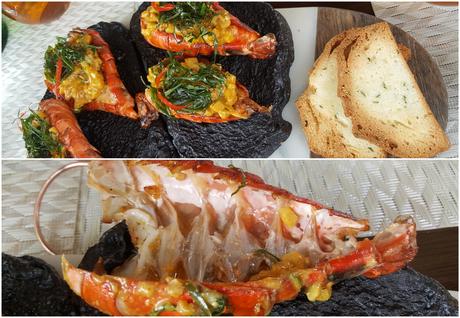 butterfly prawns
If you are a chicken lover then you must not miss the distented chicken known as Nam Prik Pao in Thailand. This chicken is beer battered with some chopped Thai herbs and then deep fried and finally finished as stir fried. The chicken is light and airy since it has beer batter and crisp skin with stir fry and juicy chicken inside. Finished with basil, lemon grass, bird eye chilli and spring onions, this can be a treat for anyone. One cannot resist eating it till the last bite.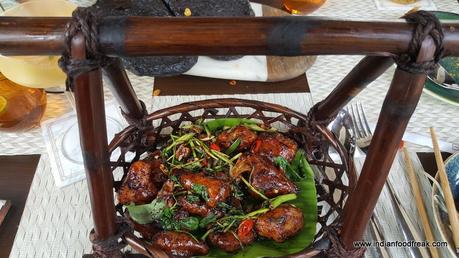 distented chicken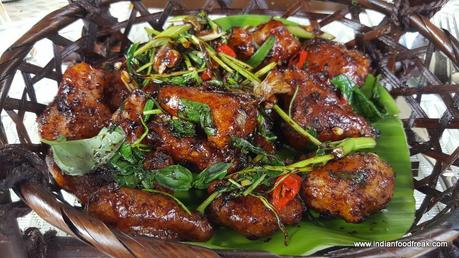 distented chicken
Lavender flower has been used to give color to the skin of the corn and water chestnut dumplings. The reduction of tamarind, chilli and jaggery sauce makes it a chatkora eat. Being non vegetarians we thoroughly relished eating these and so it certainly is a must have for vegetarians. Chef Sahil surprises us by serving veg tempura cakes. The tempura batter is cooked in paniyaram pan with ginger and other Asian flavours. It is shaped like an open raw egg and served in a nest like presentation. This open egg shaped tempura batter is filled with lemon, sugar, chillies and vinegar dressing. The dressing and mayo not only provides flavor but also complete the raw egg look by giving it that liquidy feel. Full marks to Sahil for bringing this imagination on the table!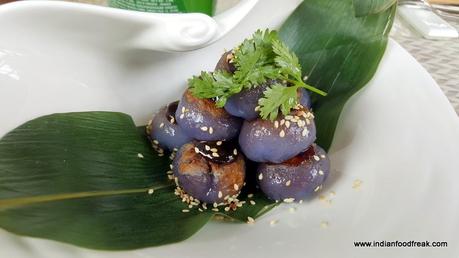 corn and water chestnut dumplings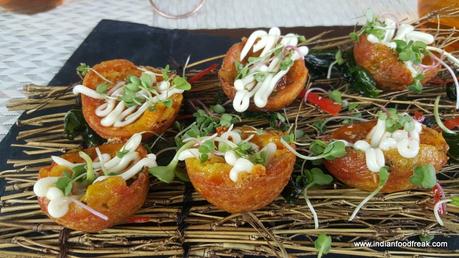 tempura cakes
Almost full with the starters, we ordered just the sliced Belgian pork belly and green curry for the mains. While it will be pointless to highlight the pork as not many know how to handle pork as well as most outlets of Massive Restaurants (Group that owns Bo Tai, Pa Pa Ya, Farzi etc). It was a delight in every bite. However I was very impressed with the green curry. At most places the consistency of green curry is thick like that of butter chicken gravy but with using coconut milk. Every time I have had this curry in Thailand, it is thin and spicy. Coconut milk only helps balancing the spiciness. Plus the flavours of the curry come from the freshness. However in India most people use  readymade paste of which Namjai is the best, but it still cannot match the flavours of freshly made curry. If you want to experience real flavours then Bo Tai is the place where you should be heading. Try it with either the steamed rice or sticky rice as per your choice.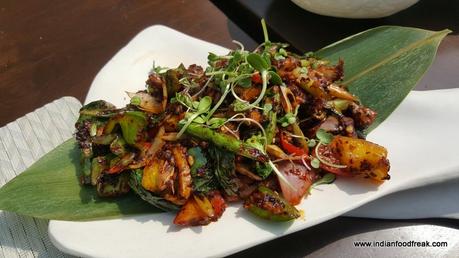 Belgian pork belly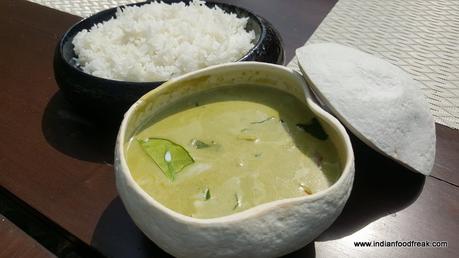 Thai Green Curry
Btw, I realised I was too busy salivating over food that I completely skipped talking about the state of the art cocktails. Designed by the team who have worked with Artisian London, a place that has won the best bar in the world award consecutively for last 4 years, it is no surprise that one can expect only the best at Bo Tai too. The cocktails use premium alcohol and charm you with their brilliant presentation. I will just let the pictures do the talking.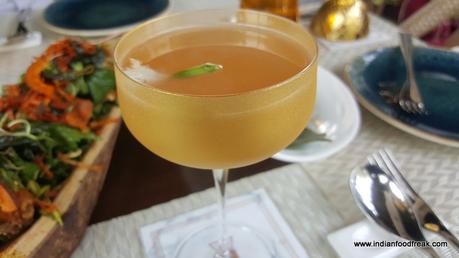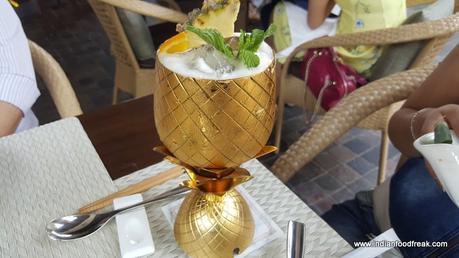 Undoubtedly Bo Tai has everything going in its favour. The location with the beautiful Qutub Minar standing tall in the background, the serene setting on the terrace and music that gels well with the place , the best of the ingredients, imagination of the chef and bar tender, Bo Tai has it all to become the talk of the town for a casual meal or a romantic evening. Bo Tai is an ideal place to arouse all our 5 senses.
Ratings (Out of 5)
Food: 4.5 | Drinks: 5.0 | Service: 5.0 | Ambience: 4.5 | Overall: 4.5
Timings: 12 noon to 3.30pm (Lunch) & 06.30 pm -1am (Dinner) | Meal for two without alcohol: ~2500/++ | Alcohol: Yes | Disabled friendly: No | Cuisine: Modern Thai & Grills
Address: 6/4,Kalka Das Marg, Mehrauli Road, Near Qutub Minar, New Delhi | Tel: