Bluefinger Portable Power bank 13000mah with Earphone Review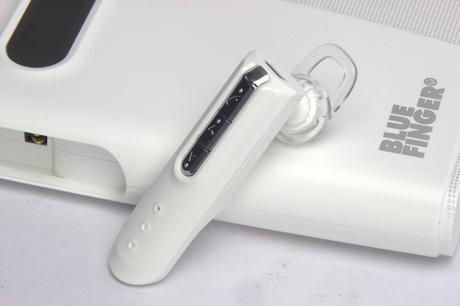 Much more than Just a Power bank.
The Bluefinger power bank is a rechargeable 13,000mah battery unit that can be used to charge any device/gadget supporting USB connectivity option.
Packaging,Accessories & Build Quality:
The bundle box accompanies power bank unit, a micro USB cable & Earphone/Headset.
The headphone is empowered with cutting edge multipoint technoloy, It can connect two cellphones with bluetooth at the same time.It is very helpful to listen to music and talk with your friends on the phone.
The power bank unit feels solid in the hands and the general form quality is additionally great. The unit has an exceptionally smooth body finish and sleek body design. It has a very bright LED screen display to show the battery power level of your power bank.
From a full charge, 13,000 mAh of compact force is on offer. To place this in an IOS viewpoint, an iPhone 6 appraised @ 1,810 mAh could be completely charged around 7 times. An iPad small scale @ 4,490 mAh could be charged just about three times while a full estimated iPad Air 2 @ 7,340 mAh could be charged 1.7 times.
The USB ports are clearly labelled with their output and are capable to charge upto maximum of 3A(out) and Input of the power bank is rated as 5V(IN).
Two devices can also be charged simultaneously for a combined output of 3A which makes this a flexible performer.
I was able to charge my Moto G1 smartphone about 5 times upto 100% battery level.One thing I did observed amid my testing was that regardless of what device you are charging, It stayed cool at all times with no indication of overheating up. This is a welcome surprise when it comes to portable devices and batteries.
Conclusion:
All my portable gadgets from phones, tablets, music player, ebook reader, keyboard and camera can be charged via USB and having the ability to do this when away from a fixed power source gives real peace of mind. I really wish the earphone was a bit smaller so that it could fit inside your ear better yet at the same time its an awesome item and does do its job.
Product Link: http://goo.gl/gtykW2(Amazon)
Disclosure: I have received this product from seller as a review unit. As always my reviews are objective and only of my own opinion and are in no way influenced by the supplying company.