Hello lovelies,
I hope everything is going well at your end. Blue heaven is a brand I associate with for many years. I have tried many of their products even when the brand was not that much in the limelight but they have now really revamped their products and also have new and trendy products being introduced every now and then. I had seen some bloggers talking about the Blue Heaven Xpression line of lipsticks and the shade P077 Moonlight Pink was on my wishlist. I finally purchased  it along with 2 other lippies which I will review sometime in future. Read on to know more about this lipstick..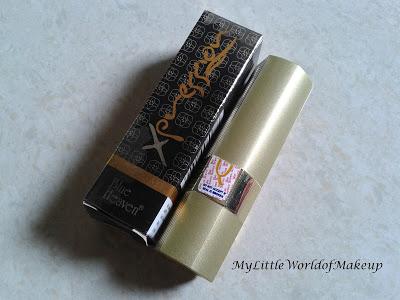 Price: Rs. 125/- for 4g product. Available on their website. You can buy it from here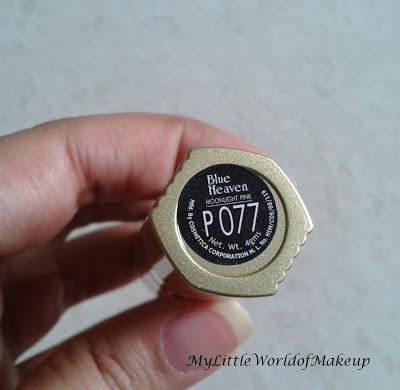 What does the brand say about their lipstick:Lavish your lips with extravagant care. BLUE HEAVEN XPRESSION LIPSTICK delivers highly pigmented color that lasts for hours without touch-ups. Enriched with nourishing emollients, this lipstick has a smooth, fine texture that feels soft and light on your lips. Highly pigmented colors, Long lasting without touch-ups, Contains nourishing emollients, Smooth texture.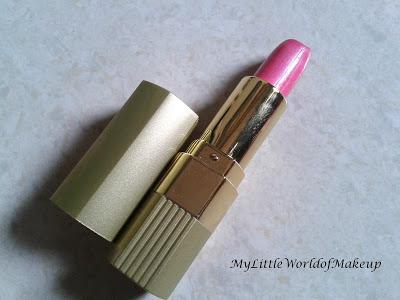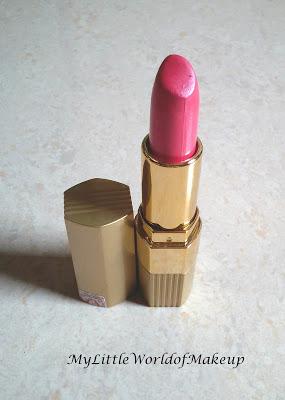 Packaging:The lipstick comes enclosed in a shiny black and silver  cardboard packaging. The lipstick no can be viewed from the bottom. The lipstick has a metallic golden body and click locks but can get loose overtime. Not exactly travel friendly but I never had any problem carrying it in my purse.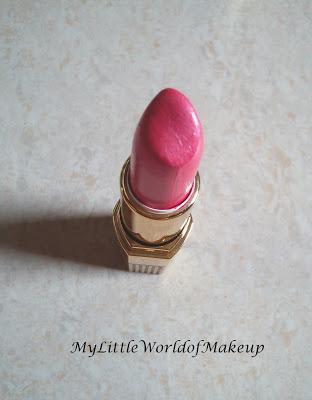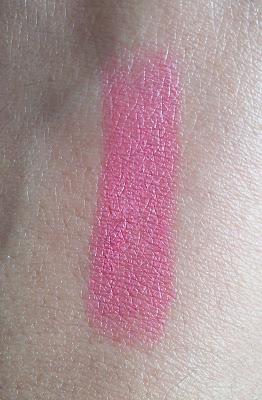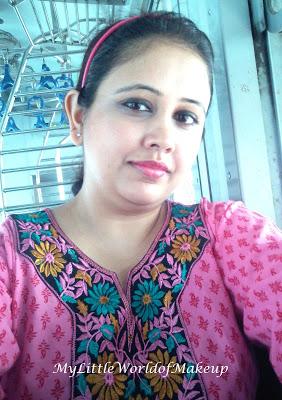 I am wearing the lipstick here in this pic
The lipstick has a metallic finish but still very wearable. The shade can be best described as a cool toned blue based pink. I could not spot any chunky shimmer but has some sheen to it. The smell and taste is mild and bearable. It goes on smooth on the lips but its advisable to exfoliate before application of the lipstick or it may look bad. The lipstick can settle into fine lines of the lips. I would suggest dabbing your finger on the lips so that it sits well on the lips and lasts longer. It does stay on the lips as a faint tint even after your meals which I like. This shade will best suit fair to medium skin tones. This shade is my favorite and I would repurchase it again for sure as it works for me and also I love the color.
The Good:
Easily available online & in stores
Very affordable
Available in variety of shades
Pigmentation is good
Fairly long lasting 
Ideal for women of all age groups
Makes lips pouty 
The not so Good:
Can settle into fine lines of the lips if dry
Ingredients list missing
Packaging can be better
Rating: 4.2/5
Blue Heaven Xpression Lipstick P 077 Moonlight Pink is a beautiful cool toned blue based pink which will work for fair to medium skin tones. The quality is decent for the price. I am biased towards this shade as it suits me. They have ton of shades to choose from. Do check out their site you will definitely love it ☺
Please comment below what you have to say dear reader. Would love to hear your thoughts. Have you tried anything from Blue Heaven cosmetics before?? 
Until next time.. Take care xoxo