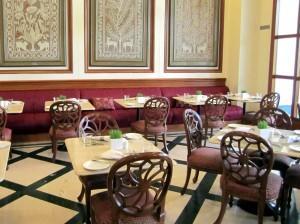 Interiors
Hotel Eros has always been a bit of mystery to me. It has changed so many names that it is difficult to keep track of the latest name. The restaurants by and large cater to senior citizens and kitty party ladies. So when my friend Vaishali Dar, the energetic marketing communications manager of the hotel got in touch and asks me to check out the new menu at Blooms, the coffee shop of the hotel, my first reaction is lukewarm. But she sends me the new menu of Blooms, which is full of interesting dishes, so I eagerly arrive at the restaurant to taste the new offerings.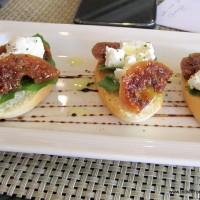 Fig and goat cheese Bruschetta
Blooms has got a new look and now sports a cleaner look, though the overall mood stays that of old-worldly elegance. Vaishali joins me for the tasting and so does Suprabhat Roy, Executive Chef of the hotel. On Suprabhat's insistence, I start my tasting with Bruschetta (Rs 695) which is a fresh toasted baguette with marinated shrimp, fennel and avocado. It's a very pleasant dish, and the combination works. Suprabhat ensures smooth service and fresh dishes arrive the moment I finish one. Next on the table is Prawn Beignets (Rs 1095) with batter fried king prawns with romesco sauce on a bed of deconstructed salad of bell peppers, almond and roasted tomato. While the prawns taste fresh and are cooked proficiently, what steals the show is the exciting salad underneath.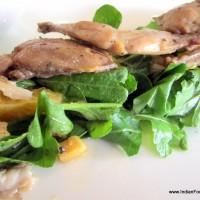 Roasted Quail
Roasted Quail (Rs 745): pan seared Japanese quail with caramelized apple, rocket lettuce and orange vinaigrette is somewhat unidimensional, and can taste much better if the extra sweetness is cut by something tart. I have been looking forward to their next dish, Blooms Mixed Grill Platter (Rs 1995) modified on my request to include grilled chicken thigh, lobster and New Zealand lamb chops. Alas, this dish is a disappointment. While the thighs are only slightly overcooked, the lobster has lost all its natural buttery taste due to significant over-grilling. Also the lamb chops when cut, are gray brown inside, rather than the customary pink. I know Indians like their meat well done, but this is way beyond well done.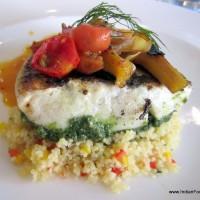 Charmula SeaBass
But Charmoula Seabass (Rs 1195) with its North African herb mix and braised fennel, toasted couscous and tomato chutney accompaniments more than makes up. This dish also happens to be Chef Suprabhat's favorite and is grilled to perfection. Another beautiful dish is the homemade parmesan and potato Gnocchi with shrimp, garlic parsley and white wine (Rs 945) which has the soft pasta being paired well with the crisp shrimps.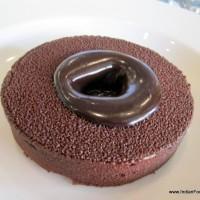 Chocolate Degustation 3
Though I am full the Chef strongly recommends the restaurant's signature dessert Chocolate Degustation (Rs 395) to end the meal. This is a beautifully constructed dessert. A chocolate disc is presented to me with a creamy chocolate ice cream. Then chocolate sauce is poured over the disc and a hole appears magically in the center of the disc drinking the sauce in. Now the dessert is ready for demolition. One bite and I discover many layers in the dish. There is dark chocolate, white chocolate, hazelnuts and chocolate sauce making for a perfect bite. It is a wonderful end to a great meal.
Ratings (Out of 5)
Food: 3.5 | Ambience: 3.5 | Service: 4.0 | Overall: 3.5
Meal for two: Rs.3000 (Without alcohol) | Alcohol: Yes | Credit Card: Yes | Wheel chair friendly: Yes
Address: Eros Hotel, American Plaza, Nehru Place, New Delhi | Tel: 011 41331650
Prawn Beignet
Mixed Grill
Interiors
Gnocchi with Prawns
Fig and goat cheese Bruschetta
Chocolate Degustation 1
Chocolate Degustation 2
Chocolate Degustation 3
Charmula SeaBass
Roasted Quail