Jumpin Jammerz is the world's leading company in footwear.  They have the widest variety of fun prints, styles, fabrics and colors options available!  I visited Jumpin Jammerz website and I knew their footed pajamas would keep me warm in the winter.  I hated to put two comforters in my bed to keep me warm at night.  Remembering when I was 9 years old, I use footed pajamas.  I wanted a footed pajama for an adult.   Jumpin Jammerz makes footed pajamas for women, men and kids too.  It would make a nice birthday and Valentine's Day or I love you gift.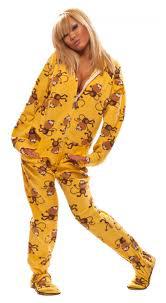 I received one of their Jumpin Jammerz.  I fell in love with their Crazy Monkey footed pajama.  David, my 3 year old wanted my Crazy Monkey pajama.  He cried for it, I just wish it was his size to give it to him.  The Crazy Money pajama retails for $49.99.  If you want to see other pictures for the Crazy Monkey pajama or buy one for yourself or a friend visit Jumpin Jammerz. 
To view other 200 footed pajamas visit Jumpin Jammerz.  They also have footed pajamas on clearance to check them at Jumpin Jammerz.
View pictures of Jumpin Jammerz footed pajamas available in their website below.

To find out offers and products from Jumpin Jammerz join them on Facebook and Twitter. 
Jumpin Jammerz is sponsoring the Blogorama Bonanza Remix 2012 Event.  Enter to win 2 Jumpin Jammerz footed pajamas.  Come back the event starts on January 20th, at 12:00AM.
Disclaimer:  I was not compensated for this review.  I received a Jumpin Jammerz footed pajama in exchange for an honest review.  Thank you for sponsoring the event for a review and giveaway.