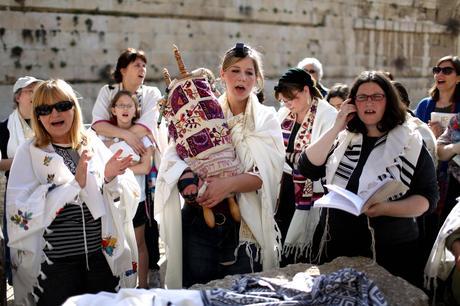 This post is part of a series discussing the 2013 Jewish Orthodox Feminist Alliance (JOFA) 8th International Conference of Feminism and Orthodoxy. You can read my notes on this session here.
After being interviewed for the Forward video about the JOFA Conference, I went to The WOW Factor: Women of the Wall. I was familiar with panelist Rabbi Jackie Koch Ellenson, the Director of the Women's Rabbinic Network and International Vice-Chair of Rabbis for Women of the Wall, from her involvement in Lilith magazine. I had not heard of the other panelists: Cheryl Birkner Mack,

a WOW board member and teacher of Judaics and English as a Foreign Language

, and Rahel Jaskow, a longtime member of WOW and translator, editor, writer, and singer. The session was moderated by Rabbi David Kalb, Director of Jewish Education for the Bronfman Center for Jewish Life at 92nd Street Y.
When I first entered the Jewish feminist scene, I immediately began to support WOW's controversial prayer services at the Kotel (the Western Wall). When Anat Hoffman, WOW's leader, was arrested in 2009 for praying with a tallit (prayer shawl) because it is traditionally only worn by men, I rallied behind WOW. I'm not sure how much I thought about the issue at hand, though; my support mostly stemmed from the desire to be in solidarity with the rest of the Jewish feminist blogosphere. Once I started thinking about it a little more, I began to feel my support for WOW waver. I strongly believe that when we participate in Jewish feminist actions, it is vital that they come from the heart and not from some misguided sense of making a statement. The more I kept up with WOW's doings, the more I felt like WOW was going for shock value and political statements rather than a genuine desire to make the Kotel a comfortable prayer space for every Jew.
However, having heard this panel about WOW, I now realize that these women are in it to improve the Jewish people and state of Israel, not get their names in the press. They want to make the Kotel accessible and welcoming to every Jew, regardless of their denomination or past experiences with Judaism. I heartily support them in this goal.
Although I would not feel comfortable praying with tefillin (phylacteries) or a tallit, as many WOW members do, I still think that WOW's message and aim are worthy ones. My personal attitude towards Israel is that it should be a Jewish state, not an Orthodox one. Consequently, all forms of Jewish expression should be recognized as equally legitimate, and all of the denominations should make space for each other. This should apply at the Kotel as well. Although I do not personally want to lay tefillin at the Wall, I think it's extremely important that women are able to do so without being harassed or arrested. That's all WOW is after: When asked about what her hopes for the future of the Kotel are, Birkner Mack responded, "respect and acceptance."
I just came home from a ten-day trip to Israel through Birthright, and I have never more spiritual or connected to God than when I prayed at the Kotel. Touching the ancient stones and placing a note in their cracks, I became fully aware of the magnitude of the destruction of the Beit HaMikdash (Temple); I have never felt such a deep yearning for it to be rebuilt. For me, it was meaningful to say Psalms and make requests in my own words. For WOW members and other women, it is meaningful to participate in Torah reading while wearing tefillinand tallit. I could not imagine taking such a powerful experience away from them.
I am so happy that I experienced this panel, because it opened my eyes to the reality of WOW. I truly hope that I make it to Israel at least one more time so I am able to pray with them.