One of the things I enjoy about maintaining a blog is the opportunity to meet other people who share the same interest as me! That's why I'm featuring a new section in this blog which solely puts the spotlight on one blogger at a time. First on my list is Shayne of Queen Of All You See, whose blog I really find amusing! Nice photos and well-written posts always make me come back to her blog for updates.
I asked about her top 5 new year's beauty resolutions and a little background about herself. Read on to see her answer!
——————
SHORT BACKGROUND
Just a very quick background about myself. (Hi to all the readers of Dress Me Up Buttercup. My name is Shayne,) At the moment, I'm really into learning more about beauty products and photography, which eventually lead me to blogging. Capturing things that I love in a photo really brightens up my day, well most of the time. Sometimes it can be frustrating especially since the lighting in my room can be a bit of a challenge.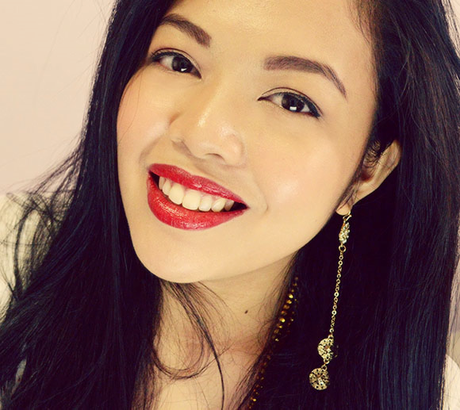 TOP 5 NEW YEARS BEAUTY RESOLUTION
Buy less beauty products

 - Blogging about some of the products that I've purchased forced me to reflect on the things that I've spent my money on. I realized that ever since I started 

queenofallyousee

 I've become a beauty product zombie. The majority of my shopping budget was spent on beauty products, which is bad. If I continued this habit I might end up with nothing to wear! Okay that's exaggerating. What I meant is that it's only right that I find a balance in my spending. So this year I want to minimize my beauty product shopping per month and be a wiser shopper.

Invest more on skincare products

– I've never felt too guilty spending more money on excellent makeup products. I am, however, extra sceptical on spending more on skincare products. I guess it's because my skin is naturally resilient that I've taken skincare products for granted. But since I am not getting any younger, it's a good time for a change.  I decided to increase my budget for my skincare products and be more responsible with taking care of my skin.

Wash my makeup brushes more

– I'm sure a lot of you can relate with me on this. I am guilty of not cleaning up my makeup brushes as much as I should, which is a terrible and unhygienic habit, and I must change that.

Avoid beauty routine shortcuts

– The more I share my beauty resolutions with you, the more you find out that I can be a really lazy person. I've developed a shortcut wherein I just use facial cleansing wipes instead of washing my face with a cleanser and water. After regularly doing this for a while I learned that my skin doesn't like this routine at all. It dries out and becomes flaky, so I want to eliminate this new and bad habit of mine and go back to my old usual routine.

Live a healthier lifestyle

– It's true what they say that the best beauty regiment that you can give your body are the things that you eat and drink. I've notice a HUGE difference in my skin just by drinking lots of water regularly and taking vitamins, and so I want to continue learning the habit of eating healthier foods, and perhaps other new things I can do to live a healthier lifestyle. 
Website : www.queenofallyousee.com
Bloglovin : http://www.bloglovin.com/blog/7862561
Facebook : https://www.facebook.com/QueenOfAllYouSee
Instagram : http://instagram.com/queenofallyousee
Twitter : https://twitter.com/q_shayne
Pinterest : http://www.pinterest.com/queenshayne/
——————
I hope you all enjoyed this week's Blogger Spotlight post! Thank you Shayne for answering me back. If you want to be included in my future spotlight, just email me and I'd be glad to check your blog! :)