At the end of each year, I share what I found to be the best beauty buys from the past 12 months. Some are new products, some are just new to me. Many of you tell me you find the posts incredibly helpful, and I must say I also find them helpful when I read them on other blogs. This year, I decided to ask my favorite bloggers to share their single favorite beauty product from 2013 and I must say their choices have made my shopping list a mile long! I was honored to have so many bloggers share their faves, I have broken it down into six editions; this one is the lovely women who couldn't narrow it down to one item.  Be it for the lips, eyes, face, or even fragrance, here's their top picks: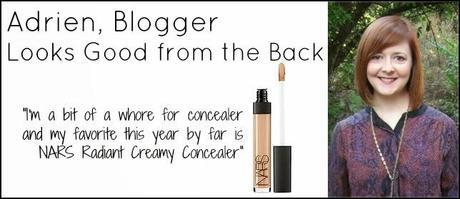 "I'm a bit of a whore for concealer and my favorite this year by far is
Nars Radiant Creamy Concealer
. It's super pigmented and stays put so it's great for undereye circles. Like Marianne (see below), I'm fickle when it comes to makeup but I've rebought
Maybelline The Colossal Mascara
several times this year and it's definitely become a staple. It's black-black, holds curl and it's cheap! Finally,
Clinique Almost Lipstick in Chic Honey
is my favorite lip product of 2013. This color is a bit of an update on the classic
Black Honey
, but still sheer and easy to apply in the car without a mirror when you're running late to work. (Um, not that I do this. Much.)"
- Adrien, Looks Good from the Back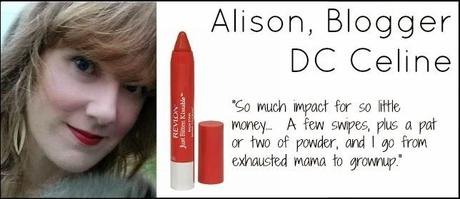 "For skin,
Kiehl's Midnight Midnight Recovery Concentrate
. It's not cheap, but a little bit goes a very long way, and a small bottle lasts forever. It smells amazing, and my finicky skin feels like the proverbial baby's bottom in the morning.
For color,
Revlon Just Bitten Kissable Balm Stain in Romantic
. Your recommendation, obvi, and one of my finds ever. So much impact for so little money - and key for this lazy makeup girl - so little effort. A few swipes (so easy to apply, it's mirrorless), plus a pat or two of powder, and I go from exhausted mama to grownup."
- Alison, DC Celine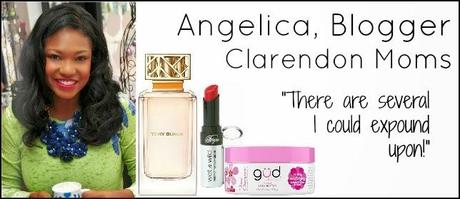 "There are several favorites from 2013 I could expound upon...
Fergie's Wet n Wild Creme Lipstick in Old School Glam
,
Gud by Burt's Bees Body Butter
,
Tory Burch Eau de Parfum Spray
, and
Marc Jacobs Nail Glaze
. "
- Angelica, Clarendon Moms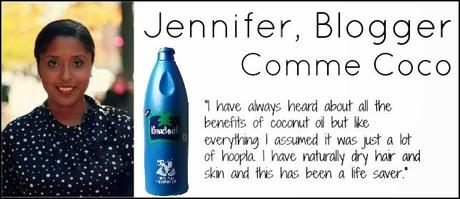 "My favorite beauty buy is
Parachute coconut oil
. I am obsessed with what it does for my hair and skin. I have always heard about all the benefits of coconut oil but like everything I assumed it was just a lot of hoopla. I have naturally dry hair and skin (probably because I dont drink enough water) and this has been a life saver.
I also am in love with
Pink Sugar Eau de Toilette
. I was at the movies a few months ago and this lady sat next to me and I immediately was drawn to the way she smelled. So much so that I just had to ask what she was wearing. She told me about this perfume and I immediately got on the internet and was ordering it. It definitely has a super sweet scent but everyone remarks positively on it."
- Jennifer, Comme Coco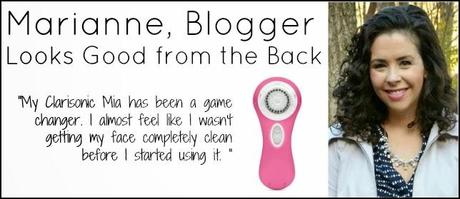 "I'm a pretty fickle pickle when it comes to beauty products, constantly moving from one favorite to the next, but for 2013 a few products stand out. First of all, my
Clarisonic Mia
has been a game changer. I almost feel like I wasn't getting my face completely clean before I started using it. On the makeup front, I switched to a full coverage foundation (
Smashbox Studio Skin 15 Hour Wear Foundation
) and whoa. It looks natural, stays on ALL day, and I don't know if I'll ever go back to tinted moisturizers! Lastly, this year I splurged on the
Urban Decay Naked2 Palette
and I use it almost every day. I love that I can go from natural to dramatic all in one product, and the colors are rich and lasting."
- Marianne, Looks Good from the Back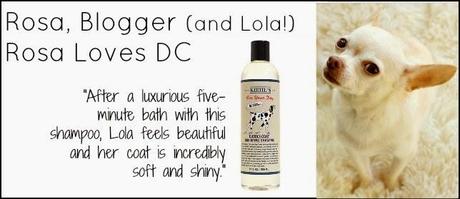 "My Favorite Beauty Buy:
Kiehl's Mint Lip Balm
. This lip balm is the best remedy for chapped lips and it also smells divine. I wear it all the time. I also use a tiny bit before applying lipstick especially during the winter months.
Lola's Favorite 2013 Beauty Buy was
Kiehl's Cuddly-Coat Grooming Shampoo
. After a luxurious 5-minute bath with this shampoo, Lola feels beautiful and her coat is incredibly soft and shiny."
- Rosa (and Lola!), Rosa Loves DC
I always say I learn the most from you, readers.  Some of my Holy Grail beauty products are ones you recommended in the comments.  So let me and everyone else know, what were your best skincare buys in 2013?
Follow Me | Twitter | Facebook | Instagram