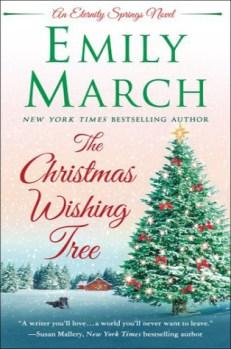 The Christmas Wishing Tree by Emily March
Series: ,
Published by St. Martin's Paperbacks on September 25, 2018
Genres: Holidays, Literature & Fiction, Love & Romance
Pages: 320
Format: ARC
Goodreads
Buy on Amazon



Sometimes life's most magical journeys bring you back to where it all began…From USA Today bestselling author Emily March comes The Christmas Wishing Tree, an enchanting account of the magic and miracle of Christmas.

A man who loves adventure and the open sea, Devin Murphy returns for a short Christmas trip to his small hometown of Eternity Springs. Immersed in the joy and magic of the holiday season all around him, he doesn't hesitate to play along when a young boy phones Santa to ask for a very special wish. Devin never guesses that a wrong number has the potential to make everything in his life so right.

Jenna Stockton adopted Reilly when he needed a mother and she intends to keep him safe. A small town across the country called Eternity Springs seems like a good place to hide from their past without any complications –until sexy Santa himself discovers her secrets. When Devin proposes a daring plan to face down the danger together and defeat it once and for all, she is tempted. Maybe Devin really is capable of making wishes come true? Perhaps in a Christmas wish they'll both find the miracle they've been looking for all along…

A delightful Christmas novel in the New York Times bestselling Eternity Springs series.
Thanks to my association as a book blogger with NetGalley, and because I have come to discover that many of the books I have loved to read were published by St. Martin's Press, I was provided with an advanced reader copy of Emily March's latest installment in her Eternity Springs series – book number 15 – The Christmas Wishing Tree!
In all honesty, I thought this book was going to be one of those "feel good" kind of books where the man and woman meet, fall in love on page 1, and the book continues by describing their "love at first sight" relationship. Sometimes I love those kinds of stories, and I'll dive right into a book knowing that is the plot, but as it turns out, The Christmas Wishing Tree wasn't one of those stories so I was pleasantly surprised.
The Christmas Wishing Tree story is about three primary characters.  The first is Devin Murphy, a guy on vacation in Eternity Springs visiting his adoptive parents. Then there's Jenna Stockton, an OB/GYN and her 6-year old adopted son, Reilly. When Jenna adopted Reilly, she needed to keep him safe so she left a bad situation in Florida and moved to small town Eternity Springs to do so.
While helping Celeste Blessing, the owner of Angel Rest', decorate for the holidays, she slips on ice and falls into Angel Creek.  Devin rescues Celeste but he ruins his cellphone saving her.  Celeste tells Devin not to give up on his dreams and she hands him a prepaid cellphone. Celeste instructs Devin to answer the phone whenever he hears Christmas bells. 
Reilly somehow gets a phone number and is told it's Santa's phone number.  As it turns out, the phone is actually a burner phone that Devin was given.  Devin and Jenna meet and decide that it's a harmless situation and they agree that Devin can keep up Reilly's belief that the phone is Santa's.
Into the mix of this romance, we throw the story of a stalker.  I don't write spoilers, so you'll have to read the book to learn more about the stalker, about the budding romance between Devin and Jenna, and to find out how the story ends.
I really enjoyed these characters and the small town community of Eternity Springs in The Christmas Wishing Tree.  The story is very well paced and the story blends together very well.  Ms. March does a fantastic job balancing the stalker story line with Devin and Jenna's journey of their relationship.  The conclusion to this story was perfect too – I found myself laughing and crying at the same time while reading the final pages of the story.

The Christmas Wishing Tree is a perfect holiday read that provides great small town charm and a beautiful romance along with a little boy's Christmas wish! Readers see Celeste Blessing's magic bring three people together to learn how to believe in the Christmas spirit all year long!!
Links to pick up a copy of this book for yourself:
Macmillan  | Amazon  | Barnes & Noble  | Books-a-Million  | Indie Bound  | Powells
---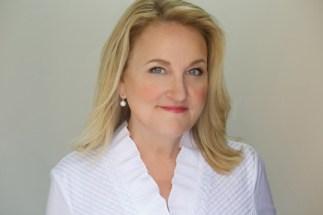 Emily March is the New York Times, Publishers Weekly, and USA Today bestselling author of over thirty novels, including the critically acclaimed Eternity Springs series. Publishers Weekly calls March a "master of delightful banter," and her heartwarming, emotionally charged stories have been named to Best of the Year lists by Publishers Weekly, Library Journal, and Romance Writers of America.
A graduate of Texas A&M University, Emily is an avid fan of Aggie sports and her recipe for jalapeño relish has made her a tailgating legend.
Website | Twitter | Facebook | Goodreads | Amazon | Pinterest | Newsletter
---
I received an advanced readers digital copy of this book from St. Martin's Press through NetGalley in exchange for my honest review. I was not required to provide a positive review but I chose to because it was a great book!! Thank you St. Martin's Press!

~ ~ ~ ~ ~ ~ ~ ~ ~ ~ ~ ~ ~ ~ ~ ~ ~ ~

It would be great if you would stay connected with me!! You can follow me on Twitter @DebiL1611, like me on Facebook at 2014 and Beyond, circle me on Google+, follow me on Tumblr, Instagram and Bloglovin', subscribe on YouTube, or connect with me on LinkedIn and Pinterest.

Please make sure to visit my homepage and subscribe to my blog for more great posts on running, fitness and lifestyle topics as well as food, product, music and book reviews, and more!