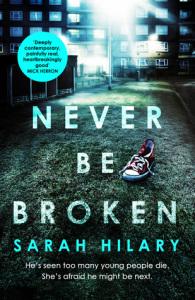 What's it all about?:
Children are dying on London's streets. Frankie Reece, stabbed through the heart, outside a corner shop. Others recruited from care homes, picked up and exploited; passed like gifts between gangs. They are London's lost.
Then Raphaela Belsham is killed. She's thirteen years old, her father is a man of influence, from a smart part of town. And she's white. Suddenly, the establishment is taking notice.
DS Noah Jake is determined to handle Raphaela's case and Frankie's too. But he's facing his own turmoil, and it's becoming an obsession. DI Marnie Rome is worried, and she needs Noah on side. Because more children are disappearing, more are being killed by the day and the swelling tide of violence needs to be stemmed before it's too late.
NEVER BE BROKEN is a stunning, intelligent and gripping novel which explores how the act of witness alters us, and reveals what lies beneath the veneer of a glittering city.
What did I think?:
First of all, thank you so much to Anne Cater for inviting me to take part in this blog tour and to Headline Books for providing me with a complimentary hardback in exchange for an honest review. I have to admit, when the email first came through from Anne, I practically bit her hand off for the chance to be involved in this tour. The DI Marnie Rome series remains one of my absolute favourites in crime fiction and unlike series from different authors in the past (where I've sadly lost interest as the series continued) in my opinion, these books just keep getting stronger and stronger. Like my other favorite crime author Cara Hunter, Sarah Hilary dives into the heart and soul of her fascinating characters and as each book continues, you really start to believe not only that these characters exist but that you understand and care about them on a much more intimate level.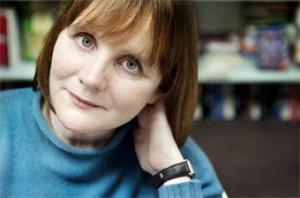 Sarah Hilary, author of Never Be Broken, the sixth novel in the DI Marnie Rome series. 
I would urge anyone reading this review with an interest in contemporary UK crime fiction to seek out and devour these novels right from the beginning. Although each book could theoretically be read as a stand-alone, you will understand much more about our protagonists' pasts, hopes, dreams and fears from enjoying it from the start. There are a few particular threads I'm thinking of involving Marnie and her colleague Noah, specifically their individual family situations that just HAVE to be experienced from Someone Else's Skin onwards. Although it may feel overwhelming to catch up on seven books in a series, I can confidently confirm that it will be worth every single page you read. Sarah Hilary manages to capture not only the authenticity of her characters as I've mentioned previously, but the current situation in London today. I found this particularly poignant in Never Be Broken as topics explored included Brexit, the tragedy of Grenfell Tower and violent crime amongst young people.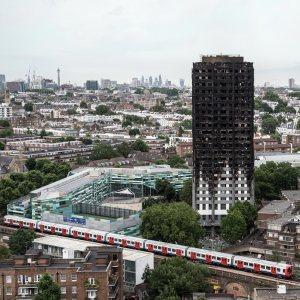 The devastation of the fire at Grenfell Tower, mentioned in Never Be Broken.
DI Marnie Rome and her sidekick, DS Noah Jake are our two main protagonists in the series and the author has chosen to explore their lives intricately through previous books in the series. In Never Be Broken, the main focus is on Noah which I was delighted by as I have a particular soft spot for him as a character. Well – I wasn't expecting joy and happiness in a novel that mentions "broken" within the very title but I seriously wasn't prepared for how much drama, heart-break and havoc I would be facing as a reader. Sarah Hilary expertly merges the exploration of her characters personalities with tense, gut-wrenching moments of action. The result is that you get a story with slower, beautiful and more thought-provoking passages combined with parts that literally kept me on the edge of my seat as I continued to read. As I alluded to before, because the author spends so much time letting us get to know the characters on a personal level, you champion and root for them even more so because you feel that special connection.
I'm thrilled to confirm another stellar outing from Sarah Hilary with Never Be Broken but I never expected any less, to be honest. She is truly becoming a "must read" author in the crime fiction genre that everyone should be aware of if they aren't already familiar with her. I'm so excited to see where she's going to take our characters next!
Would I recommend it?:
But of course!
Star rating (out of 5):

AUTHOR INFORMATION
Sarah Hilary's debut, Someone Else's Skin, won Theakstons Crime Novel of the
Year 2015 and was a World Book Night selection for 2016. The Observer's
Book of the Month ('superbly disturbing') and a Richard & Judy Book Club
bestseller, it has been published worldwide. No Other Darkness, the second in the
series was shortlisted for a Barry Award in the US. Her DI Marnie Rome series
continued with Tastes Like Fear, Quieter Than Killing and Come And Find Me.
Find Sarah on Goodreads at: https://www.goodreads.com/author/show/3418841.Sarah_Hilary
on her website at: http://sarah-crawl-space.blogspot.co.uk/
on Twitter at: @sarah_hilary
Thank you so much once again to Anne Cater and Headline Books for inviting me to take part in this blog tour, I've had a wonderful time doing it. Never Be Broken was published on 16th May 2019 and will be available as a hardback and a digital e-book. If you fancy more information don't forget to check out the rest of the stops on this blog tour for some amazing reviews!
Link to Never Be Broken on Goodreads: https://www.goodreads.com/book/show/43527422-never-be-broken
Link to Never Be Broken on Amazon UK: https://www.amazon.co.uk/Never-Broken-D-I-Marnie-Rome/dp/1472249003/ref=sr_1_1?crid=GIZKJVZ5ODE9&keywords=never+be+broken&qid=1558464618&s=gateway&sprefix=never+be+broken%2Caps%2C135&sr=8-1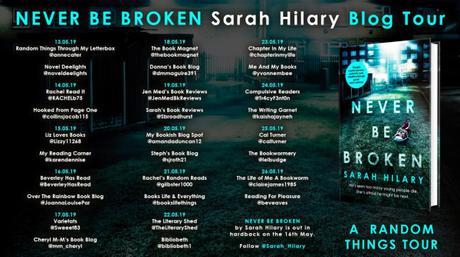 Advertisements