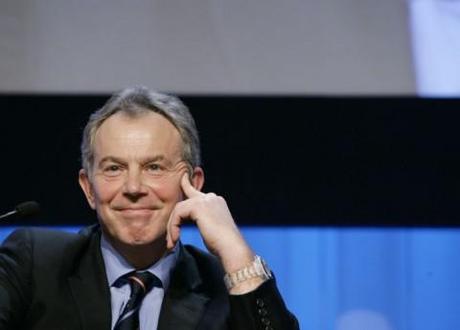 Tony Blair. Photo credit: Monika Flueckiger
Wendi Deng, Rupert Murdoch's third wife, dropped the Blair bombshell in an interview with the October edition of Vogue. The Daily Telegraph, obtained details from the as yet unpublished Vogue interview and ran it as a page one story. Deng said that Blair was present at the christening of her two daughters on the banks of the River Jordan last year and is godfather to the elder one.
"The journalist who conducted the interview for Vogue is said to move in the same circles as the Murdochs in New York. While Mrs Murdoch does not comment on Mr Blair directly, the article states that Miss Kidman, Mr Jackman and Mr Blair are godparents. It claims that Mr Blair attended the Jordanian ceremony 'garbed in white' and describes him as one of Mrs Murdoch's 'closest friends.' They have a mutual friend in Queen Rania of Jordan, who hosted the baptism," reported Anita Singh at The Sunday Telegraph.
The news emerges in what is set to be another big week in the ongoing phone hacking scandal. This week, the Culture, Media and Sport select committee hears from the former News of the World editor Colin Myler and its former legal manager Tom Crone who have both cast doubt on some of the details of James Murdoch's testimony to the committee at the end of the last parliamentary term.
Highly embarrassing for Blair. "The information was not made public and its disclosure in an interview with Mrs Murdoch in Vogue will prove highly embarrassing for Mr Blair," insisted Anita Singh at The Daily Telegraph, who suggested that Blair's "close ties" to the Murdoch clan could "could explain his reluctance to condemn the News International phone hacking scandal. In July, it was reported that he asked Gordon Brown to put pressure on Tom Watson, the Labour MP who helped expose the scandal, to drop his investigation."
"In the Vogue "Blair godfather" interview, Wendi Deng claims Murdoch 'has no PR people advising him.' Another pork pie," tweeted The Guardian's Peter Bradshaw.
Blair embarrassment eases pressure on Cameron. The news of this "deeply personal link between Blair and Murdoch" will "strengthen Cameron's case" when he tries to argue that it was a succession of British politicians, and not just him, who allowed themselves to become too close to Rupert Murdoch and his companies, argued James Forsyth at The Spectator's Coffee House blog.
Blair godfather to Murdoch's kid – it's remarkable how many big hitters have no proper friends, just people they meet through work," tweeted The Guardian's Marina Hyde.