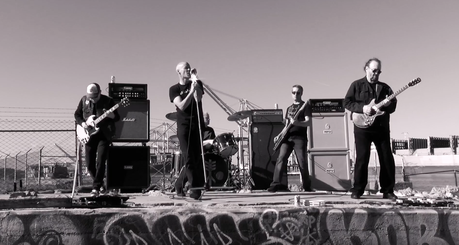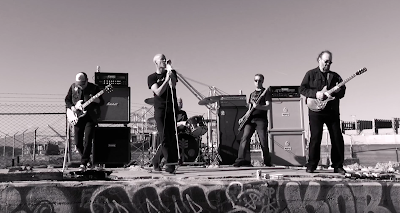 Track Appears on Oakland Metal Band's New LP, 'Sinister Sides', Out Now Blackwülf with Geof O'Keefe Bay Area heavy metal band Blackwülf has released a music video for its cover of Cream's "Sunshine of Your Love". The song, which features a guest appearance from founding Pentagram and Bedemon guitarist Geof O'Keefe, is taken from the band's new album, Sinister Sides. The video, which was directed by Scott Hester and filmed on the old naval base on Alameda Island, overlooking the Port of Oakland, premieres via Metal Insider, which notes, "the cover is mixed with old school heavy metal gems and traditional doom." See Blackwülf's "Sunshine of Your Love" video at
this location
.
"Cream is a quintessential band that has inspired generations of musicians for decades now, ourselves included," comments vocalist Alex Cuningham. "Sunshine of Your Love" features such an iconic riff and is arguably a seminal blueprint for the heavy rock that followed its first release in 1967. Initially, the song was a rehearsal warm up number for Blackwülf, but after moving it into our live set and seeing fans' reactions, we decided to cut it to vinyl. With Pentagam's Geof O'Keefe ripping as a guest on the track on lead guitar, we hope our version to be a worthy tribute to a band that means so much to us personally and to many other fans of vintage heavy rock."
Released this past February via Ripple Music (Mothership, Wo Fat, Castle), Sinister Sides was recorded at San Francisco's Trakworx Recording & Mastering (Agalloch, Deafheaven) and showcases eight songs featuring heavy, headbanging riffs, The LP is the follow-up to Blackwülf's 2015 LP, Oblivion Cycle, hailed as "rock 'n' roll at its purest" (The Bay Bridged). Stream Sinister Sides in full via
New Noise
.
"Sinister Sides' is, at its core, old school heavy rock made new again," says Blackwülf guitarist Pete Holmes. "Filled to the brim with fist-pumping riffs and aggressive grooves, the record's intention is to provide a classic 'album experience': a dark journey through the best sides of vintage hard rock, stoner rock and traditional doom metal."
Track listing:
1.) Gate of Sorrow
2.) Sinister Sides (
The Obelisk premiere
)
3.) Waiting on Tomorrow 4.) Dead to the World (Decibel
premiere
)
5.) Blind to Fate
6.) The Tempest
7.) Sunshine of Your Love (Cream cover)
8.) Battle Line
In addition to Cunningham and Holmes, Blackwülf features Dave Pankenier (drums) and Scott Peterson (bass). Find Blackwülf online at
Blackwulfusa.com
and follow the band on
Facebook
.  
"Oakland doom rockers Blackwülf have been prowling in the same sonic pack as forefathers Pentagram and Bedemon since they formed in 2012. Vocal hooks, searing leads, and riffs that honor the history of electric blues through the lens of American doom." - DECIBEL
"Oakland-based Blackwülf follow the Hard Rock/Proto-Doom traditions of the '70s with a charismatic heaviness." - DOOM METAL.com
"Sinister Sides' is a tremendous album. If you dig Stoner, Doom, Garage, or even Classic Rock there is something for you to love on this ripper." - OUTLAWS OF THE SUN