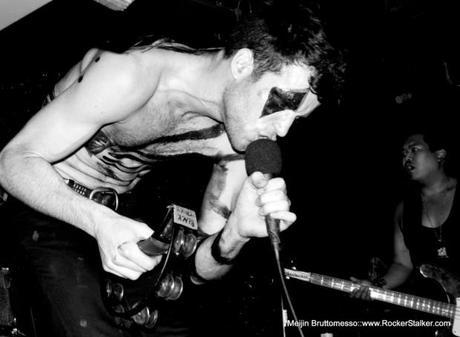 Brooklyn's Public Assembly heated up on January 26th with a packed show headlined by Black Taxi. The band's consummate blend of rock heaviness, dancey beats, and Brooklyn quirkiness has launched them into national notoriety. Next week, the quartet will be relocating to Austin, Texas for February and March, where they will perform each Wednesday at The Parish, write new material for a forthcoming record, and play SXSW.
Yazan and Echosuite accompanied Black Taxi for their "farewell…for now" gig. Starting off the evening with some powerful pipes and lovely guitar compositions, Yazan, who is also the roommate of Black Taxi members Ezra Huleatt (vocals/keys/ trumpet/"toys") and Bill Mayo (guitar/vocals), paused for a moment to joke about being left with "strangers from Craigslist" before blowing the crowd away with bluesy, drum-backed slide guitar jams. Check out his EP, Your Crooked Part.
Echosuite, who also hail from New York, filled the room with bright synths, showcasing their refined sound and pop sensibilities. Their record is streamable in full here.
After all the growing anticipation, the men of the hour finally hit the stage. Appearing in signature warpaint, Huleatt donned zebra stripes and tribal prints mixed with Jack of Diamonds-inspired face paint, which eventually melted into smoky smears. Drawing from their discography, Black Taxi played over an hour of crowd-pleasing tunes from their 2012 release, We Don't Know Any Better; their 2009 album, Things of That Nature; and a yet-to-be released newbie. Whipping the crowd into a frenzy from note one, Black Taxi mesmerized with Huleatt's trumpet solos, Mayo's exquisite guitar work, Jason Holmes' driving beats, Krisana Soponpong's grooveable basslines, and full-band electro-style breakdowns.
The shoulder-to-shoulder audience, infused with the band's frenetic energy, bounced, swayed, and shimmied as one, particularly to "Shoeshine," "We Don't Know Any Better," "Be My Friend," "Pretty Mama," and "Up Here for Thinking (Down There For Dancing)," during which the ever-acrobatic Huleatt pulled himself upside down on a ceiling beam above the stage while shaking a tambourine. Even after the extended set, cheers for more coaxed the band back for a two-song encore: "Life During Wartime" by Talking Heads and "Miss You" by the Rolling Stones. The unforgettably fun night was a perfect sendoff for the beloved Black Taxi.
Though New York will miss one of their pride and joy, Black Taxi's friends and fans are proud to see an act of the band's caliber gaining the attention and praise they deserve. Austin is lucky to have them.
Black Taxi










Echosuite






Yazan
Yazan