Yesterday, February 7, 2013, at the 2013 National Prayer Breakfast in Washington, D.C., the keynote speaker was Dr. Benjamin Carson.
Dr. Benjamin Solomon Carson Sr., 61, is the real deal — a neurosurgeon and the Director of Pediatric Neurosurgery at the prestigious Johns Hopkins Hospital.
Dr. Carson also just happens to be black — who is a Christian, a cultural and economic conservative, and a true patriot who loves the American Revolution, the flag, and America.
Watch and listen to him begin his speech by quoting from the Bible. Then Dr. Carson excoriates the tyranny of political correctness, calling it a "dangerous" and "horrible thing" that has led to such ridiculous fears as wishing people Merry Christmas. Political correctness muzzles us into a false "unanimity of thought" and "unanimity of expression" that prevents us from talking about the important things.
He talks about the moral decay of Americans, and cautions us of a Rome-like fate, and — in front of Obama sitting just feet from the podium — confronts the issue of America's debt and current fiscal policy:
"Our deficit is a big problem. Think about it — and our national debt — $16 and a half trillion dollars…. What about our taxation system — so complex there is no one that can possibly comply with every jot and tittle. When I pick up my Bible, you know what I see? I see the fairest individual in the universe — God — and he's given us a system. It's called tithe."
Watch the POS's reaction.
Dr. Carson was born in Detroit, Michigan and was raised by his single mother, Sonya Carson. He struggled academically throughout elementary school, but started to excel in middle school and throughout high school. After graduating with honors from Southwestern High School, he attended Yale University, where he earned a degree in Psychology. From Yale, he attended University of Michigan Medical School.
At age 33, he became the youngest major division director in Johns Hopkins history, as Director of Pediatric Neurosurgery. In 1987, Carson made medical history by being the first surgeon to successfully separate conjoined twins (the Binder twins) who had been joined at the back of the head).
The recipient of numerous awards and honors, Dr. Carson has written four bestselling books published by Zondervan, an international Christian media and publishing company: Gifted Hands, The Big Picture, Take the Risk, and Think Big. The first book is an autobiography and two are about his personal philosophies of success that incorporate hard work and a faith in God; Carson is a Seventh-day Adventist who does not believe in evolution.
A video documentary about Carson's life titled Gifted Hands: The Ben Carson Story was released by Zondervan in 1992. Subsequently in 2009, a separate television movie with the same title premiered on TNT on February 7, 2009.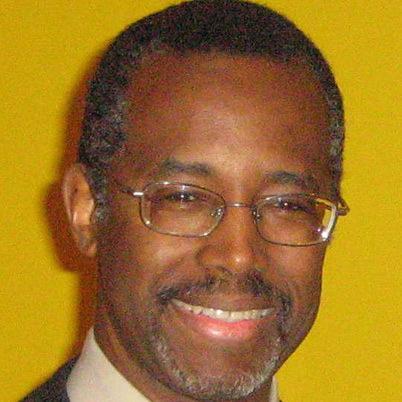 If Dr. Carson runs for the presidency, I will vote for him — in a heartbeat.
H/t my bud Mark S. McGrew
~Eowyn