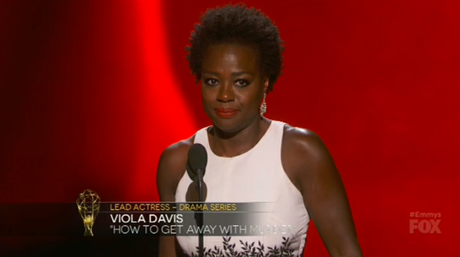 In this week's black excellence Viola Davis shows why she is so great. The astonishing actress scored an emmy for best LEAD actress for a drama series by playing Annalise Keating on "How to Get Away with Murder."This is phenomenal because this is the first time a black woman has won this award.
Viola Davis gave a beautiful speech and made sure she discussed the lack of diversity on television by saying, "The only thing that separates women of color from anyone else is opportunity." 
In addition to winning, Viola Davis beat out Taraji P. Henson (Empire), Robin Wright ("House of Cards"), Elisabeth Moss ("Mad Men"), Claire Danes ("Homeland") and  Tatiana Maslany ("Orphan Black") for the award.
[email protected]shondarhimes Couldn't have happened without you dear Shonda. Thanks for kicking that door open wide enough for @violadavis to soar thru.

—
Oprah Winfrey (@Oprah) September 21, 2015
"To be a woman...to be BLACK!" I AM DONE TONIGHT. Viola has me on the floor. #Emmys

—
Janet Mock (@janetmock) September 21, 2015
VIOLA omg HISTORY!!!!!!!!!!!!!!!!!!!!!!!!!!!!!!!!! so excited for you baby!!!!

—
octavia spencer (@octaviaspencer) September 21, 2015
OMG!!! I'm floored... and proud and crying... VIOLA VIOLA VIOLA!!! Thank you for letting us share your shine!!! Man... tears

—
Gabrielle Union (@itsgabrielleu) September 21, 2015
Thank you @violadavis for the tears that just ran all down my smoky eye. #Emmys

—
Samira Wiley (@samirawiley) September 21, 2015
Wow , WOW! Another proud to spell my name W.O.M.A.N. Moment. Thank you @violadavis #EmmyWinner

—
Oprah Winfrey (@Oprah) September 21, 2015
@UzoAduba @violadavis @ReginaKing my heart is filled with so much joy as a black woman tonight at the #Emmys2015. U just can't stop crying.

—
Laverne Cox (@Lavernecox) September 21, 2015