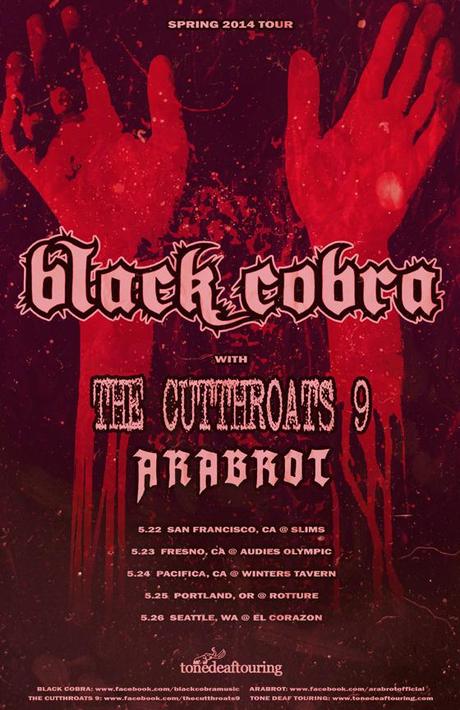 The decimating metal/sludge duo that is BLACK COBRA has crawled out of the shadows with their first shows since two one-off cross-continental gigs in January, proclaiming an upcoming May decimation of the West Coast!
The newly planned five-day, five-city run will originate in BLACK COBRA's San Francisco hometown on May 22nd, then systematically shredding through Fresno, Pacifica, Portland and Seattle. Providing opening support for the trek will be California-based noise metal outfit, The Cutthroats 9 (featuring members of Unsane, Death Angel and -16-), and Norwegian Grammy-winning noise/punk outfit,
Årabrot.
Preceding the new West Coast tour, BLACK COBRA will raid Portland to take part in the annual Stumpfest on April 26th, performing alongside sludge metal visionaries, Yob, and gritty doom unit, Diesto.
Additional live outings will be announced in the coming weeks.
BLACK COBRA
is currently constructing new material; additional news on the band's 2014 actions will be released in the near future.
BLACK COBRA Tour Dates:
4/26/2014 Mississippi Studios - Portland, OR @ Stumpfest w/ Yob, Diesto [tix]
5/22/2014 Slims - San Francisco, CA
5/23/2014 Audies Olympic - Fresno, CA
5/24/2014 Winters Tavern - Pacifica, CA
5/25/2014 Rotture - Portland, OR
5/26/2014 El Corazon - Seattle, WA
For all BLACK COBRA coverage, in North/South America contact

[email protected]

and in Europe contact

[email protected]

.
http://blackcobra.net
http://www.facebook.com/blackcobramusic
http://www.twitter.com/blackcobramusic
http://www.southernlord.com
http://southernlord.bandcamp.com