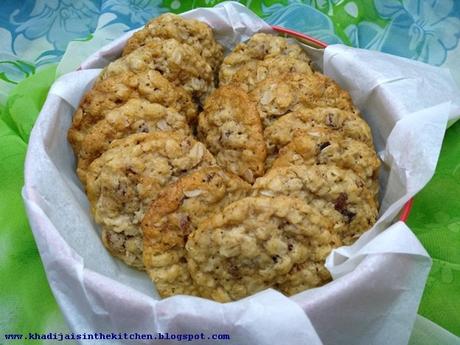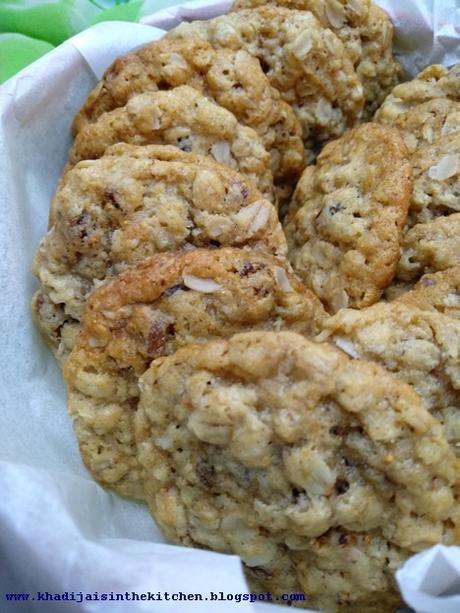 RECETTE / RECIPE / RECETA / الوصفة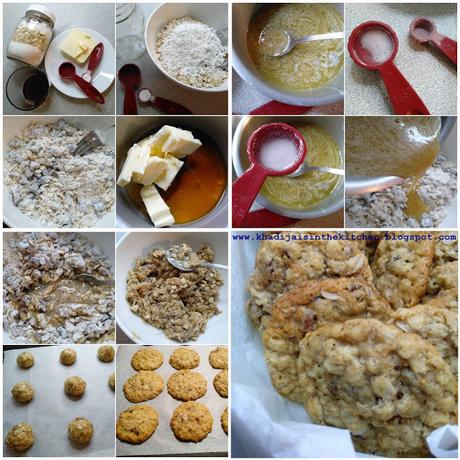 BISCUITS AUX FLOCONS D'AVOINE ET AUX FIGUES SÈCHES
INGRÉDIENTS :
90g de flocons d'avoine
75g de farine tout usage
75g de sucre semoule
50 g de figues sèches coupées en petits morceaux
60g de sirop d'érable
60g de beurre non salé
½ cuillère à café de bicarbonate de soude
1 cuillère à soupe d'eau chaude
MÉTHODE DE PRÉPARATION :
1. Préchauffer le four à 325°F. Dans un bol, mélanger les flocons d'avoine, la farine, le sucre et les figues sèches.
2. Dans une casserole, cuire le beurre et le sirop d'érable à feu doux, jusqu'à ce que le beurre soit fondu. Mélanger le bicarbonate de soude avec l'eau chaude et les ajouter au mélange de beurre. Verser le tout dans le mélange d'avoine et mélanger bien jusqu'à l'obtention d'une texture homogène.
3. La pâte est un peu grasse. Avec les mains, former des petites boules et les placer,
espacées l'une de l'autre,

sur une plaque de cuisson tapissée de papier parchemin.  Cuire au four pendant 10-15 minutes ou jusqu'à ce que les biscuits soient bien dorés. Laisser refroidir sur la plaque pendant 5 minutes avant de les transférer sur une grille.
***********************
OATMEAL DRIED FIGS COOKIES
INGREDIENTS:
90g rolled oats
75g all-purpose flour
75g caster sugar
50g dried figs cut into small pieces
60g maple syrup
60g unsalted butter
½ teaspoon baking soda
1 tablespoon hot water
HOW TO:
1. Preheat oven to 325°F. In a bowl, mix the oats, flour, sugar and dried figs.
2. In a saucepan, cook the butter and maple syrup over low heat, until the butter is melted. Mix the baking soda with the hot water and add them to the butter mixture. Pour this mixture into the oat mixture and mix well to combine.
3. The dough is a little bit greasy. Using your hands, shape small balls and place them
, spaced apart one from the other, onto a baking sheet lined with parchment paper.  Bake for 10-15 minutes or until the cookies got a golden color. Allow to cool on baking sheet for 5 minutes before transferring to a wire rack to cool.
***************************
GALLETAS CON COPOS DE AVENA Y  HIGOS SECOS
INGREDIENTES:
90g de copos de avena
75g de harina común 
75g de azúcar en polvo
50g de higos secos cortados en trocitos
60g de jarabe de arce
60g de mantequilla sin sal
½ cucharadita de bicarbonato de sodio
1 cucharada de agua caliente
ELABORACIÓN:
1. Precalentar el horno a
325°F.

En un bol, mezclar los copos de avena, la harina, el azúcar y los higos secos.
2. En una cacerola, cocinar la mantequilla y el jarabe de arce a fuego lento, hasta que la mantequilla se derrita. Mezclar el bicarbonato de sodio con el agua caliente y añadirlos a la mezcla de mantequilla. Verter esta mezcla sobre la de avena y mezclar bien para combinar.
3. La masa es un poco grasienta. Usando las manos, formar bolitas y colocarlas,
separadas una de otra,

en una bandeja para hornear forrada con papel pergamino.  Hornear durante 10-15 minutos o hasta que las galletas estén bien doradas. Dejar que se enfríen en la bandeja para hornear durante 5 minutos antes de transferirlas a una rejilla de alambre.
************************************
بيسكوي الشوفان و التين المجفف
المكونات:
90 غرام من الشوفان
75 غرام من الدقيق الابيض
75 غرام من حبيبات السكر
50 غرام من التين المجفف مقطّع إلى اجزاء صغيرة
60 غرام شراب القيقب
60 غرام زبدة غير مملحة
½ ملعقة صغيرة من بيكاربونات الصودا
ملعقة كبيرة ماء ساخن
طريقة التحضير:
1. يسخن الفرن على حرارة 325 درجة فهرنهايت.
 في وعاء ، يخلط الشوفان والدقيق والسكر والتين المجفف.
2. في انية ، تطهى الزبدة وشراب القيقب على نار خفيفة ، حتى تذوب الزبدة. تمزج بيكاربونات الصودا مع الماء الساخن و يضافا إلى خليط الزبدة ثم يسكب الكل في خليط الشوفان و يخلط جيدًا حتى تمتزج العناصر.
3. العجين دهني قليلا. باستخدام اليدين ، تشكل كرات صغيرة يتم وضعها متباعدة عن بعضها البعض فوق صفيحة للبيسكوي مغطاة بورق الزبدة. تخبز حبات البيسكوي لمدة 10-15 دقيقة أو حتى تصبح ذهبية اللون. تترك لتبرد فوق صفيحة البيسكوي لمدة 5 دقائق قبل أن توضع فوق رف سلكي.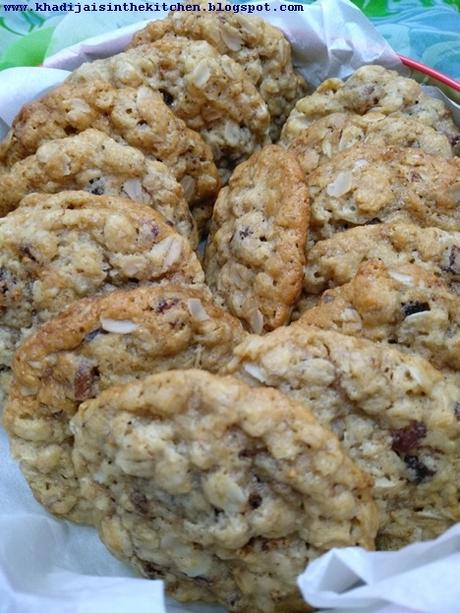 *********************
Hope you'll enjoy!!
*********************
Merci de votre visite / Thank you for your visit /Gracias por su visita/

شكرا على زيارتكم