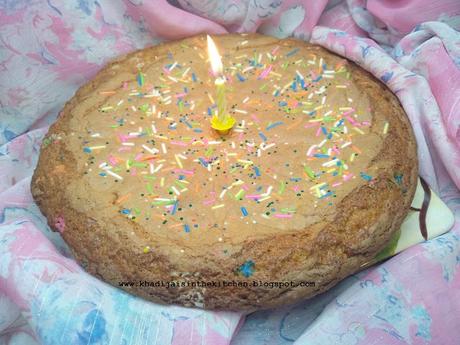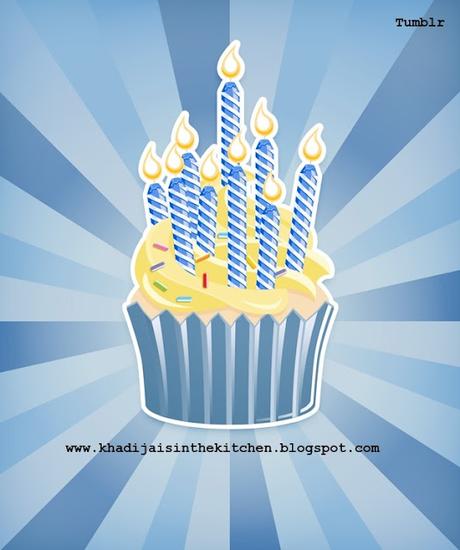 29 juillet / July 29th / 29 Julio / (29)يوليوز
Khadija is in the Kitchen : It's baking and cooking time!!
a 9 ans!! / Turned 9!! / ha cumplido 9 años!!/اتمت 9 سنوات 
Une recette pour l'occasion /
A recipe for the occasion
/ Una receta para la ocasión /
وصفة للمناسبة
:
RECETTE /
RECIPE
/ RECETA /
الوصفة

BISCUIT GÉANT AUX VERMICELLES COLORÉS (AVEC PRÉPARATION POUR GÂTEAU)
INGRÉDIENTS :
Une boîte de préparation pour gâteau blanc (432 g)
113 g de beurre non salé fondu, refroidi
Zeste d'un citron vert
2 œufs
(25 g + 10 g) de vermicelles colorés
MÉTHODE DE PRÉPARATION
1- Préchauffer le four à 350°C. Beurrer un moule rond et le saupoudrer de sucre semoule. Réserver.
2- Dans un grand bol, à l'aide d'un fouet, battre les œufs et le zeste de citron vert. Ajouter le beurre et battre encore un peu. Ajouter la préparation pour gâteau et battre jusqu'à ce que tout soit bien mélangé. Incorporer les 25 g de vermicelles colorés.
3- Verser la pâte dans le moule. Ajouter les 10 g de vermicelles colorés.
4- Cuire au four pendant 25-30 minutes. Laisser refroidir dans le moule pendant 10 min. Transférer le biscuit sur une grille de refroidissement pour qu'il refroidisse complètement.
******************************
FUNFETTI GIANT COOKIE (WITH CAKE MIX)
INGREDIENTS:
A white cake mix box (432 g)
113 g melted unsalted butter, cooled
Zest of one lime
2 eggs
(25 g + 10 g) colorful jimmy sprinkles
HOW TO
1- Preheat the oven to 350°. Brush a round pan with butter and dust it with caster sugar. Set aside.
2- In a large bowl, using a whisk, beat eggs and lime zest. Add butter and beat a little more. Add cake mix and beat until well blended. Stir in the 25 g of colorful jimmy sprinkles.
3- Pour the batter into the pan. Add the 10 g colorful jimmy sprinkles.
4- Bake for 25-30 minutes. Let cool in the pan for 10 min. Transfer the cookie to a cooling rack to cool completely.
******************************************
GALLETA GIGANTE CON GRAGEAS DE COLORES (CON PREPARADO PARA PASTEL)
INGREDIENTES:
Una caja de mezcla de pastel blanco (432 g)
113 g de mantequilla derretida sin sal, enfriada
Ralladura de una lima
2 huevos
(25 g + 10 g) de grageas de colores
ELABORACIÓN
1- Precalentar el horno a 350°. Untar un molde redondo con mantequilla y espolvorearlo con azúcar glas. Reservar.
2- En un bol grande, con un batido, batir los huevos y la ralladura de lima. Añadir la mantequilla y batir un poco más. Añadir el preparado para pastel y batir hasta que esté bien mezclado. Incorporar los 25 g de grageas de colores.
3- Verter la masa en la sartén. Agregar los 10 g de grageas de colores.
4- Hornear durante 25-30 minutos. Dejar enfriar en el molde durante 10 minutos. Pasar la galleta a una rejilla para que se enfríe completamente.
**********************************
بيسكوي كبير بالرشات الملونة (بخليط الكيك الجاهز)
المكونات:
علبة خليط الكيك الجاهز الأبيض (432 غرام)
113 غرام زبدة غير مملحة و مبردة
قشر ليمونة واحدة
بيضتان
(10+25) غرام من الرشات الملونة
طريقة التحضير
1- يسخن الفرن علىحرارة 350 درجة. يدهن داخل قالب الحلوى بالزبدة و يرش بحبيبات السكر الابيض. يترك جانبا.
2- في وعاء كبير ، باستخدام مخفقة ، يطرب البيض وقشر الليمون الحامض. تضاف الزبدة و تطرب قليلاً. يُضاف خليط الكيك الجاهز ويُخفق حتى يمتزج جيداً. تضاف 25 غرام من الرشات الملونة.
3- يصب الخليط في القالب. تضاف  10 غرام  من الرشات الملونة.
4- يخبز البيسكوي لمدة 25-30 دقيقة . يترك يبرد في القالب لمدة 10 دقائق ثم ينقل الى شبكة البيسكوي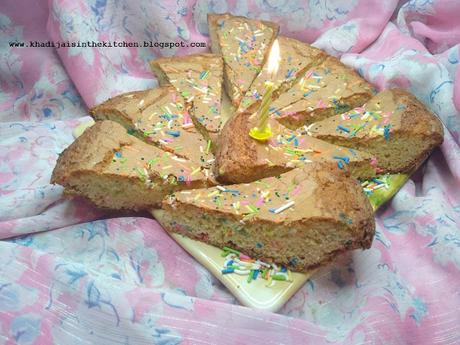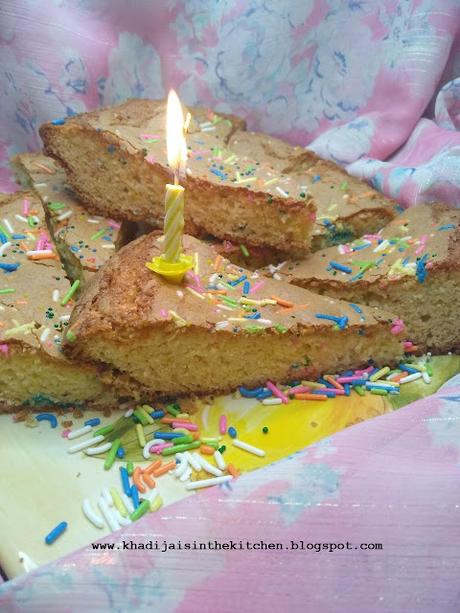 ****************
Hope you'll enjoy!!
*********************
Merci de votre visite / Thank you for your visit / Gracias por
su visita/ شكرا على زيارتكم
Pour d'autres idées de cuisine / For other cooking ideas / Para otras ideas de cocina / من اجل افكار اخرى للطبخ : Facebook, Instagram , Pinterest
2021: https://khadijaisinthekitchen.blogspot.com/2021/07/biscuits-la-farine-de-ble-aux_29.html
2020: https://khadijaisinthekitchen.blogspot.com/2020/07/mini-gateaux-la-lime-et-au-citron-lemon.html
2019: https://khadijaisinthekitchen.blogspot.com/2019/07/petits-gateaux-aux-bleuets-blueberry.html
2018: https://khadijaisinthekitchen.blogspot.com/2018/07/muffins-au-chocolat-et-la-courgette.html
2017: https://khadijaisinthekitchen.blogspot.com/2017/07/sucettes-glacees-au-chocolat-chocolate.html
2016: https://khadijaisinthekitchen.blogspot.com/2016/07/pastilla-aux-pommes-apple-pastilla.html
2015: https://khadijaisinthekitchen.blogspot.com/2015/07/crepes-aux-vermicelles-colorees.html
2014:  https://khadijaisinthekitchen.tumblr.com/post/92797579107/gateau-au-citron-lemon-bread-ingredients

2013: https://khadijaisinthekitchen.tumblr.com/post/56845019519/biscotti-au-chocolat-et-a-lanis-chocolate-and