Week 12: 52 Places to Go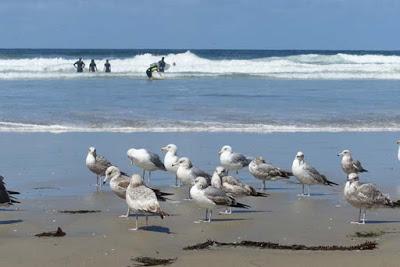 Surfers and gulls at La Jolla Shores, California
Until I moved to California I never knew how to pronounce
La Jolla
, the name of the beach town just north of San Diego famous for swimming, surfing and beautiful ocean views, not realizing the "j" sounds like "h" and the two "l's" are like a "y". The correct pronunciation is " la hoya".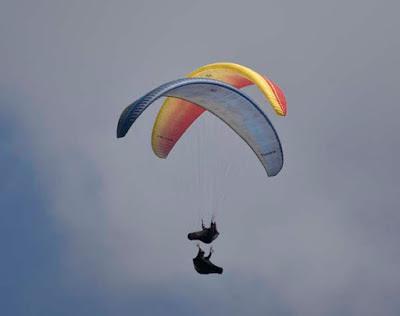 Hang gliders above La Jolla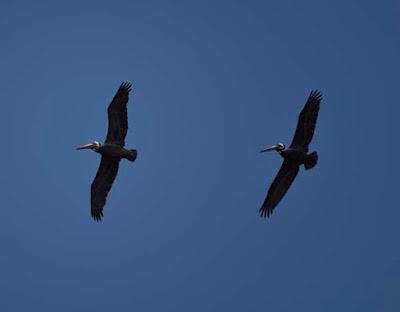 Brown pelicans
On a warm weekend in March 2018, Art and I spent a weekend at La Jolla Shores and enjoyed walking along the sand, exploring tidepools, and observing birds and seals from the cliff top path at nearby La Jolla Cove.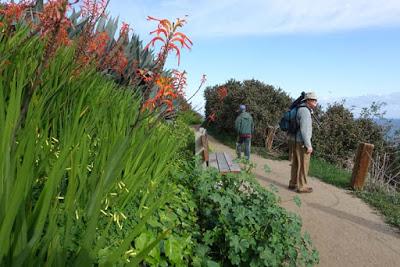 Cliff top path at La Jolla Cove
On our first day, we headed north along the sand toward the Scripps pier. (The buildings of the Scripps Research Institute are on the bluff above.) Fleets of pelicans zoomed overhead, sharing the sky with hang gliders, who had launched themselves just up the coast at Torrey Pines. The tide was out and flocks of gulls and shorebirds patrolled the water's edge looking for tidbits in the sand.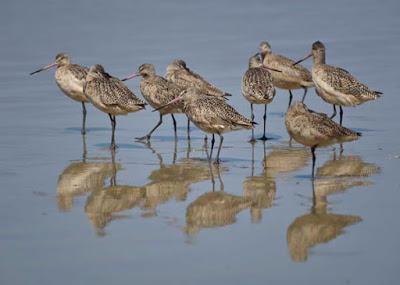 Marbled Godwits
Beyond the birds, where the waves were breaking, surfers in wetsuits waited for the next big wave.  We stayed dry. It was early spring and the water was cold--although apparently not for swimmers we saw making their way between the buoy markers.
It was a great day for photography. Broken shells, bits of seaweed, and even a jellyfish had washed up on shore, creating nature's own abstract compositions.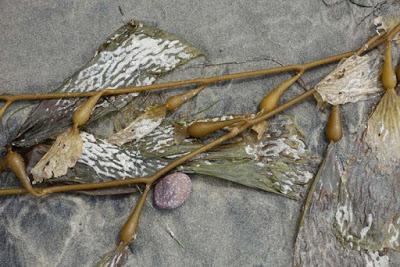 Nature as artist--one stone with kelp washed up on the sand
On the next day, we went in the other direction, following the path along the top of the cliff at La Jolla Cove. Hundreds of cormorants perched on the rocks below, many of them tending nests.
This Brandt's cormorant has three hungry chicks to feed
We continued around the point and walked to Children's Beach, now taken over by seals and sea lions.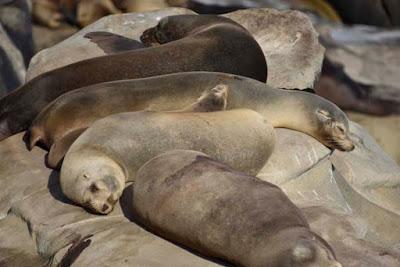 Sea Lions enjoying the sun. (Sea lions have external ears; seals do not.)
People are no longer permitted to use Children's Beach, but a walkway along the breakwater provides a close look at the animals–who were mostly sleeping and enjoying a warm day in the sun--just as we were.As we looked down from the walkway, we could see our shadows next to the tidepools.
For my report on a previous visit to Jolla Cove, see my post for February 10, 2014.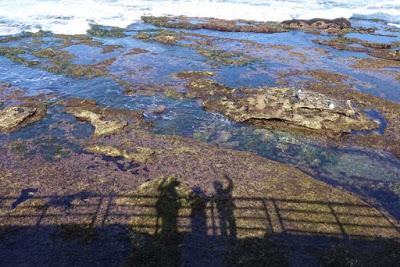 All text and photos copyright Caroline Arnold
www.theintrepidtourist.blogspot.com