"Innumerable measures bring us this food...We should know how it comes to us."
This Zen meal prayer welcomes you into the Birchwood Cafe, a neighborhood cafe where the creative menu changes weekly reflecting seasonal and local ingredients. Located in the Seward neighborhood southeast of downtown Minneapolis bordering the Mississippi River and Highway 94, the 'Nice Ride' bike sharing station at its door and nearby multiple bus stops reflect this eco-friendly community gathering spot.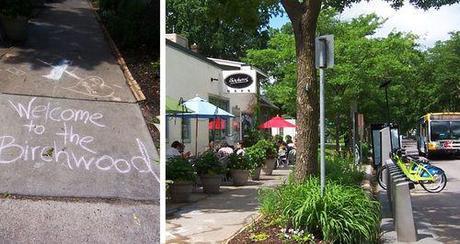 Situated in the most liberal neighborhood of Minneapolis not far from several university and college campuses, it isn't surprising that it's a popular meeting spot for friends and neighbors to gather and chat about local issues and politics. And the deliciously fresh, continually changing menu of this eclectic organic kitchen with local artist displays have also made it a destination spot well worth the trip!

I love the funky, friendly atmosphere, delicious food... and its location just a few blocks from the River Road Trail along the Mississippi River from Minnehaha Falls (actually extending all the way to Fort Snelling State Park and beyond) into downtown Minneapolis. It's also a great place to stop for some Izzy's ice cream on the Minneapolis side of the river!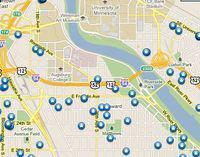 Click here to see currently homes for sale in the area around the Birchwood Cafe in the Seward neighborhood at
3311 East 25th Street, Minneapolis MN 55406. 
(Please be patient while the link searches for the most current listings...pass your cursor over the dots on the map or scroll down for property information.)
Sharlene Hensrud, RE/MAX Results - Email - Minneapolis Realtor