Hey everyone!
Winters bring dryness and to overcome this issue you need extra moisturisation and care like - body lotions, body butters, body oil, etc. Today I'll be reviewing a body lotion from Biotique that I've been loving lately -
Bio Winter Cherry Lightening and Rejuvenating Nourisher
(uff long names I tell you), would name it - Bio Winter Cherry Body Nourisher.
Price : Rs 180
Quantity : 190 ml
Buy online at Flipkart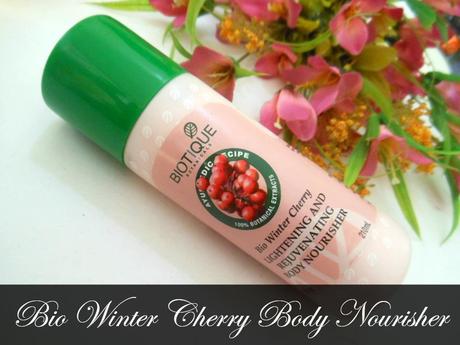 What Biotique says about the product -
This nourishing lotion is a blend of pure winter cherry, sunflower, safflower, musk root and almond oil, to supply moisture and nutrients crucial to body health and vitality. Soothes, softens and revitalizes even weather-roughened body skin, as it promotes elasticity, suppleness and moisture balance.
Ingredients -
Surajmukhi tail (Helianthus annuus oil), Kusumbhi tail (Carthamus tinctorious oil), Sarsoan tail (Brassica nigra oil), Badam tail (Prunus amygdalus oil), Jatamansi (Nardostachys jatamansi), Ashwagandha (Withania somnifera), Lotion base Q.S.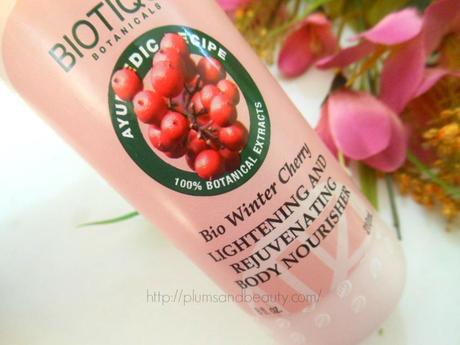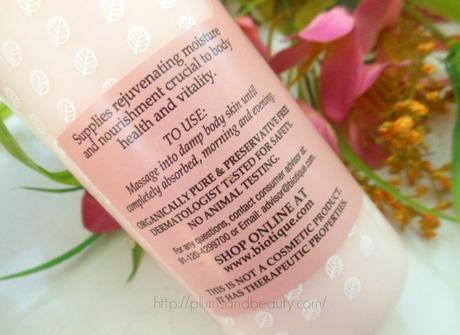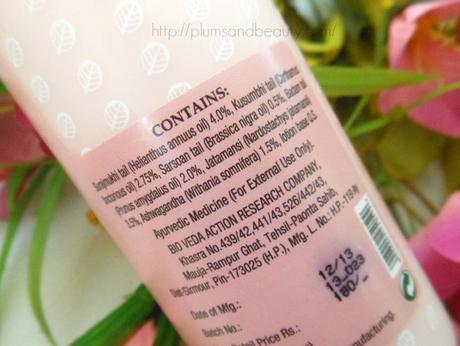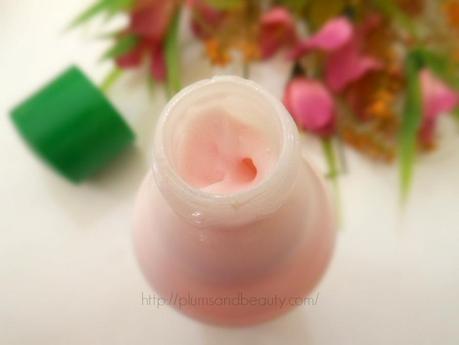 My experience with the productBio Winter Cherry Body Nourisher comes in sleek translucent soft pink plastic bottle with green screw-top cap. The opening does not contain any stopper to manage oozing out of the product. If cap is not closed tightly the product might spill and spoil you handbag/travel bag.The Body Nourisher is soft pink in color that is neither too thick nor runny - the consistency is thick enough to blend into the body with soft massaging motions leaving a hint of dewiness behind. The texture is soft, creamy, non-greasy and very light on skin. If you have very dry skin, it'll probably absorb fully.  I don't like the feel of heavy lotions or body butters (my body skin is normal with slight dryness in winters) so this is the perfect consistency for my needs. I apply the Body Nourisher everyday on damp skin after bath and my skin stays hydrated and moisturised for the next 24 hours. The smell is very pleasant and fresh - can be overpowering for sensitive nose, but I am in love with the smell. The smell lingers on my body for 5-6 hours. 
I am in absolute love with this body lotion - it feels light, pleasant and very hydrating on skin! An apt product in this harsh winters!
Highly Recommended for dry skin!
Rating : 5/5