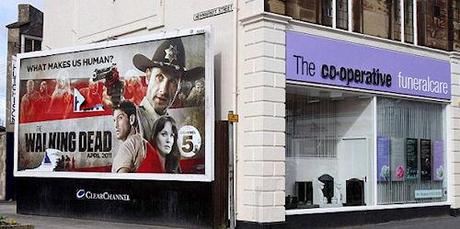 An advertising firm has been blasted after a billboard for 'The Walking Dead' was put on the wall of a
funeral parlour
in Consett, County Durham, United Kingdom. An apology has been issued after the ad for the television series appeared on the side of The Co-operative Funeralcare.
A spokesman from the advertising firm said:
Clear Channel apologises for any offence caused by the unfortunate juxtaposition of this advertisement, which was certainly not intended. We arranged to have it removed right away and it has since come down.
The Presurfer