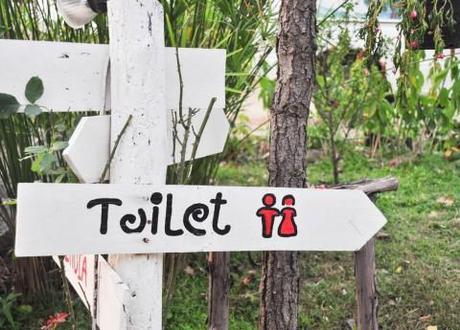 Bill Gates wants to reinvent the lav. Photocredit: NarongJo at Shutterstock.
The background
Sanitation is about to be revolutionised: zillionaire computer-guy Bill Gates, after visiting Africa and seeing the pit latrines used by millions of people, challenged scientists to come up with a lavatory that didn't use running water, a septic system or electricity, and that didn't discharge pollutants; it would also only cost 5 cents a day to run. Gates has committed $370 million to improving water, sanitation and hygiene issues, reported The Independent. 2.5 billion people world wide do not have access to safe sanitation.
The competition was won by Caltech, which came up with a solar-powered reactor that broke down human waste into hydrogen. They win $100,000. Loughborough University came up with a lav that turned faeces into biological charcoal, removing water and salts as it goes. Third prize, going to the University of Toronto in Canada, is a WC that sanitises waste. Other entires included a Swiss model which uses gravity to flush, and one from Singapopre that uses boiling urine to make purified water.
Gates said that whilst the loos are aimed at the Developing world, he hoped that "many of these innovations will not only revolutionise sanitation in the developing world, but also help transform our dependence on traditional flush toilets in wealthy nations." So is this going to change the way that the world lives?
Reinventing the toilet is important
Gates blogged about the Reinvent the Toilet Fair on his website, calling it "one of the oddest summer fairs ever." He pointed out that flush toilets are "irrelevant" to a large part of the world's population; that, aside from "human dignity", this also increases the chances of diseases. The "flush toilet" is "a pretty outdated sanitation solution." Focusing on human sanitation is vital: "We don't have all the answers yet, but I'm optimistic that we can and will solve this problem. I'm hopeful that this unusual summer fair will be a positive step toward that important goal."
Bill Gates' toilet folly
Not everyone was convinced: Skeptical Eye ran a post which said that "most of these nations have no desire to make their lives easier." They want to stick to "the old ways." The user wrote that "no matter how much technological advancement we provide … these folks never seem to care for such things." Think about all the "money, time, and blood the West has poured into the Third World" – and has it done anything useful? They just don't care. Maybe one day, the descendants of "these folks will decide that they are tired of wiping their asses with their left hands and will look to whatever power has survived." But really, the Third World won't pay attention: "Bill Gates should take note of this and not waste his time or money."
History of the lavatory
They had them in the Orkneys; Minoan Crete, Egypt and ancient Persia; even the Romans sometimes had them in bathrooms. A forerunner to the WC was invented by John Harington in 1596, but it wasn't till later that Alexander Cummings developed and patended the flushing lav more than 200 years ago. The problem is that it dependes on piped water, sewers and electrical connections, which poor countries have problems with. Famously, Thomas Crapper was one of the early loo makers in England.
Euphemisms
Perhaps more than anything else, the toilet has many euphemisms – the word toilet itself deriving from the toile, or cloth that someone put around their shoulders when they were having their hair cut. It then became the word for dressing table; its modern usage derives from America and the spreading of public toilets. You may know it as a loo, a WC, a khazi, a dunny, a privy, or even a netty. It says a lot about your class and your country.
Loo paper
Yes, that most necessary of products, toilet paper, has a long and distinguised history too. Linda Rodriguez McRobbie on MentalFloss gave the run down: people at first used "coconuts, shells, snow, moss, hay, leaves, grass, corncobs, sheep's wool" – whatever came to hand – before turning to printed papers. Two brothers, Clarence and E Irvin Scott made loo roll popular. People were initially embarrassed by it; it was still marketed as "medicinal" in the early twentieth century. It took Charmin's adverts, with a beautiful lady, to make it big. But will we ever lose our love for loo roll?
Bill Gates wants to reinvent the toilet.At least he isn't promising one on every desk. thegatesnotes.com/Topics/Develop…

— Steven Levy (@StevenLevy) August 13, 2012