10 Flares
10 Flares
×
New to little Indiana? Subscribe for free to my RSS feed. Thanks for stopping by!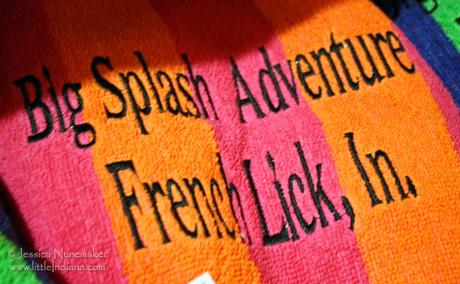 Big Splash Adventure: French Lick, Indiana
The Big Splash Adventure Indoor Waterpark in French Lick, Indianais a must for year-round fun!
Winter or Summer, you'll plenty to do to keep you busy in this fun Indiana town.
Big Splash Adventure Indoor Waterpark
As we drove up the very big hill to get to the hotel and waterpark, the kids were amazed.
Encased in glass windows, there's no hiding the colorful slides darting around inside–and out!
Kid #1 couldn't believe his great good luck. "Mom, are we staying HERE?"
Big Splash Indoor Waterpark Rooms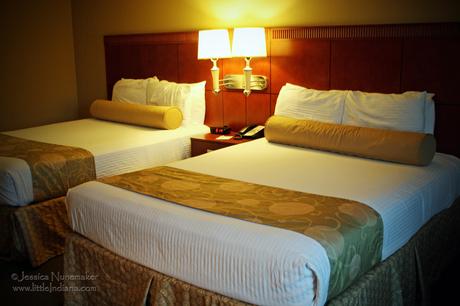 Big Splash Adventure in French Lick, Indiana Room
Who knew our room at Big Splash Indoor Waterpark would be so comfortable?
I was expecting more "kid-friendly" and less decorative type things. Boy was I wrong.
Extra-long decorative pillows, a comfortable mattress, and nice, neutral colors lent a relaxing feel to the room. The kids really liked playing with the giant  pillows!
What's great is that even after you check out, you are still allowed access to the indoor waterpark. How fun is that?
Indiana Indoor Waterpark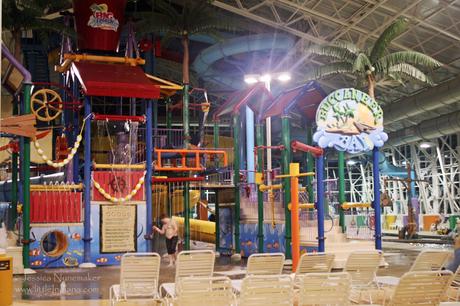 Big Splash Adventure Indoor Waterpark in French Lick, Indiana
The lazy river was calling my name. Kid #1 liked to go through it with me.
I liked to bop his inner tube over and under as many buckets, fountains, and other "get you drenched" sort of surprises.
Now that was fun! Kid #2 loved the toddler pool and slide! He felt like such big stuff.
Kid #1 and hubby were brave enough to tackle the slides first thing. They couldn't wait to tell me how creepy the red slide was at night–so dark you can't see anything but can feel the temperature change as it darts outside the building!
I wasn't brave enough to battle the stairs (you know my fear of heights, right?) until the next morning. But then? Wow did I have fun!
Go There
People travel all over the country looking for something to do when there's great good fun to be had in their very own backyard.
Get over to Orange County and make a splash–any time of year!
Find Big Splash Adventure Indoor Waterpark and other pictures in Indiana on my Flickr photostream.
Big Splash Adventure Indoor Waterpark
8505 West State Road 56
French Lick, Indiana 47432
877.936.3866

View Larger Map
Special thanks to Big Splash Adventure Indoor Water Park and Resort for hosting our stay. Opinions remain mine and mine alone (as always). 
Find pictures in Indiana on my Flickr photostream or on the new little Indiana Tumblr blog.
Just don't forget to tell 'em that  little Indiana sent you!
Don't miss a moment. Subscribe to little Indiana and receive instant updates to stay on top of everything "little."
little Indiana: Where to Stay, Play, and Eat in Small Towns in Indiana. Discovering Indiana's best small towns! Now get little Indiana on your Kindle.
Targeted. Relevant. Affordable! little Indiana advertising.