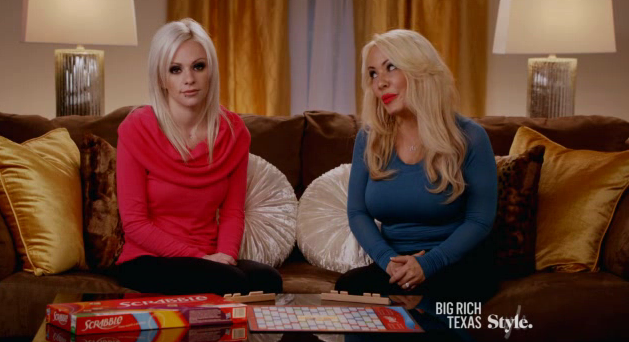 Big Rich Texas has been quietly working its way up the reality TV radar, thanks in large part to its over-the-top stars Bon Blossman and Whitney Whatley.  At first glance they look like dumb blondes with a lot of eye make-up who love to throw down a cocktail. Piss them off and they are likely to throw one AT you! But look closer and what you'll soon realize is these two are a loving Mother/Daughter duo with a tight family bond.  And they definitely believe that the family who plays together, stays together.  So who better to represent Game Night for Hasbro?!
Blossman and Whatley are starring in a new television commercial for Hasbro, which debuted tonight and can be seen across NBC platforms, including their own Style channel.  I don't have access to the video clip to show you, but trust me, it's hilarious!  Who'd have thunk it that Hasbro would be so hip to hire this dynamic duo.  Kudos!
In other BREAKING NEWS, this wild-n-crazy pair is currently packing for NYC, getting ready to take over the "Watch What Happens Live" studios where they plan to sprinkle their special brand of pixie dust on Bravo TV's Andy Cohen. Poor Andy... he has no idea what he's in for!
Catch Bon & Whitney LIVE on WWHL tonight - Thursday, November 15 at 10:30PM CST.