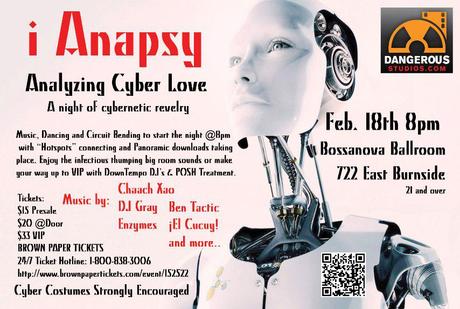 On Friday, February 18th, Dangerous Studios presents iAnapsy. This event is happening at the
Bossanova
at 722 E. Burnside. There will be live painting, video projection mapping, performance art, circuit breaking, burlesque and more! Doors open at 8pm, so plan on getting there early.
iAnapsy is billed as a night of Cyber Love Themed Revelry. Robotic wear is highly encouraged. The main room will be filled with the sounds of dubstep, bass, baile funk, Bmore, Tropical and more. The VIP Lounge will be more on the chill side, and I will be closing out the lounge from 12:30 until they make me stop playing with a set of deep house and house beats.
Enter to Win
You can win a pair of general admission tickets to this event by leaving a comment with your first and last name, e-mail address, zip code, and your idea for a costume to wear to this party. Most creative costume idea wins - and we will want to see you in it at the event!
Comments will not be published, and all entries must be received by Wednesday, February 16th at 5pm. Winner will be contacted that evening.
i Anapsy page on Facebook
Click Here
to get tickets from Brown Paper Tickets
Dangerous Studios on Facebook