It is the general rule, that all superior men inherit the elements of superiority from their mothers.
– Jules Michelet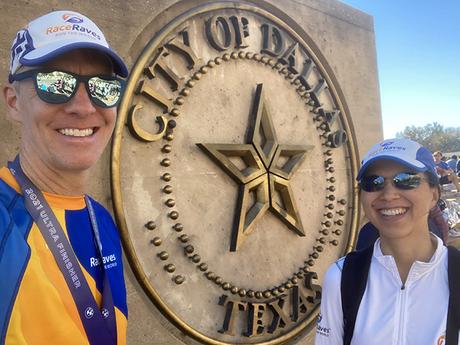 In the spirit of making every effort to prevent this blog from losing all momentum and falling hopelessly behind (chronological order? Pshaw!), I wanted to share briefly—and mostly in pictures—a happy ending to an otherwise challenging 2021. Though I didn't notch a new state to end the year (leaving me at 35 states to start 2022), I'd argue I did even better by posting a personal best in the state I called home for 13 of the first 18 years of my life. So while I didn't mess with Texas, I did do my best in Texas.
Though I was born and now live in California, Dallas is where I grew up. Even if "America's Team" should somehow manage another 25 hapless years of Super Bowl futility, the city will always hold a special place in my psyche. And yet despite a 20-year running career, I'd never run a marathon or farther there. So when 2020 rolled around, it seemed like ideal timing to tackle the 50th running of my former hometown race less than a month after my own 50th birthday.
Cue a global pandemic, and like nearly every other running event on the planet, the golden anniversary of the Dallas Marathon Festival was postponed—first to May 2021, and then to its usual date one year later in Dec 2021. Despite all the uncertainty and shifting expectations over the course of an excruciating year, in the end the celebration would be very much worth the wait.
Without (too much) bias, I can happily say the Dallas Marathon Festival did not disappoint. And my fellow runners clearly sensed as much—while other races have struggled to attract runners in the midst of the pandemic, Dallas outdid itself with an all-time high 26,000+ runners across ten events, up from 15,000 in 2019. The field included runners from all 50 states and 25 countries. It was an electric event.
Performance-wise, Dallas for me was one of those rare days when everything fell into place. And I couldn't have asked for a better ending to an emotional roller coaster of a year that included four new states and a 100K personal best. After missing the five-hour mark by 68 seconds on an unpaved trail in Kansas last year, paved Texas roads seemed like the perfect opportunity to finally break five hours at the 50K distance. And at the end of a chilly morning under stunning blue skies, I crossed the finish line alongside Dallas City Hall with a 16-minute personal best while achieving not only my stated goal as printed on my bib number (a sub-5 hour 50K), but likewise my unspoken "A" goal of a sub-4:45:00 as I finished in 4:44:40. Calculating before the race that I'd need to average ~9:04/mile to break 4:45:00, I'd run 31.4 miles (according to my GPS) in… 9:04/mile. [Cue Success Kid fist-pump meme.]
Everything may be bigger in Texas, but this race report isn't. Below I've condensed my main points into a (hopefully helpful) RaceRaves review while letting my photos do most of the talking.
And to Mom, who lived her final 46 years in North Texas as a proud non-runner… this one was for you. ❤️
(Thanks to Katie, who shot all the on-course pictures as I ran sans iPhone for a change.)
---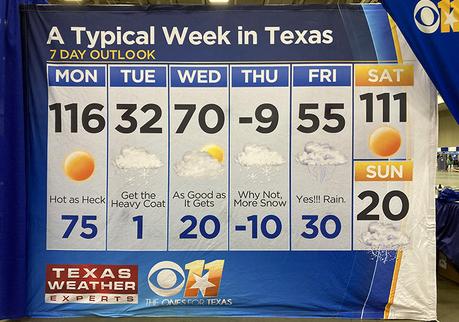 Luckily, race day would look a lot like Wednesday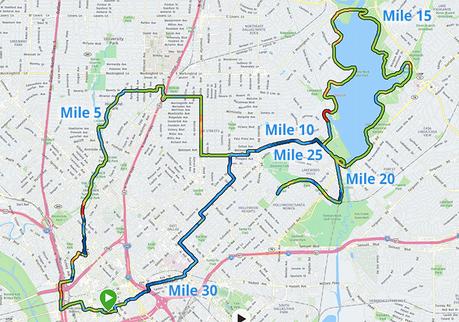 That tail at the bottom of White Rock Lake is the 50K out-and-back on the Santa Fe Trail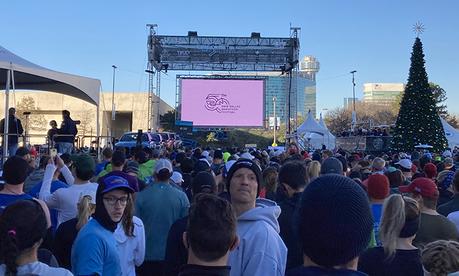 Start line at City Hall with jumbotron and Reunion Tower (right) In the background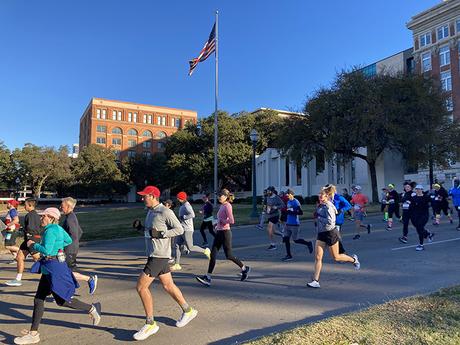 Dealey Plaza, with the former Texas School Book Depository (now the Dallas County Administration Building) in the background, mile 1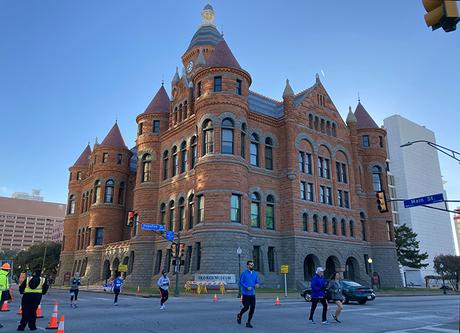 Old Red Museum, aka the once-and-future Dallas County Courthouse, across the street from Dealey Plaza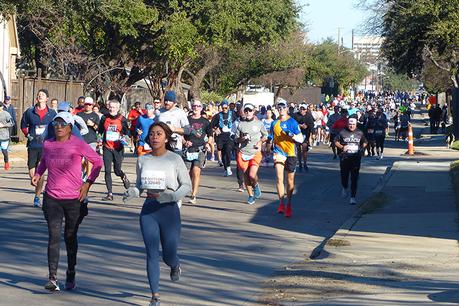 Stampede down Greenville Avenue, mile 8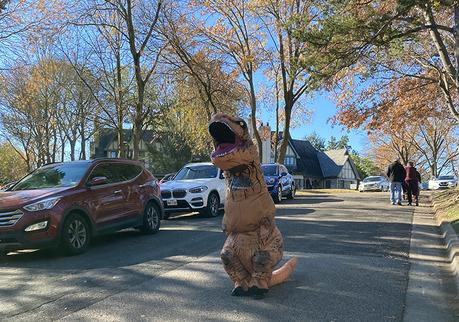 Their lack of endurance may have been a key reason for the dinosaurs' extinction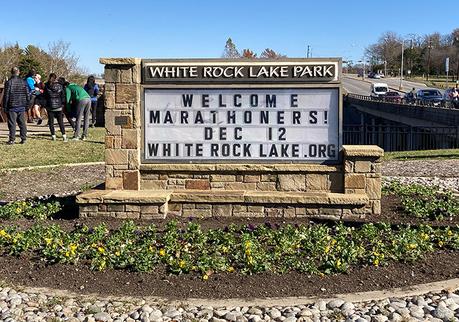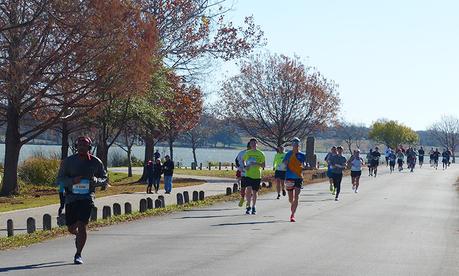 Circling White Rock Lake, mile 14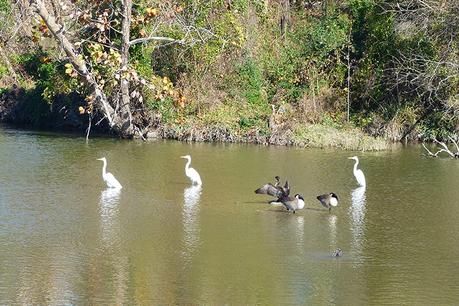 A few of the feathered spectators around White Rock Lake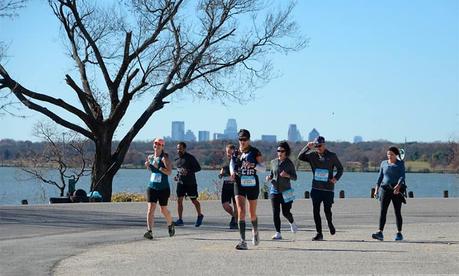 Dallas skyline view from the east side of White Rock Lake (📸 runDallas Facebook page)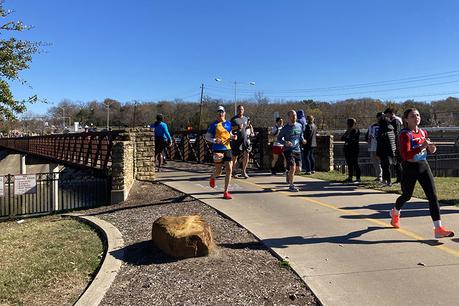 Leaving the lake and approaching the 50K out-and-back, mile 20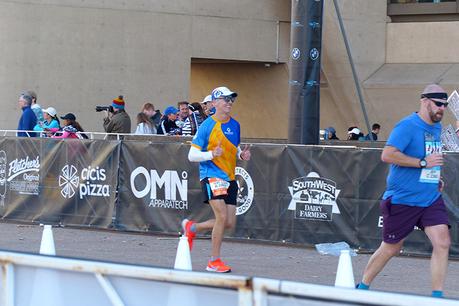 Every finish line deserves a thumbs-up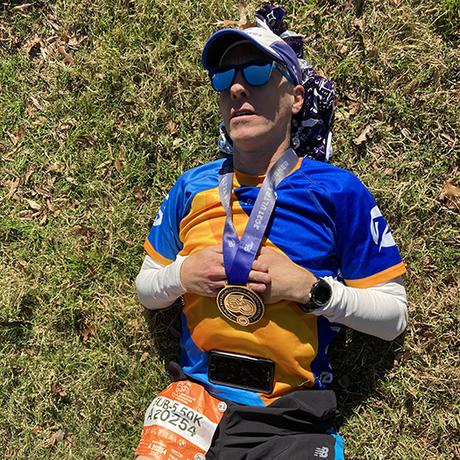 SUB-5 50K mission accomplished ✅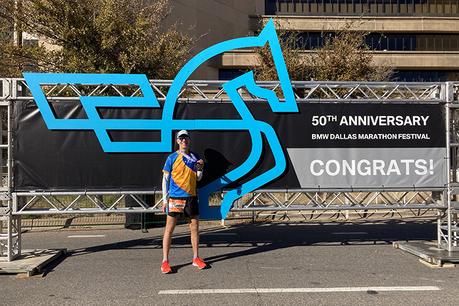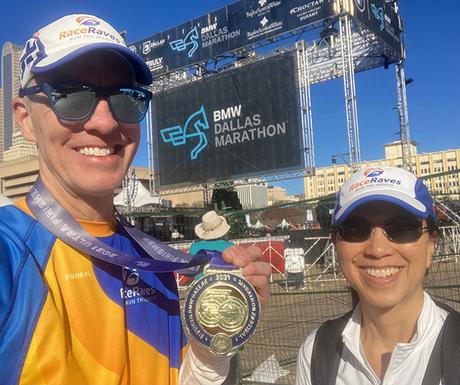 BOTTOM LINE: If it's possible for a big-city race with 25,000+ participants to be "underrated," then I reckon Dallas fits the bill. Running in the shadow of more prestigious urban marathons like Chicago, New York City and even (arguably) Houston, Big D more than holds its own and deservedly stakes its claim to the title of best race weekend in Texas.
Dallas is a terrific running city, and the marathon/50K course—which starts and finishes at City Hall—does the city justice by showcasing some of its most iconic landmarks and beautiful neighborhoods including Reunion Tower, Highland Park and Lakewood, plus 8½ miles around the event's long-time centerpiece, White Rock Lake. Here on the far (eastern) side of the lake, several geese sightings and a glimpse of the distinctive Dallas skyline peeking above the trees helped to distract from the mounting fatigue in mile 18.
Notably, the first mile of the race passes discreetly through Dealey Plaza, site of JFK's assassination and where the former Texas School Book Depository—now the Dallas County Administration Building—overlooks the course. Though the race organizers avoid publicizing Dealey Plaza for obvious reasons, its inclusion feels like a respectful nod to its historical significance and widespread interest.
Later in the race, I wasn't looking forward to the out-and-back extension on the Santa Fe Trail (miles 20–25) that was exclusive to the 50K runners. And yet even that stretch was a relatively pleasant experience, a quiet reprieve from the otherwise bustling streets and an opportunity to applaud my fellow ultrarunners while acknowledging each other as kindred spirits. (Our orange bib numbers also helped to distinguish 50K runners from the blue-numbered marathoners and black-numbered half marathoners.)
Though the course—with the exception of the lakefront path—is more rolling than flat, the most conspicuous uphill arrives as the route turns away from White Rock Lake and back toward downtown (mile 21 for marathoners, 26 for 50K runners). Essentially the Dallas equivalent of Heartbreak Hill, this ½ mile stretch encompassing the latter portion of Winsted Dr plus Tokalon Dr served as a nice gut check that slowed many runners to a walk. (Here I see an opportunity for an inflatable sponsor arch at the top of Tokalon to encourage runners as they crest the hill.) Once you turn left from Tokalon onto Lakewood Blvd, though, breathe deep and feel good knowing your last five miles are a smooth, gentle downhill to an epic finish that's publicly broadcast on the jumbotron.
Apart from obvious exceptions like Boston and NYC, as a traveling runner you're never sure what level of spectator support to expect from residents during an urban marathon. So I'm proud to report that Dallas came to play; all along the course with the understandable exception of the lake itself, civic pride and festive holiday energy were on display as vocal locals showed up to support the runners. Among the spectators lining the residential route on Richmond Ave was a 20-foot-tall inflatable Santa that towered above us like the Stay Puft Marshmallow Man from "Ghostbusters"—HO, HO, HO, MY TINY SUBJECTS.
With Dallas (mid-December) and The Cowtown in neighboring Fort Worth (late February), North Texas boasts two of the best race weekends in the U.S. in close proximity. Throw in Houston in mid-January, and you'd be hard-pressed to find a better three months of road racing anywhere in the nation than what you'll find in Texas. Personal best and formative years aside, the Dallas Marathon Festival is a Big D-elight and a family-friendly Sunday long run I can easily recommend to first-timers, traveling runners & 50 Staters alike.
PRODUCTION: As you may have guessed from the above description, this was clearly not the Dallas team's first rodeo. Reminiscent of Houston (I've yet to run The Cowtown so I have no comparison there), Dallas is a well-oiled machine with near-flawless production. Even with high expectations thanks to positive feedback from previous finishers, still I was pleasantly surprised. Everything ran smoothly, from the pre-race expo in the spacious convention center near the start line (which included an impressive fleet of vehicles from title sponsor BMW), to the high-energy start corrals with jumbotron accompaniment, to the scenic & well-supported course populated by spirited spectators & virtuoso volunteers, to the post-race festival in Akard Plaza where pizza, chocolate milk & Sam Adams beer (not necessarily all at once) awaited. Around the plaza, exhausted finishers stretched out on the grass and around the fountain to quietly celebrate a triumphant end to the racing season. Well done Dallas, my Stetson is off to you. 🤠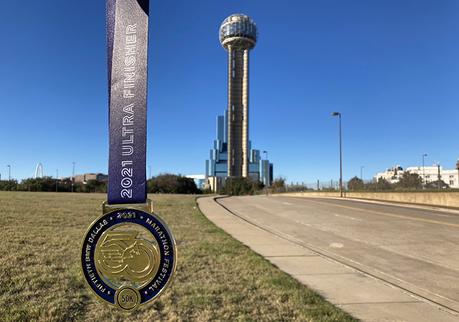 SWAG: Dallas rose to the occasion with its 50th anniversary swag. The hefty finisher medal is an attractive blue & gold(en) keepsake with the race logo engraved inside the number 50. Both the medal and its ribbon include the year & distance. In addition, runners received a comfy, ocean blue short-sleeve participant tee at packet pickup as well as a handsome distance-specific, navy blue long-sleeve finisher tee (a Dallas tradition) in the finish chute. Best of all, this isn't swag per se but every registration fee included a donation to the primary race beneficiary, Scottish Rite for Children.
RaceRaves rating:

FINAL STATS:
Dec 12, 2021 (start time 8:40 am)
31.38 miles in Dallas, Texas
Finish time & pace: 4:44:40 (first time running the Dallas Marathon Festival 50K), 9:04/mile
Finish place: 40 overall, 6/28 in M(50-59) age group
Number of finishers: 191 (124 men, 67 women)
Race weather: cold & sunny (39°F) at the start, cool & sunny (56°F) at the finish
Elevation change (Garmin Connect): 632 ft gain, 627 ft loss
Elevation min, max: 404 ft, 593 ft