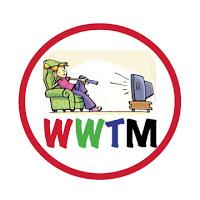 The answer to Thursday's Trivia Question:  Rochelle Rochelle & Checkmate were the 2 movies the gang saw during the movie episode of Seinfeld. FIRST FIVES:  He Who Shall Not Be Named, David Gorin, Justin Jones, Michael O'Dean & Bobby Aguilera Honorable Mention: Monica Caraffa Wednesday's Broadcast Top 5 America's Got Talent-NBC 2.9/11.1
Big Brother-CBS 2.2/6/4
Masterchef-FOX 2.2/5.6
America's Got Talent (R) 1.9/7.6
Camp-NBC 1.3/4.1
Wednesday's Broadcast Trendrr Top 5 Big Brother-CBS 107,071
America's Got Talent-NBC 71,415
MasterChef-FOX 50,130
Supernatural-CW 27,669
Camp-NBC 26,116
Wednesday's Cable Top 5
The Big Bang Theory-TBS 1.2/3.0
Espy Awards-ESPN 1.0/2.2
Here Comes Honey Boo Boo-TLC 1.0/2.8
American Dad-Adult Swim-.9/2.1
Royal Pains-USA .9/3.8
Wednesday's Cable Trendrr Top 5
ESPY Awards-ESPN 818,977
Here Comes Honey Boo Boo-TLC 16,364
The Challenge: Rivals II-MTV 44,432
Duck Dynasty-A&E 30,357
The Bridge-FX 30,357
Late Night Ratings for the week of 7/8/13-7/12/13
Leno .8/3.3
Letterman .6/2.6
Kimmel .5/2.0
Fallon .5/1.5
Nightline .3/1.3
Ferguson .4 /1.3
The Daily Show-preempted
Carson .3/.8
Colbert -preempted
Conan .4/.8
Early Morning Ratings for the week of 7/8/13-7/12/13
GMA-1.5/1.7
Today Show-1.5/1.7
CBS This Morning-.8/.9
Big Brother
A Kaitlin lip print...is that like a hickey from Kenickie? (5 points if you get that one and I'm really dating myself here)

Jeremy in the diaper outfit..he did have nice abs, but a guy in a diaper isn't working for me. Did he really think that outifit would keep him in the house?

When Amanda's in the diary room she's hilarious, "Breast feed or campaign" when describing Jeremy in his baby outfit, I was hysterical. 

Jeremy's had some great ideas and offered up some good deals to everyone.  

Handstand in a diaper...bad...all bad 

The McKraekerchief...what'd ya think?

Ginamarie is STILL crying and has Nick's cereal box, hat and mug...can you say stalker?

How out of her mind is she to become suicidal when Amanda and crew hid Nick's stuff. She's mentally unstable and needs serious therapy. 

Aaryn is such a B*tch. 

Nice tank top Elissa! That's some crazy cleavage you paid for. 

"Give me one more week and I'll give you my game" this is coming from the the same guy who broke up The Moving Company alliance in 2 weeks because of a girl. 

McRae's Dad watching McRae in bed with Amanda and being proud of him was sort of creepy

Ruff or Roof? I'm more of a roooof person.

McRae's face when he heard that the engagement ring Amanda wants is 25K was McRae Cray.

The quotes out of Jeremy are classic: "I'm a winner I'm a champion when I eat, sleep and poop"...BUT YOU LOST Jeremy.

Pretty sure Elissa wasn't wearing underwear under that pink dress.

I hope Amanda will blog where she got that flower power headband, the world needs to know.

By a vote of 9-1, Jeremy was evicted from the Big Brother house. Kaitlin didn't seem that upset. Definitely not as bad as Ginamarie.

Yeah Julie for explaining very clearly to Jeremy that he LOST Big Brother and he's NOT a winner. 

Candace had some CRAZY huge earrings at the HOH competition, did you catch them?

New HOH is...Judd! Interesting
Comedians in Cars Getting Coffee
For the season finale of Comedians in Cars Getting Coffee, Jerry picked up Chris Rock at his home in Alpine NJ which is right up the road from my home in Tenafly NJ.  Amazing car, 2 of the best comedians in the world, driving around my streets was pretty cool.  Of course they're funny, how could they not be? Watch the episode and let me know what you think happened at the end.  Check it out: http://www.comediansincarsgettingcoffee.com/chris-rock-kids-need-bullying
Hollywood Game Night
I freaking love Hollywood Game Night. Too much fun. The games are fun, the celebs are fun and seem really into it and ultra competitive. Last night along with the best cheesy game show host, Jane Lynch, Valerie Bertinelli, Yvette Nicole Brown, Rob Riggle and some guy from Atlanta went up against a woman from Cali, Cheryl Hines, Sarah Chalke and Matthew Morrison. The hour flies by, the celebs cursed and got really into their high fives, hugs and all other self congratulatory expression. Fun stuff.
NEWS & INFORMATION:
I haven't had time to really study the Emmy nominations.  Work's crazy busy and I was out last night, so I'm sure when I have time this weekend to really digest it all I'll have more to say, but I do have some initial observations and thoughts. I guess the biggest thing, is that Netflix made history by receiving 9 nominations for Arrested Development and House of Cards.  This is amazing news and I'm hoping that next year, Orange is the New Black receives some nominations too.  Cable always gets a ton, but this year the numbers are massive.  HBO alone received 108 nominations. Incredible. I'm THRILLED that Comedians in Cars Getting Coffee is nominated for Outstanding Special Class-Short Format Nonfiction and I'm thrilled that many of my favorite shows, actors and actresses were nominated.  Nothing for Parenthood which blows my mind. I don't watch American Horror Story, but 17 nominations, really?  The drama category is tough but I was still hoping that along with Parenthood, some of my other faves like Sons of Anarchy, Orphan Black and The Americans would get something.  The acting categories are also super competitive but I'm bummed that Lena Headey of Game of Thrones, Monica Potter of Parenthood and Tatiana Maslany from Orphan Black all didn't get nominated.  They were three of the best this year by far. 
-With content being consumed everywhere and via different distribution channels, I found some of these facts from a GFK study released recently very interesting:  
21% of Netflix viewers watched less programming on cable channels 

58% of Netflix viewers watched less of the cable operators video on demand services.

Of the Hulu viewers, 72% said they watched less video on demand from their cable providers. 

More than half of the respondents in the study view streaming video through their TV instead of on other devices.

Streaming video on tablets took place only 8% of the time.

Only 1% of Netflix viewers viewed House of Cards but 3% watched Breaking Bad and Mad Men during the April week that was surveyed. Oddly enough, 4% watched Star Trek shows.  
Friday's Trivia Question: I didn't know if I should go super hard today or super easy. I'm going hard...Brady Bunch hard though so that's extra special.  What was the name of the girl that Bobby thought he may have gotten the mumps from?  Who played her? 
Just curious...anyone watch Sharknado or any episodes of Orange is the New Black yet?  Catch um over the weekend, you'll thank me Monday! 
Have a great weekend!
WWTM-Kristy
Like me on Facebook at Watching Way Too Much Follow me on Twitter at
[email protected]
http://watchingwaytoomuch.com
[email protected]