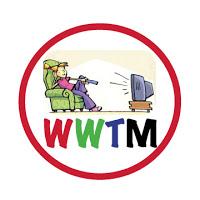 THE ANSWER TO THURSDAY'S TRIVIA QUESTION: Whoopi Goldberg and Tony Goldwyn starred in Ghost alongside Demi Moore and Patrick Swayze. Whoopi currently hosts The View and Tony Goldwyn plays POTUS on Scandal.  FIRST FIVES: Karen Heniger, Mike O'Dea, Dave DeSocio, Karen Hadley & Rachel Snyder HONORABLE MENTION: Jim Carter
THE NUMBERS 
Wednesdays Broadcast Top 5
ESPY's-ABC 2.2/7.7
Big Brother-CBS 1.9/5.9
MasterChef-FO 1.4/4.7
America's Got Talent-NBC 1.2/5.7
American Ninja Warrior-NBC 1.1/3.8
Wednesday's Cable Top 5
BIg Bang Theory-TBS 1.0/2.5
American Dad-Adult Swim .8/2.1
Ducky Dynasty-A&E .8/2.3
Suits-USA .6/2.3
FX Movie-FX .5/1.1
Wednesday's Twitter Top 5 Primetime Ratings 
ESPY Awards-ABC 1,234,000 Tweets
Catfish-MTV 48,000 Tweets
Big Brother-CBS 37,000 Tweets
Tonight Show-NBC 9,000 Tweets
Jim Gaffigan Show-TV Land 6,000 Tweets
Early Morning Ratings for the Week of 7/6/15-7/10/15
GMA 1.3/1.5
Today Show 1.3/1.5
CBS This Morning .8/.9
THE SHOWS 
Big Brother 
Julie's Daisy Dress, hair and shoes might be her most perfect ensemble to date. I didn't LOVE the dress. The leaves looked like bats to me, BUT overall…not bad. One of her poses made her butt looked shelflike. I'd eliminate that pose from my repertoire, Julie. 

Jeff is one of the worse players in BB history. 

Was that a Digiorno Pizza?

VISOR ALERT

Was that a fleebydoo stuck in Jeff's beard or a super long beard hair?

I liked Clay's hair sans product

Did Clay not reciprocate Jeff's "I love you" Pretty sure he left him hanging 

Jeff's tears were very convincing if that was real, it was the first smart thing he did, but too little too late. 

Liz wasn't listening carefully enough to Julia during the switcher. 

Liz and Austin and Jeff…showmangle MY NEW WORD! 

Why didn't Liz tell Jeff that she's a twin? Everyone else knew.

Why would Liz cuddle with Jeff knowing Austin could walk in at any time? 

I wouldn't piss Austin off because Judas and his hat will kick anyone's ass. 

Steve's a [email protected]  

Frankie Frolics in play during the Live Voting. I'd like to see when they practice these moves

Meg's boobs looked amazing in the diary room 

Sad that Jeff was eliminated because he totally got screwed, but I am happy James and his visor got to stay.

Jeff and my son have the same sneakers

Julie's got armpit flab

90s dance performance for the HOH competition was tough

Liz and Shelli are the new HOH's!!! 

Dr. Dentist John is just so freaking weirdddddddd

James is the messiest person in the house. Why does that not shock me. 
Lip Sync Battle
This was BY FAR, the best episode of LSB to date. Deion Sanders vs. Justin Bieber.  Both of them, even with the microphone, were really good and you could actually see their lips moving the entire time. Deion did "Play that Funky Music White Boy" and then donned a Madonna wig and a wedding dress and performed "Like a Virgin." It was hilarious! Bieber was amazing though. I don't know who's advising him these days, but between car karaoke on James Corden and now this, I'm back to beliebing. Justin performed "Big Girls Don't Cry" and then kicked ass on "Crazy Train."  Spike needs to invest in some real time voting in the studio because there is NO WAY Deion should have won the belt, but he did. That was BOGUS. Justin seemed to be VERY into Chrissy Teigen but since she never leaves home without her husband, nothing SERIOUS actually went down. 
Here are the clips. ENJOY!
https://www.youtube.com/watch?v=BqHfzfUm27s
https://www.youtube.com/watch?v=qrWLvgRS_-8
Kids Choice Sports Awards
Fun awards show with a ton of kids, a ton of slime, a ton of screaming and cool synchronized lights. Russell Wilson did a great job hosting and dancing with Ciaria, the girlfriend he doesn't sleep with. It was the Steph Curry show pretty much. Steph won most of the awards. I tuned in to see Derek Jeter get the Icon Award which was awesome because after his little nephew came out and tipped his cap, and after Derek made another great speech about dreaming big, he got slimed. He got slimed SO BAD. It was gold slime, because Derek's an icon for God sakes, but it was a TON of slime. Check it out. http://www.nick.com/videos/clip/kids-choice-sports-2015-clip-derek-jeter-is-a-legend.http://www.nick.com/videos/clip/kids-choice-sports-2015-clip-derek-jeter-wins-legend-award.html
Sex & Drugs & Rock-N-Roll
10 years ago, I had one of the best days of my life, I went to the Emmy's. I stayed at the most beautiful hotel in Santa Monica, got my hair done, my make-up done, wore a really cool outfit and walked the red carpet. It was a great day until Denis Leary ruined it. He had lost for Rescue Me and was really pissed off about it and was a total [email protected] to me and my college roommate in our hotel lobby. Ever since then, I've hated him. I still needed to check out Sex & Drugs & Rock-N-Roll though because I love shows about bands. I did like the first episode I saw. It started out in documentary style telling us the history of The Heathens, Denis's band. They were great back in the day, but on the day their album dropped, the band broke up because the lead singer (Denis) was a drug addicted jerk. Dave Grohl LOVED The Heathens which was all I needed to hear. Now Denis is a washed up singer who still does drugs and needs a gig…bad. He finds out he has a daughter who wants to be a singer and shockingly can sing. The show works with one big exception. Denis looks awful. I mean REALLY awful. I have no idea if it's make-up or if he really looks that bad in real life because I never watch him on any talk shows…ever. I know I sound like a superficial jerk but there I things I know about myself. I don't like scary, I don't like animation, or English humor, and I need some sort of eye candy (male or female) to stick with a show. Superficial…yes, but at least I'm honest about it. I'm going to stick with this show a little longer to see if I can get past Denis's face and jowls and see what happens with him, his daughter and the band, but you need to watch the premiere just to see how terrible he looks. Thankfully John Corbin's been keeping his botox appointments and is something to distract the eyes. 
THE OTHER STUFF
Emmy Nominations
DRAMA
Best Drama: Better Call Saul, Downton Abbey, Game of Thrones, Homeland, House of Cards, Mad Men, Orange is the New Black  
Best Actor in a Drama: Kyle Chandler (Bloodline), Jeff Daniels (The Newsroom) Jon Hamm (Mad Men, Bob Oedenkirk (Better Call Saul) Liev Schreiber (Ray Donovan) Kevin Spacey (House of Cards) NO SAM FROM OUTLANDER
Best Actress in a Drama: Claire Danes (Homeland) Viola Davis (How to Get Away with Murder) Taraji P. Henson (Empire) Elisabeth Moss (Mad Men) Robin Wright (House of Cards) Tatiana Maslany (Orphan Black) NO CLAIRE FROM OUTLANDER no Julianna Marguilles
Best Supporting Actress in a Drama: Joanne Froggatt (Downton Abbey) Lena Headley(Game of Thrones) Emilia Clarke (Game of Thrones) Christina Hendricks (Mad Men) Uzo Aduba (Orange is th e New Black) Christine Baranski (The Good Wife)
Best Supporting Actor in a Drama-Jonathan Banks (Better Call Saul) Ben Mendelsohn (Bloodline) Jim Carter (Downton Abbey) Peter Dinklage (Game of Thrones) Michael Kelly (House of Cards) Alan Cumming (The Good Wife
MY THOUGHTS
I'm pissed off that Better Call Saul and Mad Men were nominated and Empire, Outlander, Sons of Anarchy, Parenthood, Masters of Sex, The Americans & The Good Wife weren't. 
Totally not cool at all that Keri Russell from The Americans, Julianna Marguilles from The Good Wife and Caitriona Balfe from Outlander weren't nominated but I'm totally stoked that Tatiana Maslany finally got recognized.  
LOVING that Kyle Chandler and Ben Mendelsohn were nominated but I'm pissed that Charlie Hunnam from Sons of Anarchy, Mandy Patinkin from Homeland, Matthew Rhys from The Americans and Sam Heughan and Tobias Menzies from Outlander were denied. I'd dump Jeff Daniels and Bob Oedenkirk and give one of these guys their spot. 
COMEDY 
Best Comedy-Louie, Modern Family, Parks and Rec, Silicon Valley, Transparent, Kimmy Schmidt  & Veep 
Best Actress in a Comedy: Edie Falco (Nurse Jackie) Lisa Kudrow (The Comeback) Julia Louis-Dreyfus (Veep) Amy Poehler (Parks & Rec) Amy Schumer (Inside Amy Schumer)  & Lily Tomlin (Grace & Frankie)
Best Actor in a Comedy: Anthony Anderson (Blackish) Louis CK (Louis) Don Cheadle (House of Lies) Will Forte (Last Man on Earth) Matt LeBlanc (Episodes) William H. Macy (Shameless)  & Jeffrey Tambor (Transparent)
Best Supporting Actress in a Comedy: Niecy Nash (Getting On) Julie Bowen (Modern Family) Allison Janney (Mom) Kate McKinnon (SNL) Mayim Bialik (Big Bang Theory) Gaby Hoffman (Transparent)  & Jane Krakowski (Kimmy Schmidt)
Best Supporting Actor in a Comedy: Andre Braugher (Brooklyn Nine-Nine) Adam Driver (Girls) Keegan-Michael Key (Key & Peele) Ty Burrell (Modern Family) Tituss Burgess (Kimmy Schmidtt) Tony Hale(Veep)
MY THOUGHTS
SO ANGRY that my Goldbergs, Black-ish and Jane the Virgin were denied a nomination, but even more pissed that Wendi McClendon Covey didn't get acknowledged yet again. Lisa Kudrow? She didn't have to get the nod. Loved that Lily Tomlin got a nomination but seriously, WENDI NEEDS AN EMMY and Ellie Kemper should have also gotten something.!!!  
Will Arnett really didn't need a nomination as far as I'm concerned. 
Transparent isn't a comedy, it isn't funny at all. It's great, don't get me wrong, but it's a drama. So next year…resubmit in the right category!!! 
Best Reality Show Competition: Amazing Race, DWTS, Project Runway, So You Think You Can Dance, Top Chef & The Voice. NO SURVIVOR WTFFFFFFFF!!!! 
Best Late Night Show-The Colbert Report, The Daily Show, Late Night with Jimmy Kimmel, The Tonight Show, Late Show with David Letterman & Last Week Tonight with John Oliver. I'd LOVE to see Last Week Tonight win. Shake things up a bit. 
-Cancelled: 19 Kids & Counting aka THE DUGGERS
Friday's Trivia Question: The Where are they now theme ends with the movie Singles. Matt Dillon, Bill Pullman, Kyra Sedgwick & Campbell Scott all starred in this movie together. What TV Shows have they starred in most recently?  WWTM-Kristy Like me on Facebook at Watching Way Too Much
Follow me on Twitter at [email protected]
http://watchingwaytoomuch.com
[email protected]