Big Ben: Mike Wallace is more than a one-trick pony
By Ryan
Wilson
| NFL Writer
April 5, 2013 12:58 pm ET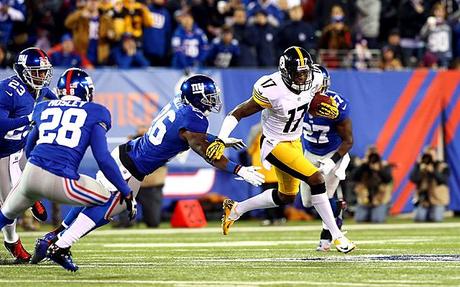 Mike Wallace has developed multiple tricks during his four-year career. (Getty Images) For most of
Mike Wallace
's four-year career with the
Steelers
, coach Mike Tomlin would refer to him as a "one-trick pony." In the beginning, you got the sense Tomlin was serious; Wallace was
really
good at one thing: running go routes all day long as defenders were helpless to do anything about it.But Wallace went from running fast in a straight line to showing some mastery of the rest of the route tree (see the pitch-and-catch-turned-51-yard-touchdown against the Giants last season as proof). Still, "one-trick pony" stuck even as Wallace signed a five-year, $60 million contract with the Dolphins hours into free agency.
That doesn't mean it's true, though -- just ask Wallace's former quarterback, Ben Roethlisberger.
"Mike is way more," Roethlisberger told
TheFinsiders
on Thursday. "It's to Mike's credit. Mike is really focused on becoming a better receiver. So he's focused on his route running. He's focused on running out-routes, and curl-routes, and in-routes and doing all the little things that's required to become a great wide receiver. That's why he, to me, is one of the best in the league, because he not only has that speed -- he can run by anybody -- but he can (run) routes and he can get open."
In four seasons, Wallace totaled 235 receptions for 4,042 yards (17.2 yards-per-catch average) and 32 touchdowns. But an inconsistent effort in a new offense in 2012 (64 receptions, 836 yards, eight TDs but with a 13.1 YPC average and catch rate of just 54 percent) made it easier for the Steelers to let Wallace hit the open market last month.
The former third-round pick even admitted he struggled.
"I've never been a guy who dropped balls or just lose focus," Wallace said last December. "The first three years I was always involved, so you just warmed up in games, and were just into it.
"But when you don't get the ball for two and half quarters, you lose focus. But that's the type of offense this is. We're spreading it around, so you're not going to get as many targets. When you get them, you have to make the best of them."
Roethlisberger, meanwhile, has nothing but praise for one of the fastest players in the game.
"Love Mike, was sad to see him go," Big Ben told TheFinsiders.com. "He's a great teammate, obviously a great player, but I thought he was even better off the field. Just a great guy, great teammate. Miami is very lucky to have him because he's a great player."