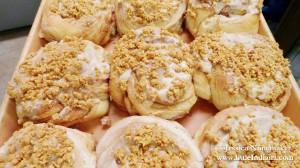 Biff's Pioneer House Bakery and Cafe in Mooresville, Indiana
You would never guess that
Biff's Pioneer House Bakery and Restaurant in Mooresville, Indiana
was the start of something very, very good!
Every small business hopes for longevity. Unfortunately, many don't achieve the long run or the type of fame that comes with creating a bakery item like this Morgan County bakery.
Biff's Pioneer House in Mooresville
Since 1956, this downtown bakery and cafe has been the local meeting place.
Serving breakfast and lunch, Biff's is known for dishing out a delicious biscuits and gravy. In fact, people come from miles around for the stick to your ribs meal.
Locals come in, take "their" seats, and linger over cups of coffee. As in any small town cafe, the pot is always on. They share town gossip and discuss the big news of the day.
Just as they have had for the past  sixty years.
Mooresville, Indiana is Home of the Bismark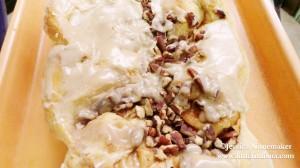 Biff's Pioneer House Bakery and Cafe in Mooresville, Indiana
As part of a larger group I didn't have time for a full meal–but there is always time for the product that put Biff's Pioneer House on the map. And, no, I don't mean the biscuits and gravy (highly praised though they may be).
This small town bakery invented the Bismark! Those round, jelly or custard filled donuts without holes, yes, they were created right here! The owner's father first made these mouth-watering pastries and now the family is carrying on the tradition.
Tutti Fruitti, a fruit and raisin roll, pineapple, peach, cherry, and apple are a few of the delectable flavors that customers will find lining these bakery cases!
Go There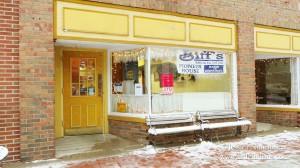 Biff's Pioneer House Bakery and Cafe in Mooresville, Indiana
This is still a bakery, bismark famous or not, so expect awesome cakes (the banana cake looks particularly pretty) in addition to an assortment of cookies and other pastries. The hard part, as always, is deciding!
Small Towns: Destinations, not Drive-Thrus! I'm Jessica Nunemaker and THIS is little Indiana!
Find pictures in Indiana on my Flickr photostream or on the new little Indiana Tumblr blog.
Just don't forget to tell 'em that  little Indiana sent you!
Biff's Pioneer House
14 E Main Street
Mooresville, Indiana 46158
317.834.3899

Don't miss a moment. Subscribe to little Indiana and receive instant updates to stay on top of everything "little."
little Indiana: Where to Stay, Play, and Eat in Small Towns in Indiana. Discovering Indiana's best small towns! Now get little Indiana on your Kindle.
Targeted. Relevant. Affordable! little Indiana advertising.