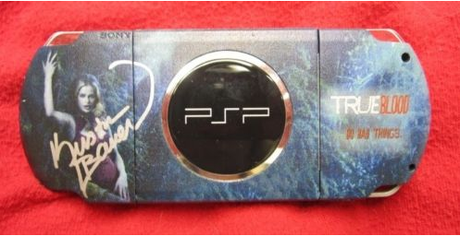 Just 4 short days remain in True Blood Fan Source's campaign to raise money for the Amanda Foundation. And things have gotten just a little bit sweeter! The Amanda Foundation itself has launched a set of online eBay auctions in honor of Kristin Bauer van Straten's birthday! The auctions launched yesterday afternoon and they include a plethora of True Blood memerobelia donated by Kristin herself.
These items include:
1 Special Edition "Pam" Sony PSP signed by Kristin
1 True Blood season 1 DVD set signed by Kristin, Deborah Ann Woll (Jessica Hamby), and Mariana Klaveno (Lorena)
5 True Blood comic drawings, all depicting different characters drawn by Joe Corroney and signed by multiple cast members including Alexander Skarsgård (Eric Northman), Stephen Moyer (Bill Compton), Anna Paquin (Sookie Stackhouse), Nelsan Ellis (Lafayette Reynolds) and more.
All of the items are truly stunning and would look great in any True Blood Fan's home. The funds collected from these auctions will benefit the Amanda Foundation directly and help them continue to rescue, feed, shelter, and provide top notch medical care to animals in need.
You may see all of the auction items and place your bids here.
The auctions end on Sunday November 27th.
And don't forget! We're also giving away awesome prizes including True Blood headphones, autographs, and Tru Blood beverages to those who choose to donate to our existing donation drive. All of the details can be seen here.
All the proceeds for our donation giveaway event will also benefit the Amanda Foundation. Donate below! ($10 for 1 entry and $20 for 3):
Source: Wix.com- "The Amanda Foundation's True Blood Auction in honor of Kristin Bauer van Straten's Birthday Charity Drive"Image Credit: The Amanda Foundation