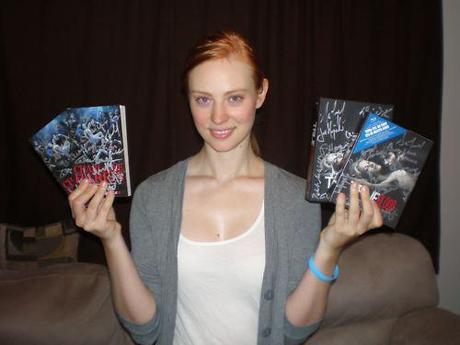 As you are probably aware several of the True Blood cast members have specific causes and/or organizations which they strongly support.  Deborah Ann Woll (Jessica Hamby) has been active in bringing awareness to Choroideremia, an inherited retinal degenerative eye disease that causes blindness, which her boyfriend and other members of his family have.  The Choroideremia Research Foundation, an international, non-profit organization dedicated to raising funds to find a treatment or cure for Choroideremia, is currently running an auction for an autographed Blu Ray DVD copy of Season 2 of HBO's True Blood.  This DVD set was signed specifically for raising funds for the Choroideremia Foundation and was signed by all the members of the 2010 Comic-Con San Diego Panel as follows:
Alan Ball
Charlaine Harris
Stephen Moyer
Anna Paquin
Nelsan Ellis
Rutina Wesley
Sam Trammell
Denis O'Hare
Kristin Bauer
Joe Manganiello
Deborah Ann Woll
In addition Brit Morgan recently signed the DVD as well.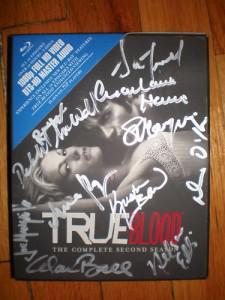 Truebies here is your chance to get a fangtastic piece of True Blood memorabilia, while helping out a great cause.  Bidding is only open until June 11th so be sure to place your bid today!  Click here for more information on the auction or to place your bid.
For more information about Choroideremia and the Choroideremia Research Foundation visit their website here.
Source: Twitter.com – Deborah Ann Woll
Ebay.com – eejay020
Photo Credit: Ebay.com (Choroideremia Research Foundation)