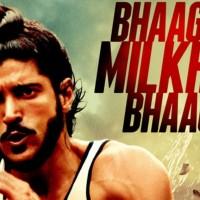 In my experience, watching even an average film on the sprawling canvas of a movie screen can amplify you're like /dislike for it. As viewers I'm sure there are many of us who try not to be taken in by needless grandeur that is used to compensate the lack of a decent narrative structure and good screenplay.
These are two primary elements that, Bhaag Milkha Bhaag for me did not lack in. However, there were some highly polar responses that I had come across for the film. To begin with many viewers felt that there was many a time the movie swayed towards melodrama, went the emotionally manipulative way, and even served as a reminder of some "ghise pite" emotions in Hindi cinema.
I beg to differ.
When the focus is on the strife of a youngster trying to cope with his home and family being torn away, strong emotions are but inevitable. This is a man we speak of who is literally revered as the "THE finest athlete India has ever produced". So I think raw emotions, adrenalin and the constant pressure of victory and defeat are all vital elements. Also, since the film was more an imaginative interpretation of Milkha Singh and his life experiences, triumphs and losses, I don't know if an underplayed and contemporary style would have worked in this particular milieu considering that this is the story of a legendary Indian that everyone needs to know about.
Was the movie longer than it should have been? Perhaps…but how long is too long in a movie that is a genre on its own? It isn't a sports flick, no. It isn't purely a biopic either. Since an etching of somebody's life story in this manner is relatively rare, I think it would have been a task for the technical team to decide what length would have effectively held the audiences' interest. Even so, I wouldn't hold it as a deal breaker against the backdrop of positives such as the excellent support cast (Pawan Malhotra etching out a wonderfully gritty character) splendid re-recording and the lesser known quirks of Milkha's persona( his love for milk and gluttony for ghee).
I also agree that there were one too many love interests. However, the problem here was that his first love subplot needed to be wrapped in a manner that was dignified, in keeping with Milkha's real life image yet convenient to introduce the cute Australian chick.  So that took a considerable amount of time. Coming to the whole attraction episode with the Indian swimmer? I think it was meant to shed light more on his determination as a sportsman, than on his love life, and I think it did serve the purpose.
Yes. I am not going to deny that Farhan Akthar's sincerity and dedication to the character greatly helped the movie's cause, but what's wrong in that? The film pretty much is about Milkha Singh.
Also yes. He doesn't win the gold at the Olympics and makes his share of mistakes. But isn't that the implied message? The attempt at overcoming the very demons in your head…? That's the thing I enjoyed the most about this film. Bhaag Milkha Bhaag did not have to be a perfect story. It did not owe an explanation to the audience about some sort of an incomplete hero.
Now, this movie is being dismissed as one that does not walk the thin line between commercial and artsy cinema in an effective manner. Maybe it did not but since when have we become an audience that appreciates only three categories of cinema? – Full blown art, perfectly 'spiced up' sensible films or downright mainstream fare. In retrospect, the seemingly fair expectation of a riveting film from a director like Rakeysh Omprakash Mehra or the hunger for award winning films the likes of '15 Park Avenue', may well be the reason why certain Rohit Shetty films also, let's face it, make tons of moolah.