Beyond the Infinite Two Minutes – One of the Best Time Travel Movies in Years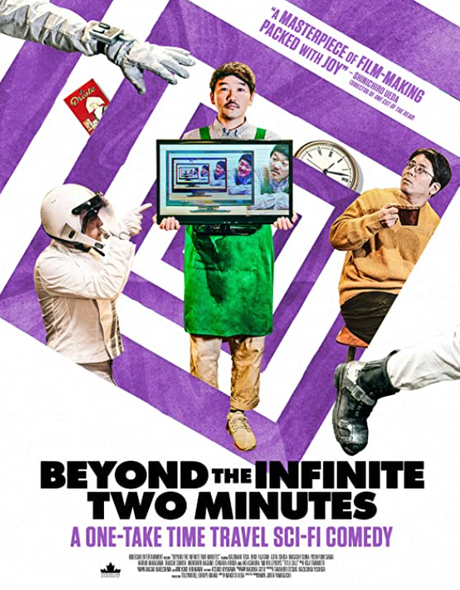 Director: Junta Yamaguchi
Writer: Makoko Ueda (Screenplay)
Starring: Kazunari Tosa, Riko Fujitani, Gota Ishida, Masashi Suwa, Yoghifumi Sakai, Haruki Nakagawa
Plot: A cafe owner discovers that the TV in his cafe suddenly shows images from the future, but only two minutes into the future.
Runtime: 1 Hour 10 Minutes
There may be spoilers in the rest of the review
Story: Beyond the Infinite Two Minutes starts as Kato (Tosa) finishes his shift at work and head upstairs to relax, only to find himself, talking to himself in the future, through the TV screen in his room, from down in the café below.
As Kato has the two-minute conversation, he heads downstairs, finding himself having the same conversation, only this time as the TV screen side of the conversation. After Kato introduces this to his friends, the conversation becomes deeper, as they try to figure out what they can do with this newfound gift.
Thoughts on Beyond the Infinite Two Minutes
Thoughts – Beyond the Infinite Two Minutes is a time travel movie with a unique twist, that will make it one of the most intriguing movies you will ever see. Time travel films will always offer up a discussion, both with the audience and the character, with the last great discussion on screen being in Primer. Beyond the Infinite Two Minutes will also adopt the single take concept, which for the movie is even more unique, as we often get to see the conversations from both angles, which both asks questions and answers them. Any time travel movie will need to test the audience, which this does everything needed. The characters will go through the conversation about what they could do with this new gift, one that will always dive into becoming rich or getting the answers they want to make it through the situation. The performances are great too, showing the friends coming up with the ideas through the film. Beyond the Infinite Two Minutes is a time travel film that could easily be placed upon the best time travel films of all time.
Final Thoughts – Beyond the Infinite Two Minutes is easily one of the best time travel movies you will see.