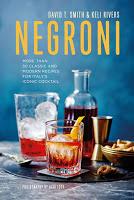 This spring,
BevFluence
has partnered with
Ryland Peters & Small and CICO Books
to review several Cocktail books starting with 
Negroni, More than 30 classic and modern recipes for Italy's iconic cocktail
($12) by David T. Smith and  Keli Rivers. My bar setup was void of each of the three central ingredients (Campari, gin, and vermouth) so I decided to go local as much as possible - obviously excluding the
Campari
. This Italian liqueur was created by Gaspare Campari in 1860 as a bitter aperitif made from various herbs, fruits, and spices.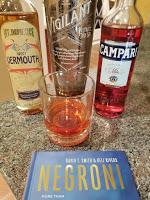 For the gin, I went with the excellent 
Joseph A. Magnus & Co Vigilant District Dry Gin
($35) that I first sampled at their Washington, D.C. distillery. This is a London-style dry gin that should be a decent alternative to the English gins. For vermouth, I learned that 
Mt. Defiance Distillery
in Loudoun County Virginia produces a 
Sweet Vermouth ($19, 350ml).  This fortified wine starts at the 
Mt. Defiance Apple Brandy that is flavored with herbs and spices and blended with barrel-aged brandy, Vidal Blanc wine, local honey, and caramel syrup.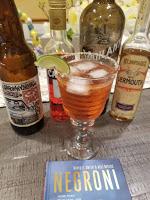 The perfect place to start is with
The Classic
, just equal parts of all three ingredients. In this scenario, the bitter orange of the Campari takes center stage with the vermouth providing a slight balance with sweet flavors.  The gin was a little lost with this palate.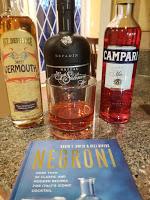 I favored another recipe called
Run Free & Naked
which puts The Classic ingredients into an ice-filled and salt-rimmed pint glass. Then fill the remaining glass with sparkling hard cider. I choose the
Corcoran Vineyards and Cidery PoPo Peach
. This was an eye-opener and will be a summer favorite. 
The next recipe came from the Experimental Negroni section and is the Oaxacan which replaces the gin with mezcal in the Classic recipe. I had the Mezcal El Silencio Espadín available and this substitution seemed to elevate the Campari even more while also providing a smokey trail. Good for a change of pace.
Check back as we will up updating this post with more cocktail experiences as we leaf through the book. Cheers.