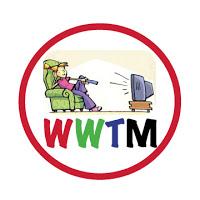 THE ANSWER TO TUESDAY'S PARKS & REC TRIVIA: Andy Dwyer dated Ann Perkins and married April Ludgate
FIRST FIVES: Alex Nagler, Bobby Aguilera, Dave DeSocio, Monica Caraffa & Karen Feldman
HONORABLE MENTION: Ali Accarino
THE NUMBERS
Monday's Broadcast Top 5
The Voice-NBC 4.1/13.9
The Bachelor-ABC 2.6/8.9
Gotham-FOX 2.3/6.5
Scorpion-CBS 2.1/10.6
2 Broke Girls-CBS 2.1/8.4
Monday's Cable Top 5 
WWE-USA 1.4/4.1
Love and Hip Hop-VH1 1.4/2.5
Better Call Saul-AMC 1.4/2.8
Black Ink Crew-VH1 1.0/1.7
Street Outlaws-Discovery 1.0/2.3
Monday's Top 5 Nielsen Twitter Ratings 
WWE Monday Night Raw-USA 185,000 Tweets The Voice-NBC 158,000 Tweets BET Honors-BET 135,000 Tweets Love & Hip Hop-VH1 125,000 Tweets The Bachelor-ABC 108,000 Tweets
Sunday's Broadcast Top 5
Oscars-ABC 10.8/36.6 
Red Carpet 8-830-ABC 8.3/30.0
Red Carpet 730-8p-ABC 6.1/23.5
Red Carpet 7-730-ABC 4.6/19.3
The Simpsons-FOX 1.0/2.2
Sunday's Cable Top 5 Walking Dead-AMC 6.9/13.4
Talking Dead-AMC 2.4/4.8
Live From the Red Carpet-E! 1.1/3.2
Family Guy-Adult Swim .8/1.9
Saturday Movie-ABC amily .8/2.3
Sunday's Top 5 Nielsen Twitter Ratings
The Oscars-ABC 5,923,000 Tweets
WWE Fastlane-PPV 313,000 Tweets
The Walking Dead-AMC 242,000 Tweets
Downton Abbey-PBS 16,000 Tweets
Live from the Red Carpet-ABC 14,000 Tweets
THE SHOWS
Better Call Saul
Okay, so while he hasn't officially gone there yet, we did learn where the name Saul Goodman came from. It's All Good Man...Sall Good Man...Saul Goodman. Get it? This came to him back from his con artist days, before he took the Kettlemen's money. I knew that would happen, I hoped it would happen. Those Kettlemen were really annoying and even though she was right, I felt bad for Jimmy when Betsy said "You're the kind of lawyer guilty people hire." With the Kettlemen found, Nacho got out of jail, but he wasn't all smiles and rainbows, he thought Jimmy ratted him out, so we definitely haven't seen the last of him. Jimmy didn't let Nacho's threats get to him though, he took his dough and got some new suits, Crest White Strips, and some blond highlights for a huge new billboard where he looked exactly like Hamlin from his bro's firm. Of course Hamlin sued and got the billboard taken down. Jimmy/Saul TBD couldn't get anyone to cover this BIG news story so he hired some losers to film it and finally the bad mojo clouds began to lift. Right in the middle of filming his own news story, the billboard guy fell and was dangling off the billboard ledge. Jimmy/Saul TBD climbed up and saved the guy and it was all on tape. The phones began to ring. Business was starting to pick up. We're seeing the evolution from Jimmy to Saul and it's all good, but I would love to have the pace pick up a smidge just a smidge.
Parks & Rec Series Finale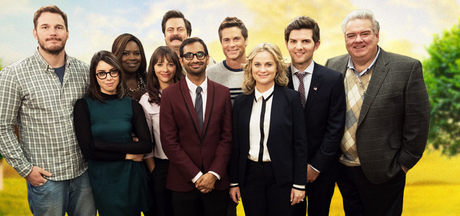 The Parks finale was very cute and sweet and did tie things up nicely for us all. Everyone did get their happy ending. It wasn't super cleverly written like Two and a Half Men, but then again, they didn't have "tigers blood" and "winning" to work with. We did get Ann Perkins and Chris Trager back though. No stunt doubles necessary.
Chris and An
n left Michigan and come back to Indiana with their 2 kids.
Donna's
doing great. Still married and making a ton of dough up in Seattle. It turns out, she has a soft, philanthropic side to her.
Craig
met a guy at Tom's place named Typhoon, got married and I think, they traveled to space.
Nothing at all happened to Ethel Beavers
Andy and April's
first kid was born on Halloween, with April in full ghoul regalia. After a bunch of hilarious name options the boy was named Jack.
John Raffia
tried faking his own death to collect insurance money, but of course he got caught attending his funeral.
Ben's
a congressman and
Leslie
became Governor of Indiana, served two terms and received an Honorary Doctorate and library from the University of Indiana.
Tom
failed at everything until he started writing best sellers on failure and became a great American success story.
Ron
was done with The Best Building Company and the Scotch biz and went to Leslie for help with the next chapter of his life. She gave him the perfect job. Park Ranger of the Pawnee National Park.
Jerry/Terry/Larry/Garry was the Mayor of Pawnee for the rest of his life. He died on his 100th birthday with his beautiful non-aging wife, Christie Brinkley, by his side and received a 21 stamp salute.
I will miss Pawnee and an amazing cast of characters. This one could have gone on forever. Sad that it's the good ones that seem to be ending this year. Thank You for 7 years.
Real Housewives of Beverly Hills
I don't know why Yolanda would think these Beverly Hills b*tches would want to run around Rodeo drive for a scavenger hunt. These women run for nothing, well maybe to get their giant jewelry filled suitcase that they forgot at the airport. Nice to see Camille show up for the scavenger hunt, I guess they called her in for a favor, they needed a "9th." At least there was a payoff at the end, the girls all found out where this years trip from hell will be, Amsterdam, Yolanda's homeland. Just one pit stop to Calgary to attend the David Foster Foundation's charity event starring, Steven Tyler, and Babyface first. That must have been a deal point in Yolanda's contract or something. The guy raised over 8 million bucks in one night, but any plug is a good one, right? As we all know, these trips are filled with drama every time, it started on the plane (private of course, they girls don't fly commercial) with Kim and Lisa Rinna. Kim needs to just zip it, everything that comes out of her mouth is crazy. Next week, is Amsterdam, let's see what the Dutch think of these women after they get done partying there. Good Luck Amsterdam, you're gonna need it.
THE OTHER STUFF
-Some Oscar Twitter info: 
Most tweeted-about moments (measured in Tweets per minute):
Lady Gaga performs and then Julie Andrews joins her onstage.

Alejandro Iñárritu wins Best Picture for Birdman.

Patricia Arquette's Best Supporting Actress acceptance speech.
Most Tweeted-about celebrities:
Lady Gaga

Patricia Arquette

John Legend
Films that received the most mentions on Twitter:
Birdman

The Grand Budapest Hotel

Boyhood
Most mentioned celebrities on the red carpet:
Dakota Johnson

Lady Gaga

Lupita Nyong'o

Jennifer Lopez

Rosamund Pike
-Dancing with the Stars released the new cast yesterday. None of these people would get me to watch, but I know all of you hard core DWTS fans will show up. What do you think of this round of contestants? Thumbs up? Thumbs down? Does it even matter? 
Noah Galloway - Soldier who lost a leg and an arm in the military
Michael Sam-gay football player
Charlotte McKinney-model/actress
Patti LaBelle
RedFoo from LMFAO
Riker Lynch singer with groovy hair 
Robert Herjavek from Shark Tank
Suzanne Somers
Rumer Willis
Willow Shields from Hunger Games
Nastia Liukin-Olympian
-I gotta ask, what will you guys be watching tonight? It's a HUGE night. 
Here's what's in my DVR. Help me prioritize: 
The Goldbergs-ABC Black-ish-ABC
Empire-FOX Hindsight-VH1 Suits-USA The Americans-FX Modern Family-ABC Nashville-ABC Survivor-CBS Amazing Race-CBS
Wednesday's Trivia Question
: Chris Hemsworth will be hosting SNL on 3/7. Chris and his brother Liam are both big time movie stars. Name one big movie the each star in. 
WWTM-Kristy
Like me on Facebook at Watching Way Too Much Follow me on Twitter at
[email protected]
http://watchingwaytoomuch.com
[email protected]