Refocused brand offers modern twist to dressing for the active woman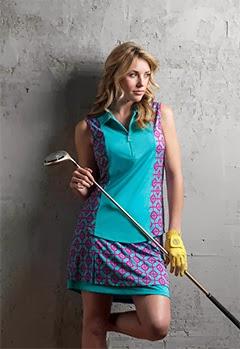 DENVER (January, 2014) – Bette & Court, a premier women's golf apparel company, is offering active women a new approach to dressing on and off the golf course. Bette & Court continues to push the envelope with designs that are bolder, more modern and colorful, setting them apart from traditional women's golf apparel offerings.
Bette & Court is taking this new approach to meet the needs of the busy, younger minded and active woman who wants easy to wear and affordable clothing that performs well on the golf course, but also translates fashionably off the course. New designs include bold colors and funky, geometric prints. Bette & Court is also using quality, high performance fabrics that fit, flatter and are easy to care for. On average, Bette & Court pieces typically retail at an affordable $62 per item. Each piece from the line are interchangeable and work well together or as separates.
"We are so pleased to be introducing Bette & Court's new direction. Our new approach is about capturing the, modern and active sprit," said Bette & Court and Sport Haley President and Creative Director Cathy Blair. "The Bette & Court woman wants to look and feel great. She wants to be able to quickly and easily pull together a beautiful, modern look that translates on and off the golf course."
Bette & Court's entire collection centers around the brand's best-selling Cool Elements, the original sun protection mesh sleeved polo. Offered in a mock and a collared option, the lightweight, anti-microbial, moisture wicking fabric make this anything but basic.
Providing an SPF 30+ sun protection, this textured top can reduce the body temperature with its cooling yarns and mesh vents under each sleeve for extra ventilation. The Cool Elements is offered in over 20 colors and 8 prints. Also available in a full zip jacket, the perfect piece for lightweight sun protection.
Other pieces of the line include the Smooth Fit pant, capri pant, short and skirt, which act similar to shape wear, but perform like active wear. The durable, pull-on pieces offer a sleek, flattering look with superior comfort.
While the brand is designed with the female golfer in mind, Bette & Court apparel also translates well to other activities including equestrian sports, walking, hiking, tennis, yoga, and travel. Bette & Court has begun offering these products beyond the golf arena to meet the needs of this emerging customer demand.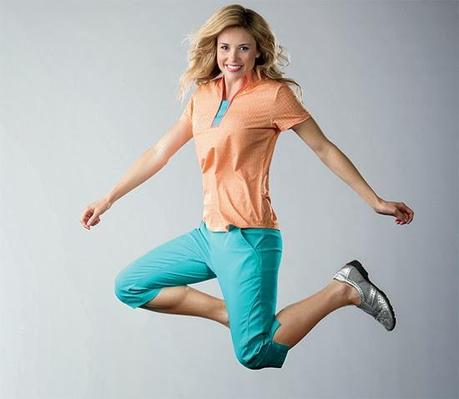 About Bette & Court
Bette & Court, a division of Sport-Haley, Inc. is a premier women's golf apparel company committed to the active woman interested in fresh, sporty, modern and easy-to-wear clothing at an affordable price point. Offering effortlessly stylish and interchangeable pieces, Bette & Court's clothing is designed with attention to quality, detail and fit that performs beautifully on and off the golf course. Bette & Court and Sport Haley are located in Denver, CO, and sold online and at private and public golf shops throughout the world. For more information about Bette & Court, and Sport Haley, please go to bette-court.com and SportHaley.com.