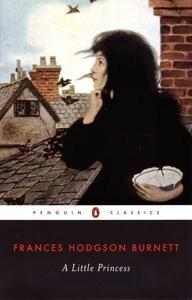 What's it all about?:
Sara Crewe, an exceptionally intelligent and imaginative student at Miss Minchin's Select Seminary for Young Ladies, is devastated when her adored, indulgent father dies. Now penniless and banished to a room in the attic, Sara is demeaned, abused, and forced to work as a servant. How this resourceful girl's fortunes change again is at the center of A Little Princess, one of the best-loved stories in all of children's literature.
What did I think?:
A Little Princess is the June read for the Kid-Lit Challenge I participate in with Chrissi and is her choice, as she fondly remembers it from our childhood. The classic story introduces us to Sara Crewe, brought up in India with her wealthy father who decides to send her to school in England so she can get the best education possible. Sara does not want for anything, and her kind and generous father lavishes her with gifts, leading the other little girls at the school to envy and admire her, giving her the title of "princess." Sadly, this does not last long when her father dies, and Sara becomes penniless. The evil Miss Minchin, ruler of the school, reduces her to little more than a slave, confiscating all her beautiful gifts as payment for her keep, treating her like a skivvy by giving her numerous errands to run, and making her sleep in a cold, uncomfortable attic. When an Indian gentlemen moves into the house across from the school, is there a chance Sara's fortunes could change?  
I didn't realise how much I loved this story until I read it as an adult. It is beautifully told, with a wonderful heroine that children can look up to and emulate and a host of morals that we can all learn a little something from. I especially enjoyed Sara's world of make-believe and trusting in a bit of "magic," to get through the struggles she faces in everyday life. Throughout it all, Sara remains a model for humanity, remaining humble, kind and generous to others, and childishly optimistic for the future creating a world of "pretend" that she can fall back on and escape to. I highly recommend this book as a classic piece of children's literature that is an absolute joy to read.
Please see my sister Chrissi's fabulous review HERE.
Would I recommend it?:
But of course!
Star rating (out of 5):