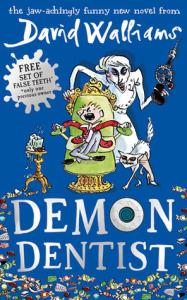 What's it all about?:
Darkness had come to the town. Strange things were happening in the dead of night. Children would put a tooth under their pillow for the tooth fairy, but in the morning they would wake up to find… a dead slug; a live spider; hundreds of earwigs creeping and crawling beneath their pillow.
Evil was at work. But who or what was behind it…?
What did I think?:
First of all, apologies (especially to my sister!) for getting this post out so late. Chrissi and I usually try to get our kid-lit posts out at the end of the month but this past week, I've been feeling a little under the weather and have only got round to doing it now. It's always a pleasure to pick up a David Walliams book and even though I only discovered him a few years ago and was slightly sceptical, I can really see why he's so beloved, particularly amongst children. You always know what you're getting when you pick up one of his books. He has such a wonderful sense of humour, brilliant characterisation and an edge of reality that make his books such a joy to read.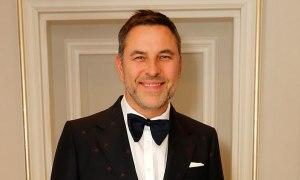 David Walliams, author of Demon Dentist.
I say you always know what to expect when picking up a Walliams books but to be perfectly honest, Demon Dentist completely surprised me. I found it much darker than the author's previous books with a villainous character that was nothing short of terrifying. However, I loved that he wasn't afraid to explore some more difficult aspects of life. For example, our young protagonist Alfie's father is chronically ill in a wheelchair and as a result, some parts of the narrative make for a very emotional and hard-hitting reading experience. Despite his father's health issues, Alfie still has a wonderful relationship with him and it was heart-warming to read about their interactions. I can only applaud the author for choosing to write about a father-son relationship that is not conventional or expected so as to illustrate that not all families have the luxury of having parents who are healthy and well.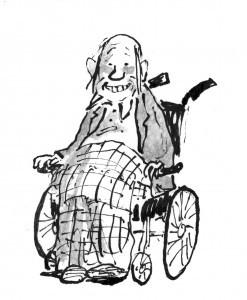 Alfie's dad, beautifully illustrated by Tony Ross.
Image from: https://www.worldofdavidwalliams.com/book/demon-dentist/
In Demon Dentist, Alfie hasn't been to the dentist for a long, long time after a bad experience when he was younger and his teeth are now rotten. Then when a new dentist, Ms Root comes to town and starts taking a rather obsessive interest in all the children's teeth, Alfie begins to realize that something is seriously wrong and vows to get to the bottom of it. The villain of the piece who is of course, Ms Root as you may have guessed, is a fantastic villain in every sense of the word. She looks a bit strange, she definitely acts a bit strange and, as with all good baddies, she has an evil plot afoot that involves all the children of the town and their teeth.
As I mentioned earlier, things get quite frightening in Demon Dentist but it's all done with Walliams' trademark wit and style accompanied by the most glorious illustrations by Tony Ross. The action never lets up for a second and I whizzed through this book in less than a day very easily as I found it very difficult to put down. Just when I thought there may have been a resolution, there was another crescendo of tension and terror that our poor hero Alfie was subjected to! Eventually it does end – not particularly in a satisfying way I have to say, there is quite a bit of heart-break but it is also accompanied by hope for the future which as it turns out, is a far more realistic ending to a fantastical story.
For Chrissi's fabulous review, please see her blog HERE.
Would I recommend it?:
But of course!
Star rating (out of 5):

COMING UP IN MAY ON BETH AND CHRISSI DO KID-LIT: The Enchanted Wood (The Faraway Tree #1) – Enid Blyton.
Advertisements