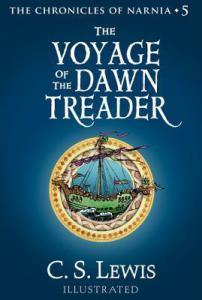 What's it all about?:
Lucy and Edmund, with their dreadful cousin Eustace, get magically pulled into a painting of a ship at sea. That ship is the Dawn Treader, and on board is Caspian, King of Narnia. He and his companions, including Reepicheep, the valiant warrior mouse, are searching for seven lost lords of Narnia, and their voyage will take them to the edge of the world. Their adventures include being captured by slave traders, a much-too-close encounter with a dragon, and visits to many enchanted islands, including the place where dreams come true.
What did I think?:
I really can't believe this is my fifth year of the Kid Lit challenge I participate in with my sister and fellow blogger, Chrissi Reads. This is one of our favorite challenges to do and we always love picking the books we're going to be reading for the year. Every year, we're slowly making our way through entire series and The Narnia Chronicles is one of those so it was fitting that we chose the fifth book, The Voyage Of The Dawn Treader as our first book for 2018. As an adult reading it, I wasn't sure what to expect with this one. I remember it being one of my favourites as a child but I couldn't remember any major details about it, apart from it being set on a ship so I was looking forward to re-discovering it and finding out whether it was still one of my preferred books in the series.
By and large, I really enjoyed this fifth novel, it was lovely to see two of the characters from The Lion, The Witch and The Wardrobe, Lucy and Edmund (which were also my two favourites) back again in Narnia and off on another adventure, meeting up with old and new friends and learning a few lessons on the way which C.S. Lewis fondly slots in on a regular basis! They enter Narnia this time through the painting of a ship and manage to bring along a rather unwelcome visitor, their cousin Eustace who does nothing but complain, shirk any hard work, make horrible remarks and generally acts rather unpleasantly until he is taught quite a valuable lesson of his own. The children are on board The Dawn Treader, a Narnian ship in the company of their friend and current ruler of Narnia, Prince Caspian and the wonderful brave mouse, Reepicheep. Their quest is to find out what happened to the old Lords of Narnia, explore forgotten lands and generally have many exciting adventures.
I was really surprised when I read this novel that I actually didn't remember anything about the plot at all! I remember Eustace as a character, let's face it, he's kind of difficult to forget but the rest of the adventures that the children have and the strange lands they discovered I didn't recall in the slightest. That's not a bad thing at all, in fact it felt like a fresh, new story to devour and I did enjoy many moments of it. As I mentioned, it was wonderful to be back with Lucy and Edmund again and even Eustace improves on further acquaintance, especially when he goes through a traumatic body-shifting experience of his own. One of the things I adored most about this story though was the illustrations in my copy on my Kindle, which I've been lucky to have with all the Narnia books so far. They're so gorgeous, make me smile even if I'm at a slower point of the narrative and just all around make my heart incredibly happy.
This is also the first book where if I hand't known whom C.S. Lewis meant Aslan to represent, I think I would have probably guessed – it felt a lot more obvious. This kind of thing really doesn't bother me though, I'm not especially religious but I don't have any problems with it either, if it's a great story with some fascinating creatures and exciting adventures, that's good enough for me!
For Chrissi's fantastic review, please see her blog HERE.
Would I recommend it?:
But of course!
Star rating (out of 5):

NEXT UP IN FEBRUARY ON BETH AND CHRISSI DO KID-LIT 2018: Matilda by Roald Dahl.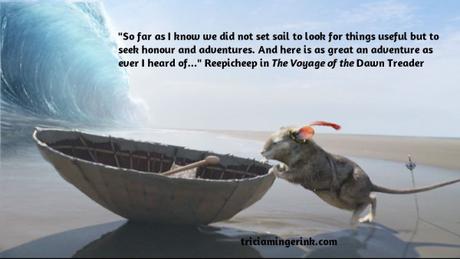 Advertisements
&b; &b;