Oh, boy! Hi! It's Caitlin here and I haven't personally written a blog post on Kitchen Grrrls. in what feels like years. That's probably because it has been years - literally. I can't stop making chocolate chip cookies and I'm not sure if we've just gotten better at baking or we have happened across better recipes as of late but the cookies we've been baking have been gorgeous and delicious and (I daresay) perfect.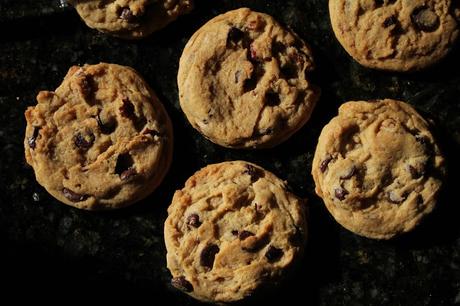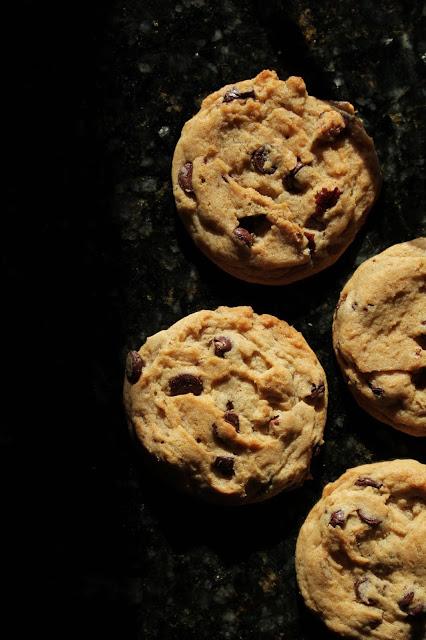 On a recent visit to New York, Riley and I did our usual big grocery shop in the Organic/Vegan section of
Wegmans
. I was adamant about finally trying
Miyoko's Vegan Butter
 because every vegan ever seems to rave about it. We opened it to smear on some deliciously gluten-laden bread and I kind of hated it. It didn't have much flavor and had an odd smell. So, what were two grrrls to do except think of another use for it and what better use than chocolate chip cookies. I wanted to make sure we were working from a recipe that was tested with Miyoko's Vegan Butter so we went with an adaptation of the recipe from Nom Yourself (the
Okayest Chocolate Chip Cookie
). Prepare to have your socks blown off but before you make these cookies, do yourself a favour and buy one of those fancy Stainless Steel Spring-Loaded Scoops. Your cookies will never be the same and you'll die happy.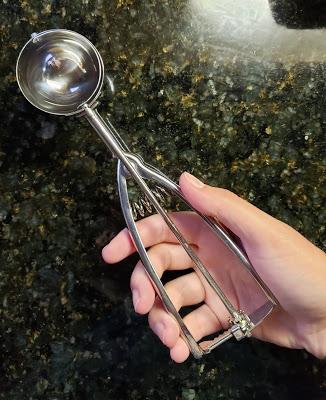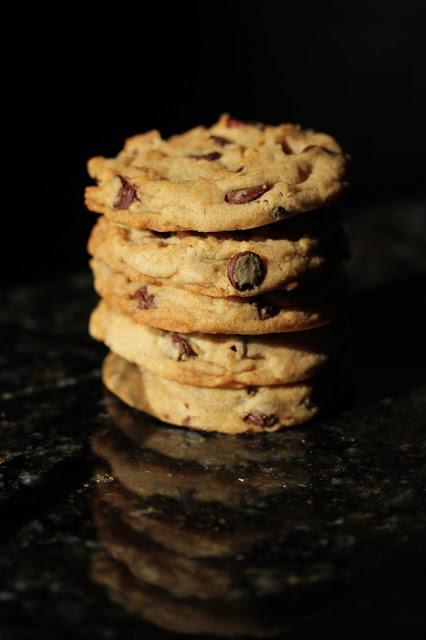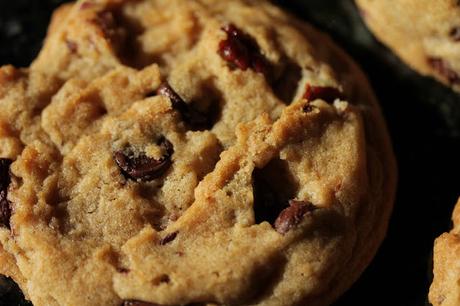 Best Chocolate Chip Cookies with Miyoko's Vegan Butter
Ingredients
6 oz. Miyoko's Vegan Butter
1/2 cup light brown sugar
1/2 cup organic granulated sugar
1/4 cup + 1 tbsp apple sauce
1/2 tsp. vanilla extract
2 cups all-purpose flour
3/4 tsp. baking powder
3/4 tsp. baking soda
sprinkling of tsp. ground cinnamon
1/4 tsp. sea salt
1 cup chocolate chips (I used Enjoy Life)
1/2 cup chopped pecans
Directions
1. Beat together vegan butter, brown sugar, granulated sugar, apple sauce and vanilla in a medium bowl until light and fluffy (about 2 minutes).
2. Shift together flour, baking powder, baking soda, ground cinnamon and sea salt in a large mixing bowl.
3. One cup at a time, dump dry ingredients into wet ingredients while mixing on a low/medium speed. I incorporated the flour fully each time before adding the next cup of dry ingredients.
4. Pour in chocolate chips and nuts and use a spatula to mix until well combined. 
5. Cover bowl of dough with plastic wrap and place in refrigerator for 1 hour (or two, like we did because life happened but they were wonderful nonetheless).
6. Preheat oven to 350 degrees F.
7. Use a spring scooper (seriously, this tool was a game changer for our cookies) and place scoops of batter about 1 inch apart.
Do not flatten
8. Bake time depends on the kind of cookie you want. We don't like super goopy cookies so we baked for 15 minutes but 10 minutes will get you that barely baked soft cookie that will harden as it cools. Remove from oven and let sit on baking sheet for 5 minutes before transferring cookies to cooling rack. 
9. Enjoy! With your favorite non-dairy mylk. 
Are these not the most beautiful cookies you've ever seen? The pecans were a nice addition though you can, of course, omit if you're not into nuts in your chocolate chip cookies. Or, add more! We won't judge. We won't even judge if you add raisins to these cookies.