Ford 150 is undeniably a high-standard truck that guarantees strength, quality, and speed, whether in smooth terrains or rough roads. Its engine selection is outstanding, and its advanced technology features provide power while maintaining safety and comfort. While it's a great performing vehicle, its features are set and limited to Ford configurations, especially its engine control. Its fuel economy is not as effective as expected, and shifting can be slow. You can change these and customize your truck's performance through a tuner. This guide lists down 5 of the best tuners for 5.0 F150 trucks.
Why can you trust us? Mechanic Guides is written by experts and 100% reader-supported. We never receive anything from the product manufacturers.
Our Recommendation

Great Value




There are lot of tuners out there, but Edge Product's 85450 CTS2 Gas Evolution Programmer stands out in with its sleek design, powerful tunes, and easy navigation. It's one of the most advanced and most affordable tuners for 5.0 F150, and it is definitely a good choice for your Ford truck. Aside from performing all that's expected of a tuner (boosting engine performance, increasing torque and horsepower, monitoring engine data, and saving fuel), it has three preloaded tunes that are customized according to your driving style - whether you want to go fast or bring more load on the road.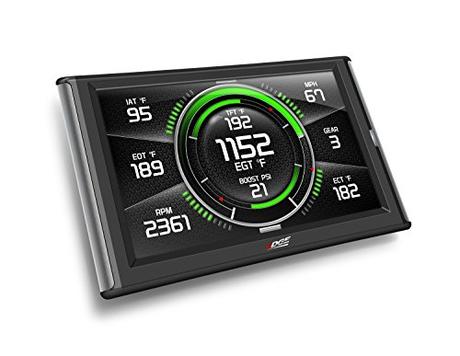 Why is it good?
Why do we recommend CTS2? First of all, it's got an awesome touchscreen HD display, which is definitely much easier to navigate than those tuners that are button-operated. This 20-ounce, 9.6 by 6.2 by 2.7-inch device has a 5-inch, full colored, high-resolution swipe screen with a one-touch menu display that makes navigation easy and intuitive for its users.
The display is customizable to help you immediately monitor your truck's performance. It can show up to 9 parameters which you can set as soon as you have finished loading your chosen tune. You can set the main metrics in the middle so you can quickly see them even when you are driving fast. You can even change the background to match your truck's interior.
The Edge CTS2 Gas Evolution Programmer comes with multi-power level customization. With its three preloaded tunes, combined with the device's fast processor, you can expect a significant improvement in your truck's performance almost instantly. Tests prove that CTS2 can boost your engine's horsepower by 11 and its torque 18 lb-ft.
Of course, it got everything you will look for in a tuner. It provides regular notifications for better monitoring of your truck's engine data. The gauge package includes vital engine data, like EGT or Exhaust Gas Temperature, transmission fuel temperature, engine fluid temperature, and revolutions per minute, to have a better picture of your vehicle's engine status. This will allow you to monitor if you are inflicting serious damage on your engine due to poor driving habits.
You can also use it to tune up your vehicle's shift point, shift firmness, torque management, and fuel pressure for faster and more effective shifting.
Sold separately, you can also connect it an Edge Backup camera and EGT thermocouple, so you can monitor your vehicle performance and control its temperature to prevent it from overheating.
Do you want to be able to speed up while saving fuel with your F150? You can definitely do that with the Superchips 4845 Flashpaq F5 California Edition Tuner! One of the few tuners for 5.0 F150 that is legal in California, this device by Superchips is true to its name with its ability to enhance engine performance for fuel economy, towing, daily driving, and extreme tuning.
Why is it good?
Relatively smaller and more lightweight than its competitors, this 11.2 ounces, 5 by 6 by 2.5-inch device has a 2.8-inch high-definition color screen that has a redesigned graphic interface for improved user navigation. It has got increased memory through its faster processor; you can expect an improved tuning capability and updated speed.
Through this device, you can do a lot of things in order to improve your truck's efficient performance, especially if you use it on a regular basis. It can eliminate downshifting when climbing hills, which could potentially cause an accident if not addressed immediately. You can also correct the speedometer if there are changes in your vehicle's tire size and gear ratio. Lastly, you can adjust your vehicle's speed and rev limiters to achieve higher MPG or to help you speed up your vehicle even more and maximize its potential.
The Superchips Flashpaq F5 also allows tuning for shift points, shift firmness and torque management to increase the vehicle's responsiveness more easily. It has an active fuel management control, which means it modifies spark timing so you can save on fuel consumption. You can even optimize your engine's burn cycle for better efficiency. On top of these, it has vehicle parameter monitoring capabilities and has the ability to read and clear diagnostic trouble codes, therefore, you can save a trip to the repair shop!
DiabloSport's 7120 Predator P2 Platinum Performance Tuner does the hard work for you in terms of maximizing your vehicle's potential! Known as one of the best tuners for 5.0 F150, it provides a high-grade boost to your vehicle through its palm-sized device. While it only weighs 11.4 ounces and has a size of 5 by 6 by 2.5, it doesn't run short on its tuning capabilities. Its high definition, 2.8-inch color screen, and 5-button interface, and improved memory and faster processor make tune-up and speed update just a few clicks away.
Why is it good?
7120 Predator P2 offers a significant increase in the vehicle's torque, towing performance, and fuel economy. Taking only 10 minutes to install, it also allows you to adjust your truck's tire size, throttle sensitivity, reset the speedometer for non-stock gears, and remove the speed limiter, so you can drive your vehicle faster and reach more mileage with less fuel. Compatible with custom tuning files using the DiabloSport CMR software, it also allows tuning for shift points, shift firmness, and TQ management. The power gain of up to 54 horsepower (depending on vehicle type) is even possible through 7120. It also has a tire pressure monitoring system (TPMS) to properly scan air pressure inside the pneumatic tires and ensure a safe driving condition. It's a lot of things you can do at the tip of your fingers!
If you'd like to revert to your old settings, you can do that as the device saves your vehicle stock, so there'll be no regrets. Since it also has vehicle parameter monitoring capabilities, it can save your vehicle data for future review and analysis. It also reads and clears diagnostic codes, so you'll know if your vehicle runs into trouble and needs repair right away.
Your vehicle can still perform better with Bully Dog's 40470 BDX Diagnostic and Performance Tuner! BDX truly delivers to its name with its preloaded tune files that enable a boost on your vehicle's towing and offroad capabilities. These mean you can have a better trip experience no matter what road type you're in.
With 24 ounces in weight and 11.2 by 4.1 by 8.8 in size, the device can perform true tuning even with its sleek design. It's colored screen also allows easy and intuitive navigation.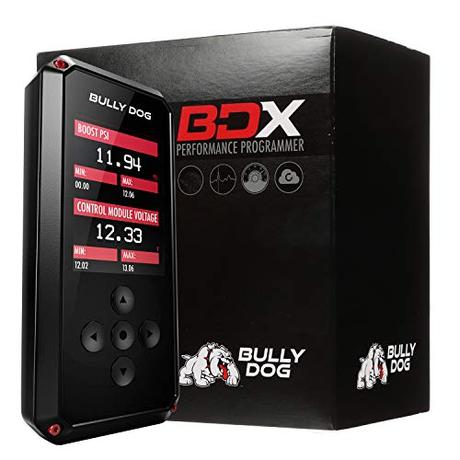 Why is it good?
Through the Bully Dog tuner, you can use new custom tunes without losing your factory tune files. It allows you to log vehicle's engine parameters real-time, so you can easily monitor its status or view it easily through your device or even through your computer. You can increase your car's horsepower, torque, throttle response, and fuel mileage, so you can speed up for less fuel consumption. It also reads and clears the power train control module (PCM) diagnostic trouble codes to save you from having to bring your vehicle to a shop for check-ups and repairs. You can even adjust your vehicle's axle ratio, idle adjust, rev limiter, tire size, tire pressure monitoring system (TPMS), transmission shift points, global spark, intake airbox, speed limiter, torque reduction, transmission shift firmness with just a few clicks and without having to open your vehicle's hood! With these, you'll get optimum truck performance with less hassle.
What's unique about the BDX tuner is its driving coach feature. By recording driving histories and analyzing the efficiency of each drive, the driving coach can provide you with real-time visual and audio feedback on how efficient the current drive is to help you make adjustments on your driving habits. You will even be "graded" on each drive! This is truly a revolutionary and an exciting feature on vehicle tuners.
Bully Dog's 20 custom tunes are cloud-based, so you can connect your device to Wi-Fi and download them straight to your device without the need for a computer! If you'd like it that way, updating the device is also possible by connecting your device to your PC using the included USB cord.
Superchips' Stage 1 Powerpaq can unlock your vehicle's potential to be super fast! With a weight and size close to that of a cellular phone at 14 ounces and 11 by 13 by 31 inches, it gives your vehicle its needed performance boost for less. It has a high-definition, 2.8-inch colored screen, and a re-engineered graphic interface, which make navigation painless and comfortable. This model also has expanded memory and a faster processor that makes tuning faster and more reliable.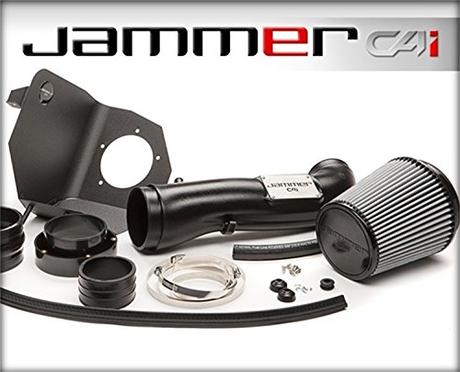 Why is it good?
Among Stage 1's performance features are performance tuning for economy, towing, daily driving, and extreme tuning, downshifting elimination when climbing hills, speedometer correction for modifications in vehicle's tire size and gear ratio, adjustability of speed and rev limiters, active fuel management control, and shift points, shift firmness, and TQ management tuning. This means you can customize your vehicle's program, so you can drive with more speed, precision, and quality than ever before!
If you'd also like to be up-to-date on your vehicle's performance or modifications, it's not going to be a problem as the device has vehicle parameter monitoring capabilities and is able to read and clear diagnostic trouble codes to keep your vehicle in good working condition always. It is compatible with other performance upgrades, so you can keep your device updated often.
Stage 1 also includes a jammer cold air intake system which allows blocks hot air and funnels cooler air to prevent your engine from overheating. It's large diameter intake tube and thermal plastic material ensure efficiency and durability. This is not a device often included in car tuners!
Final Thoughts on the Best Tuners for 5.0 F150
There's no denying that Ford 150 trucks are awesome, to begin with. Then again, why would you limit yourself with the manufacturer's calibration of the engine control unit (ECU) if you can get your vehicle tuned up quicker, go reach more mileage faster, and with less fuel consumption? Keep in mind that each tuner has different compatibilities with different truck models, so make sure that your chosen tuner works well with what you have. Take into consideration the tuner's fuel economy feature, preloaded tunes, price, ease of installation, and tuner navigation, and you've got the perfect mix. If you'd like your vehicle to reach its peak performance, get one of the best tuners for 5.0 F150 above.