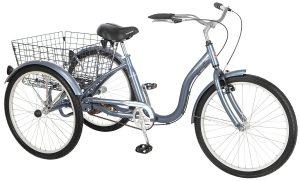 As you gracefully age, you need to get creative to continue enjoying life. For example, with three wheel bikes for seniors, you will still move around effortlessly, enjoying the scenery and carrying out your daily chores without bothering a soul.
Imagine how useful they are especially when you can no longer drive?
Now, I don't know about you but for me, I am really in love with three wheel bikes for adults
So, What Are 3 Wheel Bikes For Seniors?
These bikes, nicknamed adult tricycles or recumbent bikes are simply human-powered or gravity-powered three-wheeled vehicles (trikes).
They recreate your mobility after you have lost it and help you perform small but vital tasks without requiring help.
Well, let me add that we now have a few electric tricycles for adults
How Useful Are Three Wheel Bikes for Seniors?
They don't just make you mobile. They help your muscles relax so they can also be an exercise tool.
Then, they come with a sizeable basket so they can also help you to conveniently carry your shopping.
Others find them fun and take them to be recreational accessories.
Now, as you can you see, 3 wheel bicycle for seniors could be a great tool to have in your old days.
Types of Three Wheel Bikes
A number of options exist. Let's look at them.
These are very similar to a conventional two-wheeled bicycle. They have either an open frame or a diamond frame.
Then, they have 2 widely spaced wheels (at the back) or two wheels (at the front)
Because of their high gravity design, they frequently tipping over
These have one wheel at the front and 2 rear wheels. The rider sits on a chair-like seat.
A recumbent triumph over conventional uprights on stability- with a lower gravity, they are obviously more stable.
This group of 3 wheel bikes is used to carry passengers. They have one steering wheel and two back wheels supporting the passenger seating area.
Special Purpose Tricycle Bike Adults.
Some tricycles are built for load carrying. Others for racing with yet others built for comfort.
Still, some recumbent tricycles come fully enclosed and are all weather.
Buying Senior Citizen Tricycle
So, what alternatives are there as far as best three wheel bicycles for seniors are concerned?
Now, though you can get 3 wheel bikes for seniors used, I believe the best performing tricycles are the new ones.
You will be sure of its reliability from the word go not forgetting that most come with a lengthy guarantee
Well, so that you can see for yourself, we deliberately decided to shortlist some of the Best 3 wheel bikes for adults.
I am sure by the time you are through with the review, you will have seen why we are saying the contemporary three wheel bikes for seniors remain hard to beat.
Here come the reviews:
1. Schwinn Meridian Adult 26-Inch 3 Wheel Bike For Seniors.
As you will be learning later the buying guide section, 3 wheel bikes with low stands are easier to mount hence better rated.
Now, this schwinn meridian adult 3 wheel bike is one speed cargo that has a super low stand. So, you will have the easiest access
We discovered that this three wheel bicycle is quite popular as a cargo bike thanks to its spacious rear basket.
Then, with a large, adjusting springer cruiser seat you will enjoy a comfortable ride all the way.
Features
Pros
Cons
Verdict
The schwinn meridian adult 3 wheel bike combines contemporary styling, convenient storage and comfortable riding with enhanced stability and is a great option for an ambitious modern-day senior.
It is clearly one of the very best adult 3 wheel bike.
2. Komodo Cycling 24″, 6-speed Adult Tricycle.
An adult tricycle with a 6- speed climb hills without much fuss
The Komodo cycling 6-speed adult tricycle has 6 speeds and powerfully rolls over steep climbs even when loaded.
Then, it's still easy to on/off as evidenced by the low profile step-through design
The fenders, the bell, and the large wire basket also give you some bonus privileges.
Features
Pros
Cons
Remaining assembly isn't very easy
Verdict
If you frequently ride in hilly areas, you need a mountain lion and The Komodo cycling 6-speed adult tricycle bravely surmounts the steepest hills.
It has a big, but gentle heart!
3. Performer JC70 Recumbent Trike Tricycle For Adults.
If sitting upright feels too painful or you lack enough strength, then a recumbent 3 wheel bike would come in handy.
This is because a recumbent is designed to give support to your entire body.
Now, the performer JC70 trike tricycle for adults is a top performing recumbent with extra robustness plus practicality.
It has more comfort with a better riding position and promises to be your trusted companion at the hour of need.
Features
Pros
Cons
Needs complicated assembly
Verdict
With a big rear wheel, this is a recumbent with the speed and power of a first-class bike.
It's practical, extremely robust, very comfortable and a genuine tie-breaker.
4. Schwinn 24″ Wheel Meridian Adult Tricycle.
In cycling, bigger doesn't always mean better. While smaller wheels (with a 24" diameter or less) may look odd on your adult bike, they have several advantages, including quicker acceleration and easy of manoeuvring.
The Schwinn 24" wheel adult tricycle is one such small-wheeled three wheeler and It's one of the favourite contenders for the best 3 wheel bicycle award this year- at least according to my editors.
It packs a lot of great features including a super low stand, large springer cruising seat, a large folding basket to mention but a few.
Features
Super low profile
Wide, upright adjustable handlebars
Alloy 24″ wheels
Spacious springer cruiser seat (having a quick release adjustment)
Heavy-duty aluminum frame
Cruiser styling (with full wrap fenders & swept back handlebars)
Large fold down back basket
Pros
Cons
A tad too heavy
Not very easy to assemble...
Verdict
A super low stand, cruiser styling, large cruiser seat, a big folding rear basket and adjustable handlebars are some of the incredible features of this tricycle.
Then, being a small wheeled 3-wheeler means it can outrun most of its higher-profile competition.
5. Mobo Triton Pro - The Ultimate Three Wheeled Cruiser Trike.
To enjoy a comfortable ride, you need several things.
One is obviously a comfortable seat. Next, an ergonomic design as it ensures that your bike marries with your body frame for maximum support.
The other is a brilliant steering system without which manoeuvrability becomes a problem
This 3-wheel bicycle for seniors comes with a unique rear-wheel steering system which not only boosts your leg and arm muscles but also makes movement a breeze.
It delivers an absolutely enjoyable ride.
Features
Sturdy and adjusting frame
Lowly center of gravity
Recumbent-style design
cushioned seating
Unique steering system
Safety flag
Pros
Cons
Fairly low speeds
The tires are not that resilient
Verdict
Featuring a unique rear-wheel steering, this helps you to control your trike more easily while at the same time building your leg and arm muscles strength so that you can maintain an active lifestyle even in your advanced years.
With this, you will surely enjoy a brisk and fun ride, regardless of the terrain.
6. Kent Adult Westport Folding Tricycle For Seniors.
The Kent Westport Adult folding Tricycle for seniors is a super stable, well-engineered and super comfortable Tricycle.
It easily folds for storage and is an ideal ride for seniors who live in small spaces where storage is a challenge.
When we some to training, this is one of three wheel bikes designed to make learning cycling a breeze.
Finally, when out and about, we loved the way it smoothly cruises along the driveway.
Features
Pros
Cons
Verdict
This is a very seniors-friendly 3-wheel bike. Its design and performance make it one of the best training bikes for beginners.
It folds for storage, saving you much-needed space. While its large basket is a favorite for shopping enthusiasts.
Overall, it's a very convenient ticket for new riders or those seniors reacquainting to biking.
7. Mantis Tri-Rad Folding Adult Tricycle.
Traditionally, tricycles have been used by children to play and to learn how to cycle.
Now, if you can get a 3-wheel bike that would also be loved by your grandchildren, then you can be sure that they will always be happy to spend time with you.
And is there a better way to age than by being surrounded by loving grandchildren?
We realized that little ones also love this 3-wheeler because one, it's quite beautiful. Then, it's very easy to mount. Again, it comes with a nice basket to haul your cargo along.
And the quick-release, easy to raise seat is very handy, especially when everyone wants to test-ride the trike.
Lastly, when folded, it comfortably fits in your little car so you can always carry it to your biking adventures.
Features
Folding steel frame ( and a steel suspension fork)
Aluminum rims with white wall tires
Single speed
Front linear pull brake (plus a parking brake)
Adjustable steel stem
Large saddle
Front fender
Rear basket,
Bell
Chainguard.
Pros
Cons
Complex assembly
Not very great with hilly terrain
Verdict
This versatile 3 Wheel Bike is loved by both seniors and their grandkids in equal measure. Its beautiful, easy to mount, and has a big, easy to raise adjust seat.
And you can always fit it into your car as you head to your next cycling adventure.
8. Raleigh Bikes Tristar 3 Wheel Bike For Seniors.
The beauty of a 3 wheel bike is in its added stability. And this senior's bike is keenly engineered to render greater stability while on the road.
Moreover, it features a cool brake lever which locks in place to block it from moving while you are getting on/off
We also learnt that it has one of the best baskets- in fact, the manufacturer says that its basket can transport even 45 pounds load of cargo.
And it's a low maintenance tricycle- so you won't have to worry about wasting time at your technician's workshop every now and then.
Features
Designed to fit 5′ - 6′ people
3-speed Geared hub
Brake lever lock
Ear coaster brake
Front hand brake
45 pounds capacity rear metal basket
Low, step- through frame
Pros
Comfortable adjusting seat
Very well constructed
Easy mounting
Effective braking system
low maintenance
It rides easy with its three speeds.
Cons
Doesn't do well in hilly terrain
Fairly heavy
Verdict
The Raleigh tristar 3-wheel bike is a spring-loaded comfortable ride with a high capacity rear metal and a secure hand brake lever that delivers incredible stability.
It seems to enjoy the challenge of moving you around and gives you nice little victories as you run your daily errands
9. Kent Alameda Adult Tricycle 26″
Heavy tricycles are difficult to push along and generally require more energy when cycling due to increased weight.
That's why lightweight 3-wheelers sweep the medals in most three wheel bikes for seniors contests.
This Kent Alameda adult tricycle is a super-lightweight, strongly Built and durable three wheel bike
It is a safe and dependable ride and easy to store and transport.
And it comes with an adorable basket so you will always turn heads when riding to the market.
Features
Pros
Cons
Not great on rough surfaces
Verdict
With a lightweight frame, a powerful braking system and an adorable basket, this Alameda Tricycle pushes 3 wheel biking luxury to a whole new level.
This delivers fun and luxury religiously.
10. Mophorn Tricycle For Adult Seniors 24 Inch.
Basic creature comforts such as smooth steering, soft saddles, and shock absorption capacity are, of course, very desirable, for a better riding experience.
You get all these plus more with this Adult 3-wheeled tricycle.
Made of very good quality carbon steel, this tricycle is one of the most resilient. It also comes with a big rear basket, has 6-speeds and takes the famous step-through design.
This Mophorn Tricycle for adult seniors is favoured for its apparent stability and will surely meet all your needs under any circumstance.
Features
Front v-brake brake
Carbon steel frame
Extra-large soft saddle
Shimano-free wheel, shifter & rear derailleur
Back cushion
Step-through design
Cargo basket
Pros
Cons
Verdict
This tricycle is made of high-quality carbon steel material and is equipped for a better riding experience with a large soft saddle, basket, more speeds and a smooth steering.
It's very suitable for any elder who seeks comfort and easy riding experience outdoors.
Factors To Consider When Buying The Best Three Wheel Bikes For Seniors.
So, how do you ensure that your 3 wheel bikes for seniors choice will meet your expectations?
Here is what to look out for.
Three-wheel upright adult tricycles are more expensive and harder to find. But we have a wide range of bikes so you will certainly get something to fit your budget.
Electric tricycles are the priciest because they are less involving.
How Much Storage Space Does It Occupy
Some of the three wheel bikes are wide and occupy more storage space. They also don't fit around parked cars or in bike lanes
Folding tricycles collapse for easy storage.
And our compilation above also has slimmer storage friendly 3-wheelers
Compared with a recumbent, upright bikes with three wheels are top-heavy, and this may cause tipping and injury.
Generally, low-gravity lightweight tricycles for adults are more stable and safer.
Still, your safety is also boosted by an effective braking system so don't overlook the brakes
Most recumbent 3-wheelers are superb on bike trails. However, they struggle to climb hills. That means you should go for a bike which easier to pedal.
Remember Electric 3 wheelers are pedal-optional.
The best three wheel bike should have a mounting-friendly design so that you can easily get in and out.
The step-through design is the most mount-friendly.
Unfortunately, some manufacturers don't seem to take ease of mounting seriously.
Unless you have time and an abundance of idle energy, you will do well to avoid any difficult to assemble 3 wheel bike
You will occasionally need to replace a few components as part of maintenance. If you can't find spare parts, it would be difficult to repair your bike. So, check that the important spares are available.
Aerodynamically faster bikes are generally more comfortable due to better back support and freely adjustable positions.
Three wheel bikes for seniors give you greater mobility and convenience. And they also help you exercise as well as riding them for recreation.
Now, the most stable are the recumbent tricycle for adults due to the lower center of gravity.
We have also seen that when buying, you should ask questions about their weight, how much storage space they take, how difficult are they to assemble amongst others.
Well, with all this, I believe you now have the confidence to pick the best tricycle for adults and to rediscover your beloved mobility plus the independence that comes with it.
So, go right ahead and let's meet out there for fun.