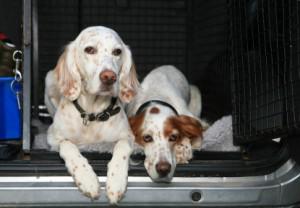 When it comes time to take your dog, cat, or parakeet to the vet, the park, or even with you on a road trip, you may be concerned about how they will fare in the back of your vehicle.  Will your pet be comfortable, or will he be crunched up on the floor or unceremoniously tossed around the cabin?  Could he find a way to hide under the seats?  How hard is it to remove any messes he might make?  And what about safety?  Are there features to keep your Spot or Mr. Bigglesworth from experiencing injury during an accident?
These are all things you may want to consider if your pet spends a lot of time in the car.  And while you can certainly purchase accessories (cages, carriers, barriers, etc.) to help, you might be surprised to learn that some cars actually come with the features that pet-owners seek.  So here are just a few things to look for when purchasing a pet-friendly vehicle.
1.   Hatchback.  Any car with a hatchback is going to be a lot easier to get your pet in and out of, regardless of size (of your pet or your car).  So you may want to leave sedans behind and focus on wagons and SUVs.
2.   Roomy rear cargo space.  Whether your pooch (or other pet pal) prefers to ride in a carrier or out in the open, a larger space behind the back seat is going to provide you with the options you need to ensure a safe and comfortable ride for your pet.  While some animals are content to lie down, many more like to be up and looking out the window when you drive.  So consider height as well as floor space here.
3.   Luxury suspension.  You might be keen to buy a zippy car with a sport suspension, but your pets are not going to like the jarring that comes with every little bump (by the way, they'll feel the effects of a stiff suspension a lot more in the back).  So make sure to ask about the suspension that comes with any car you look at and think about riding in the back for a test drive so you can really feel what kind of ride your pet will have to contend with.
4.   Animal options.  Considering how many people cart around their animals, it's not too surprising that some companies have jumped on the pet-friendly bandwagon and started to offer packages that cater to pooches.  The Honda Element, for example, could be purchased with a package that includes a ramp to help older (or smaller) pets get in and out (and then easily stows), a built-in soft kennel, and of course, a spill-proof water dish.  Uh…WOW.  These people really like their pets!  The point is, you may be able to find a vehicle that not only meets your many needs, but also saves you time on finding the products that will make taking your pets with you hassle-free.  At the very least, you should look for stain/odor-resistant interiors, plenty of hooks for attaching barriers or securing carriers, and even smudge-proof glass (unless you like finding little nose-prints everywhere).
5.   Alternative fuel.  Greenhouse gases affect us all, and that includes our pets.  Although your dog or cat may not live as long as you, they still suffer from the air pollution caused by petroleum-fuel vehicles.  So if you want to make the air a little more breathable for people and animals alike, consider a hybrid, electric, or alternative-fuel vehicle the next time you shop for a pet-friendly car.
Sarah Danielson is a contributing writer for usedpontiacengines.com where Suzuki engines are shipped nationwide every day.