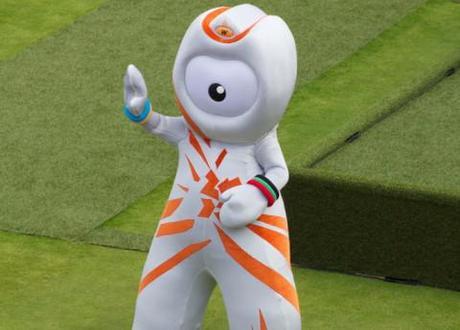 London 2012 Olympic mascot
The background
Coverage of the London 2012 Olympic Games has understandably centred on Jamaican sprinter Usain Bolt's brilliance and Team GB's incredible performance (22 gold medals and counting).
But for every article praising the likes of Jessica Ennis, Mo Farah and Sir Chris Hoy there are at least two fairly ridiculous reactions to goings-on at the 30th edition of the Games. Here's The Periscope Post's pick of the wierdest and wackiest Olympics coverage from recent days.
Does having long hair slow down sprinters?
On Sunday, American sprinter Sanya Richards-Ross won the women's 400 metres by a nose. Richards-Ross claimed gold just ahead of Beijing champion Christine Ohuruogu, who finished the race like a runaway train. Richards-Ross gold has delighted Team USA fans but it's not only her medal that's been making the headlines – her long flowing hair has attracted attention.
Slate wondered "if you're a sprinter, does all that hair blowing in the wind slow you down?" Whenever air flows around a speeding projectile – be it a shot put or a runner's body – aerodynamic principles come into play, noted the website, which reminded that "flowing locks increase air resistance insofar as they boost a runner's surface area. More hair creates more opportunities for friction between the runner and the air, so a full-headed athlete would have to work harder to maintain the same speed as a bald one." However, Slate observed that while Richards-Ross' hair may have looked all over the shop it actually was sensibly styled: "Richards-Ross wore her hair in a 'half-back' style, with strands streaming loose behind her. This get-up was more streamlined than it looked, because the wind caught Richards-Ross' face before it made contact with her locks." After the detailed analysis, Slate concluded that "even the most unruly hair is unlikely to make a major difference … Richards-Ross was sprinting at about 18.1 miles per hour, a pace at which air resistance might factor in, but only a tiny bit."
"Could voluminous hair ever act as a sail in a tailwind and actually enhance a runner's time?" wondered Slate. "Only if the wind were traveling faster than the athlete, which would be unusual, since the average wind speed in London is about 10.4 miles per hour."
Are virgins less good at hurdling than non-virgins?
American Lolo Jones came in a disappointing fourth place during the finals of the 100 meter hurdles on Tuesday. Bizarrely, plenty of people of Twitter have suggested that her failure to make the podium is somehow related to the fact that the Christian athlete is a self-proclaimed 30-year-old virgin. "Shockingly, there are a few people who think one has something to do with the other. Of course, missing out on a medal had nothing to do with her talent, technique, or the possibility that she didn't have her best day against three better hurdlers. Nope, must've been the lack of sex," sighed Deadspin.
Lolo Jones should've had sex before that race. Bet none of the hurdlers that finished top 3 are virgins. #SexIsForWinners

— LT (@LeanderToney) August 7, 2012
Fuckin Lolo Jones is out of the olympics, shes needs some dick to run faster!

— Tristan Barrera (@Traw_BoB26) August 7, 2012
Lolo Jones won that nonexistent medal they give 4th place contestants. She needs sex, now, more than ever.

— ركس (@REXcellentAim) August 8, 2012
More on Olympics

Samuel L. Jackson's Olympic tweets: NBC, give this man a job
Lightning Bolt strikes twice
Bert Le Clos is the world's proudest parent