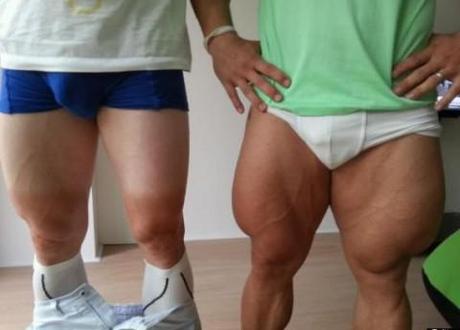 You are looking at German cyclists' impossibly large quads. Photo credit: Twitter
The background
The London 2012 Olympic Games are in full swing. On day four another 15 gold medals will be won by the world's finest athletes. The doping scandal surrounding 16-year-old Chinese swimmer Ye Shiwen and Team GB's overall performance is dominating the UK press' front pages but they are not the only intriguing stories coming out of the Games. The Olympics have also thrown up a flurry of weird and wacky stories to perplex and amuse Olympics-watchers.
Tearful fencer in sit-down protest
When South Korean fencer Shin Lam lost to German Britta Heidemann in the women's épée semi-final she took it pretty badly. In fact, Lam was so gutted that she launched a 90-minute sit-down protest.
To be fair, Lam had reason to feel pretty aggrieved; she had thought she was through to the final when, to her consternation, the clock was reset from zero to one second. Heidemann, the reigning Olympic champion, then scored the winning hit. Shim Jaesung, the Korean coach, immediately made an appeal and it was nearly half an hour before it was announced to the crowd — slow-clapping by this stage — that Heidemann's win stood. The Telegraph described it as "one of the biggest sporting controversies of the Games so far."
German cyclist wins the World's Biggest Quads Gold Medal
Everyone knows that Olympic competitors push their bodies to extremes in pursuit of medals. But even by Olympic standards, German cyclist Robert Forstemann's impossibly large thighs are quite something to behold. New Zealand cyclist Greg Henderson documented the "quad off" between German cyclists Forstemann and Andre Greipel via his Twitter feed.
The BBC has launched an ingenious Your Olympic Body Match service which allows armchair athletes to see who's their closest match in terms of height and weight. The interactive feature has proved a hit online and is one of the BBC's most read posts in recent days.
Clumsy Brazilian athlete breaks bronze in shower
A Brazilian judoka accidentally broke his Olympic bronze medal when he took it into the shower and he's now fighting to have his prized possession replaced. Felipe Kitadai dropped his bronze while trying to keep it from getting wet (something that can happen in a shower). Kitadai told Brazil's GloboEsporte.com that the part holding the medal's string broke, and now he can't wear it around his neck. He lamented that there's also a small dent on it. The Brazilian Olympic Committee says it will request a new medal even though it knows the International Olympic Committee has no obligation to give Kitadai another one.