Now, we all know how irritating it is to see a girl in a pair of see-through leggings. It might be alright for you guys out there, but it's really not a flattering look, nor is it attractive, and it's something that really bugs me. However I have the answer. Well Topshop and River Island actually have the answer. Meet my favorite leggings from the good ol' British High Street. Trust me they are worth a look.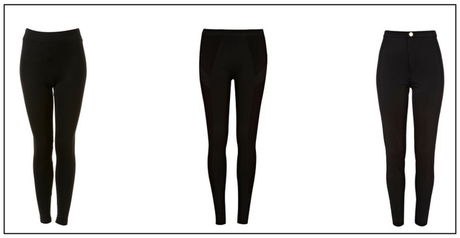 (Left to right) Topshop Black Heavy Weight Leggings £18 click here
River Island Black Ponti Panel £20 click here
River Island Black High Shine Tube Pant £30 click here
Say goodbye to see-through leggings. I have been on the search for hunting down a pair of 'proper' leggings. Not too thin, but not too thick so that they feel like trousers. The first pair are the Topshop Black Heavy Weight Leggings. I bought two pairs the other day so that says a lot in itself. They are perfect. I may even go back for a third pair. You can never have too many pairs of leggings as they seem to be a necessity/staple piece for the Autumn/Winter. I'm sure some of you already have the basic Topshop leggings, I have a few pairs, but they also are very thin and see-through, so I am very happy to see that Topshop have enhanced the thickness of a new style of leggings to beat this problem. The middle pair are similar to the Topshop ones, however these are River Island's Black Ponti Panel Leggings. There's only a couple of pounds difference. These are also heavy weight which means they are super cosy and super thick. They have a slight ridged panel on the side which is much clearer on their website here. Also the benefit with slightly thicker leggings is that they keep your figure in tack and suck everything in, whereas thin leggings seem to make things wobble a bit more if you get my drift. So for all you girls out there that are seeking a pair of leggings that aren't see-through these are the ones that you need to make way for in your wardrobe. The final pair are my new disco pants from River Island and I am so in love with these. River Island have named these High Shine Tube Pants. These are also a perfect alternative to a basic legging. I love the high shine.
Do you think 'proper' leggings are difficult to come by?