The latter half of the year was a challenge for my skin. I tried the Clarisonic Mia in August, and my skin has not been quite the same sense. The products I mention here are the ones that have helped and are still helping my skin get back to normal.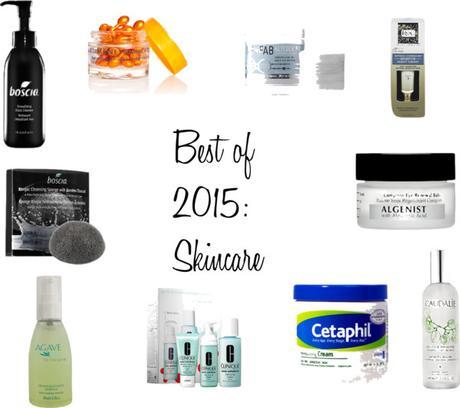 Favorite Skincare of 2015 by kristen-noel-williford featuring Boscia
1.) Clinque Acne Solutions
This line will always be my first go to when my skin starts acting up. I use it just long enough to clear up my skin from whatever angered in the first place. It does dry my skin out a bit, so I typically will  not use it for longer than a month or two, But that short amount of time is all my skin needs. I usually just buy the trial kit and that will last me a good while.
2.) Boscia Detoxifying Black Cleanser and Konjac Sponge
This duo does a great job at keeping nasty blemishes and redness at bay. It does not dry my skin out and my skin just seems to love it. The sponge provides gentle, daily exfoliation and the charcoal draws out any impurities.
3.) My Agave Spa Facial Makeup Remover
This is one of the best makeup removers I have tried. I use it to remover eye makeup and it can get rid of the most stubborn eyeliner.  It doesn't sting or get greasy, either. I also appreciate the fact that it comes with a pump. That makes life a lot easier. It is $18, but you can use my code GABEAUTY if you want 10% off. This is affiliation code. If you don't want to use, that is okay. But if you do, thank you. =) You can find it here.
4.) Lumene Vitamin C Age Defying Beauty Drops
Want to brighten up your skin and help turn back the clock? Grab these next time you are in Ulta. They come in little pods, so there is no guess work in how much you need to apply. You get 28 of these pods and you use them once a day. Considering how many coupons and sales Ulta has, you shouldn't have to pay $24 for them. I have been using them off and on and they make my skin look and feel much better.
5.) Nip + Fab Glycolic Fix Exfoliating Pads
While you are Ulta, get these exfoliating pads. They are gentle enough for daily use, but you can really see the impact they make. The texture of my face has improved and this product has never irritated my skin. You get 60 pads for $13. I use them as my night time toner, so that $13 goes a long way. This is another brand that sometimes goes on sale and is included in coupons at Ulta.
6.) RoC Retinol Correxion Sensitive Night Cream
This is a great cream to start with if you are new to retinol. It made my skin dry for only one day and after that, it worked like a charm. It helps keep breakouts away as well as help fade acne scars. Plus it is the only truly effective ingredient in the battle against wrinkles.
7.) Algenist Complete Eye Balm
This is my favorite eye cream to date. It keeps my eye area perfectly hydrated without making my eyes burn or water. It doesn't make my skin greasy and it works well before applying any makeup. I can't speak for any anti-aging benefits, but it does a great job at hydrating the delicate skin around the eyes.
8.) Caudalie Beauty Elixir
This is a splurge worthy product.  It is the perfect way to refresh your mind as well as your skin. The scent is an instant energizing jolt. I use it a lot in the morning after cleansing to help hydrate, tone, brighten, and banish redness. It also tightens pores and it can be used to set makeup. It is basically a skincare toolshed.
9.) Cetaphil Moisturizing Cream
So back when my skin reacted badly to the Clarisonic, my face was  horrendously dry. I have ever experienced anything like it. I needed something to work and work quickly. And this stuff did without clogging my pores. Within a few days, my skin was starting to feel normal again. Whenever my face feels like the Sahara, this is what I reach for. I also use it on my hand eczema to keep my skin from cracking. I won't ever be without this stuff again.
What skincare products did you love this year? I would love to hear about them. I am always on the lookout for something new and great to try.